Best 7 Things to Do with Kids in Destin Florida in 2023.
Although Destin Florida, is known as a spring break party destination, many family-friendly activities are available in this town on the Florida Panhandle. The "Emerald Coast," a 100-mile coastline along the Gulf of Mexico, is known to locals as "the Emerald Coast" and is renowned for its immaculately pure and pristine seas. But the good times don't end at the beach.
The wider Destin region in Florida is a top vacation spot for families with kids since it has a ton to offer in the way of exciting museums, amusement parks, wildlife excursions, and fantastic restaurants. The top 7 family-friendly activities in Destin Florida and the surrounding area are included below, along with some of the city's most significant dining establishments, resorts, and lodging options.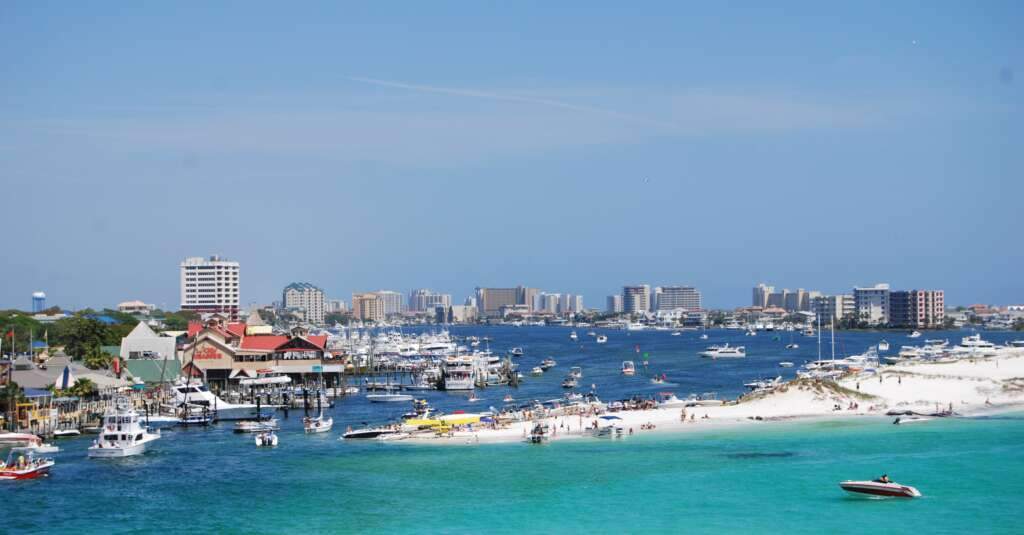 Crab Island Adventure Tour:
All the things to do on the Crab Island Fun Tour take a lot of work to the top. This skippered boat trip takes you to two distinct locations during the tour. The first stop is the Gulf Islands National Seashore, where visitors on tour boats can engage in snorkeling, seashell hunting, kayaking, paddle boarding, and a set-up inflatable water park. (The cost of each activity is covered in the ticket price; doing each one separately would be far more expensive.)
The boat will travel to Destin's renowned Crab Island sandbar after you've exhausted the children so you can unwind while swimming in the stunning waist-deep water before taking a boat ride to return to the dock. Bring food and drinks in a cooler; Mom and Dad can consume alcohol. And take pleasure in your beverages while admiring the sandbar's surroundings. Visit this page for more knowledge on the Crab Island Adventure Tour.

Big Kahuna Water & Adventure Park:
Your family will get wet at Big Kahuna's Water & Adventure Park if the ocean hasn't already done it for them. More than 40 trips, slides, and swimming pools are available at this sizable, well-established amusement park to ensure everyone receives their fair share of aquatic excitement.
Several rides are made explicitly with young children in mind, and attractions ranging from a massive wave pool to a lazy river offer varying degrees of adrenaline-fueled pleasure. Due to the few dry theme park attractions and the mini-golf course, you could easily spend an entire day at Big Kahuna without touching the water.

Crystal Beach of Destin Florida:
There are plenty of breathtaking beaches in Destin Florida, which is why most people visit. However, Crystal Beach, a picturesque location packed with practical amenities to make a living at the beach simple, is a good choice for families seeking a length of sand that keeps everyone happy.
Only ten minutes from Destin Florida, just across Henderson Beach State Park, lies Crystal Beach, which has everything you might require for a full day of sunbathing and splashing, including picnic tables for lunch and restrooms and showers for changing afterward. There are accommodations directly next to the sand and Destin Commons outdoor shopping, also nearby.

Jolee Island Nature Park:
This is an exciting town that always has something going on, even when you're just a block or two back from one of Destin's stunning white sand beaches or the Gulf of Mexico lapping at your feet. That makes getting away from the chaos at Jolee Island Nature Park much more satisfying.
The park, located on an island linked to the Sandestin Golf and Beach Resort by a tiny wooden bridge, is a welcome reminder of the region's abundant natural beauty. It has a tranquil nature trail that offers breathtaking views of Choctawhatchee Bay. There is also a playing field with a pirate motif if that sounds too unhappy for the kids.

Tour to Gulfarium Adventure Park:
Prepare for a day at Gulfarium Marine Adventure Park that will be educational and entertaining. Throughout the day, watch as trained creatures, such as dolphins and ocean lions, put on exhibitions for you by dancing and jumping. In the park, numerous animal displays will keep you entertained in between shows.
View sea lions, pelicans, dolphins, sharks, and penguins. The Gulfarium Aquatic Adventure Park is the ideal place to spend a leisurely afternoon with aquatic life. It is situated on Fort Walton Beach and is close to the Destin Harbor. Purchase your ticket now!

Destin Harbor Board Walk:
The entire family can enjoy this one. At the Boardwalk, there is always activity. Please pick up a cool drink at one of the restaurants or food stands along the shoreline, then wander along and observe the captains of the charter boats as they bring their fish catches for the day. You can also people-watch, window-shop, and take in the scenery.
The walk benefits the whole family and is a fantastic way to become fully involved in the community's culture. You might wonder why Destin Florida, is dubbed the "World's Luckiest Fishing Village." You can find out by taking a stroll along the Boardwalk. Also incredible are the sunset views.

Wild Willy Adventure Park:
Every family vacation must provide downtime for the kids to burn off energy before bedtime. At Wild Willy's Adventure Zone, where the emphasis is firmly on fun, it's simple to accomplish that. It's located on Okaloosa Island, only a 6-minute ride from Destin's Harbor Boardwalk.
In addition to a mini-golf course styled after the T-Rex and featuring animatronic dinosaurs, this location also offers laser tag and a 4D theater. In addition, there are spots to fill up on pizzas and ice cream, arcade games, a ropes course, and a rollercoaster.
Related: 8 Things to Do in Oahu with Kids: Complete Guide To This Beautiful Island
Frequently Asked Questions.
Is Destin Florida, a family-friendly destination?
Family-friendly Destin is known for its stunning, fine-grained white sand beaches. However, "the world's luckiest fishing village," which draws most tourists to the Emerald Coast, offers more than stunning surf.
What is Destin Florida, most known for?
Destin Florida is known as "the world's luckiest fishing village" since it is only 20 miles from the edge of the Continental Shelf, where grouper, blackfin tuna, amberjack, and king mackerel congregate.
What makes Destin Florida
The underwater Hundred Fathom Curve provides the fastest deep-water access in the Gulf, which comes nearer to Destin than any other location in Florida.
When is the ideal month for Destin Florida?
The busiest travel times are in the spring, notably April and May, and travelers continue to arrive in town until July. The most fantastic season to travel to Destin Florida, is during the fall since there are fewer tourists, lower prices, the weather is still warm, and many things to do in the area.