New Orleans Beach, Louisiana: Explore Beaches & Destinations.
Beautiful sandy regions are not typically associated with New Orleans, Louisiana. Instead of sunny beaches, the majority of people picture the lovely wetlands of New Orleans. However, the beaches on our list are simple to get to by vehicle and excellent day getaways from the city. Additionally, these are great places to unwind and escape the bustle of the city.
Plan for the ideal sunny holiday together as a thalassophile parent using my prior beach experiences in New Orleans and conversations with locals. I'll make your beach trip unforgettable by drawing on my expertise in the area and trustworthy sources. In addition, I have carefully examined these beaches, from their suitability for families to how simple it is to get there.
Fontainebleau State Park.
Beautiful Fontainebleau State Park's sandy, family-friendly beach is only one of its highlights. You can also kayak through substantial cypress trees, enjoy leisurely, beautiful excursions along nature trails, and view some animals or the ruins of an 1829 sugar mill. The park sustained significant damage by Hurricane Ida in September 2021, making its famous sunset pier currently inaccessible. Instead, enjoy the sunset from Lake Pontchartrain's serene beach and lovely white sand.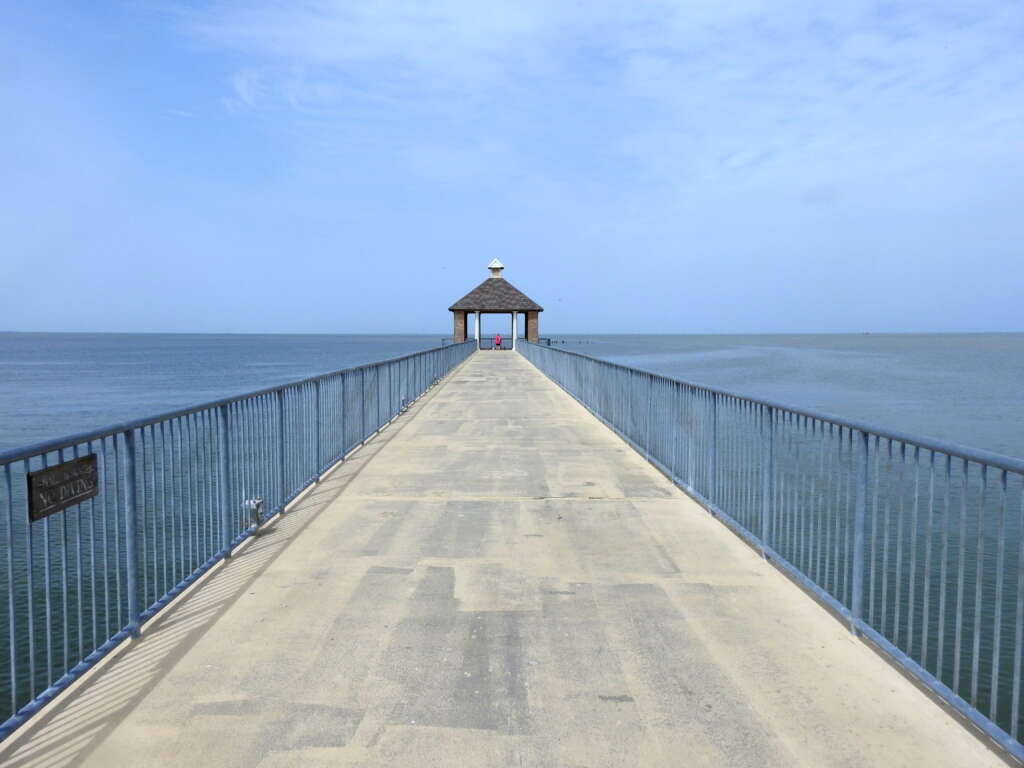 Bay St. Louis Beach.
Clean and infrequently busy.
Although the water in the Gulf of Mexico is brown, it is safe for swimming and crab fishing.
Several excellent dining alternatives exist just a few minutes from the beach, including shaved ice, authentic Creole cuisine, and fresh seafood. There is also an adult-only casino close by.
On Beach Boulevard, look out for one of Bay St. Louis' "Angel Trees." That beautiful carving of an angel on a tree with no leaves is impressive.
Budget Travel named Bay St. Louis one of the "Coolest tiny Towns in America," Coastal Magazine named it one of the great ten small beach towns.

White Sand Lake Day Beach.
White Sands Lake Day Beach is ideal if your kids enjoy blow-up water toys. There are trampolines, floating mats, and other objects to climb on and bounce from in the clean, spring-fed lake. Although admission costs between $10 and $15 per person, you get much enjoyment for the money.

RELATED: The Best 14 Things to Do in Cedar Rapids, Lowa: The Complete Guide To The Perfect Getaway.
Franklinton, Louisiana's Bogue Chitto State Park.
The park's name is derived from a river, the Bogue Chitto, one of the most beautiful streams on the Northshore of Lake Ponchartrain. This is where you go kayaking, tubing, and canoeing (if you don't have your own, you may rent them there). Visit a sandy beach and take in the tupelo-cypress trees there.
Ocean Springs, Mississippi's Front Beach.
Driving time from New Orleans: one and a half hours. Front Beach is a great day trip destination for families because of the lovely views and broad expanses of fine sand. One of the famous beaches close to New Orleans is this one. Additionally, it is located in Ocean Springs, a creative community with more than 200 stores, galleries, and eateries.
Remarkable Facts.
Long fishing pier, children's play area, and beachfront walkway.
Although the water in Biloxi Bay is more brownish than blue and is therefore suitable for swimming and other enjoyable activities, the beach is also clean and soft.
Views of the Gulf Islands and the Biloxi Bay Bridge are lovely.

Mississippi's Ship Island.
1.25-hour drive, plus an hour-long ferry ride, from New Orleans. Half of the enjoyment is in getting to Ship Island. You can only access this nearby beach by boat to New Orleans. Between March and October, you can take the ship from Gulfport if you need to get your own. Watch out for dolphins, pelicans, and osprey along the route. The historic Fort Massachusetts is located on Ship Island, designated a National Seashore. Bring your beach gear and meals, or purchase food and chairs from island vendors.
Ship Island Beach.
Only boats can reach the island, one of the Gulf of Mexico's four Mississippi barrier islands. Most visitors travel there by ferry boats, which dock at Gulfport Jones Park's harbor. You might view dolphins, pelicans, and osprey while on the ferry. Tickets for ferries may sell out, so order online in advance.
There are available rental chairs and umbrellas. The seven miles of sandy coastline are ideal for hiking, swimming, snorkeling, and sunbathing. Its beaches are on an island. Hence the water is green instead of blue. Fort Massachusetts, a fort from the American Civil War, is open for tours. On the National Park Service app, there is a free self-guided tour.
Alabama, Dauphin Island.
Dauphin Island has a calmer, more upscale atmosphere than Gulf Coast beaches. In addition, it has attractions that cater to all interests. For families with multiple generations, it's a fantastic option. Dauphin Island was described as a hidden treasure by Travel + Leisure magazine in a 2022 article "With a small-town vibe and all the conveniences of a well-known beach destination."
Features, Dauphin Island.
Seven miles of less crowded white sand beaches than the Gulf Shores of Alabama.
Drive over the Dauphin Island bridge to the beach. Parking costs $10. may travel from Fort Morgan by ferry. It is excellent for walking, fishing, sunbathing, swimming, and collecting seashells & it has a sitting area where you can view birds and alligators in its ponds and an Audubon Bird Sanctuary right off the beach.
The World War II-era Fort Gaines and Indian Shell Mound Park, which includes a little walking track that explains how Native Americans formerly fished in these waterways, are two fantastic locations for history buffs.
Tanks brimming with marine life may be found at the Alabama Aquarium at the Dauphin Island Sea Lab, along with a sizable stingray touch pool. Purchase your tickets in advance online.

Frequently Asked Questions.
What are New Orleans's five interesting facts?
In New Orleans, Mardi Gras was initially celebrated in the 1800s.
On Mardi Gras floats in New Orleans, masks are required.
Jean Lafitte, a pirate, assisted in defending New Orleans from the British.
The first jazz venue in New Orleans was Preservation Hall.
The first jazz venue in New Orleans was Preservation Hall.
The costliest natural disaster to affect the US was Hurricane Katrina.
Are the beaches in New Orleans good?
Fontainebleau Beach is an excellent option for families visiting the city, even though it is on the other side of the lake from New Orleans. It is easily accessible, has facilities close by, shallow lake waters, a smooth lakebed, and gorgeous, soft white sand on the shore.
What is the popularity of New Orleans?
New Orleans is famous worldwide for its unique music, Creole food, unusual dialects, and yearly celebrations and festivals, most notably Mardi Gras. The French Quarter, the city's historic core, is renowned for its Spanish and French Creole architecture and exciting nightlife on Bourbon Street.
What is New Orleans referred to as?
Nobody knows why New Orleans was given the "Big Easy." The origins of this moniker are fiercely disputed. The Big Easy Dance Hall, which operated in the early 1900s until it burned down, is thought to be the few sources of the name.