10 Best West Virginia Resorts – 2023
West Virginia is an amazing natural beauty, which includes vistas of the Appalachian Mountains and rivers, making it a year-round vacation spot for outdoor activities and relaxation. West Virginia Resorts all around the state use the natural landscape to provide demanding ski slopes in the winter and some of the country's best white water rafting experiences in the summer.
In West Virginia, you can choose from various resorts, from family-friendly resorts to 5-star luxury spa resorts that emphasize outdoor activity.
Most Americans live within a day's drive to West Virginia, making it a popular choice for weekend getaways or extended vacations. A resort holiday in this picturesque state is unlike any other, offering golf, spas, and fine dining at some facilities and wilderness excursions at others. See our ranking of West Virginia's best resorts.
Stonewall Resort:
You are undoubtedly on vacation once you settle into the opulent lakeside lodge or a cottage at Stonewall Resort. In north-central West Virginia's Roanoke, the 1,900-acre resort is situated.
You could decide to play a game of golf on the sizable Arnold Palmer Signature Golf Course and unwind with an aromatherapy massage at the Mountain Laurel Spa on the same day.
The following day, you can go kayaking or paddleboarding along the 26 miles of shoreline or trekking along one of the more than 20 miles of hiking trails to discover the West Virginia wilderness. The resort makes it simple to enjoy the outdoors with recreational equipment like kayaks, canoes, stand-up paddleboards, and fat-tire bikes available for rent.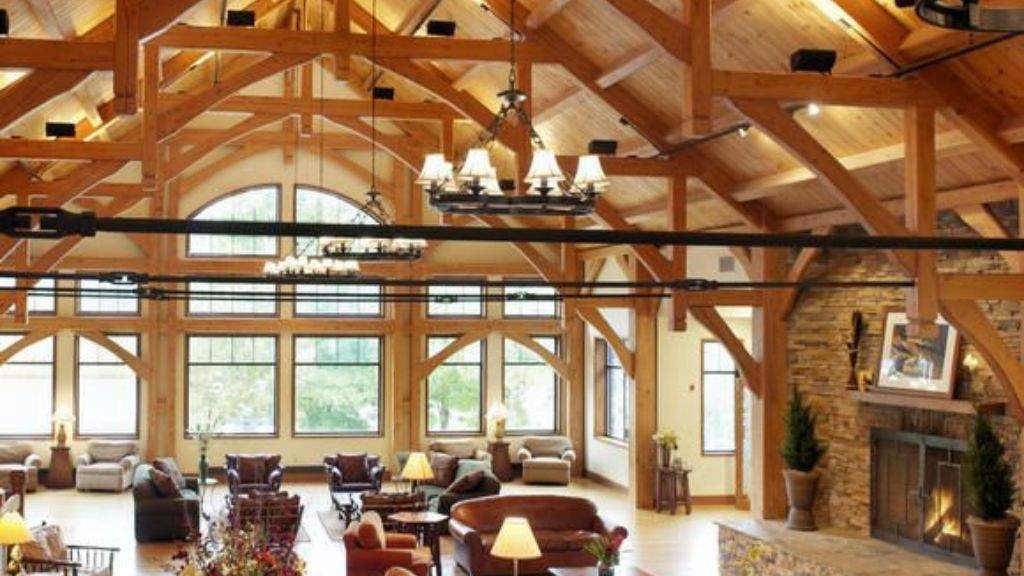 The Greenbrier:
The Greenbrier is unsurpassed in its grandeur and appeal due to its rich history. Since 1778, this opulent resort, a National Historic Landmark, has served as a posh retreat. The 5-star resort epitomizes Southern elegance, making it one of the best locations to visit in West Virginia whether or not you intend to stay there.
The resort offers a variety of golf courses, a golf academy, and during the winter, even indoor golf. From the 200-year-old luxury Legacy Cottages to the historical and period-decorated resort rooms, staying at the Greenbrier is a fascinating experience.

The Resort at Glade Springs:
The Resort at Glade Springs is a hidden gem in Daniels, West Virginia. Various room sizes and types are available here, including a luxury king room with a Jacuzzi tub ideal for couples.
There are multi-bedroom villas with all the amenities of a home available if you're traveling with the family. Additionally, there are multi-bedroom cabins with adequate accommodation for 32 people, including space for a dog since the resort is pet friendly.
With the Appalachian Mountains as its backdrop, the 18-hole championship golf course makes for an ideal golf-focused vacation. The spa offers therapeutic services and a salon for unwinding or a girls' weekend away.

RELATED: Free Things to do in Houston, Museum, Parks, Events, and Activities.
Canaan Valley Resort:
The Canaan Valley Resort is in Davis, West Virginia's Canaan Valley State Park. With 47 trails, it offers an entire season of snowboarding and downhill skiing for the whole family, making it one of the best ski resorts in the state. With a ski school and other winter sports like tubing and ice skating, the ski area accommodates skiers of all skill levels.
Make your resort room, cabin, or cottage your base during the spring, summer, and fall seasons as you head out for full days of golf, hiking, or simply taking a scenic chairlift up the mountain.

Capon Springs and Farms:
The West Virginia Highlands has an all-inclusive resort called Capon Springs and Farms. When visiting this family-run resort, you feel you are on your own private estate. Fresh eggs and produce from the property are used to serve homemade breakfasts.
After a substantial meal, go for a walk on one of the six trails, play pickleball, play golf on one of the 2 courses, go fishing in one of the two ponds, or learn to walk.

Mardi Gras Casino & Resort:
The Mardi Gras Casino & Resort, situated in the Cross Lanes commercial area, is close to the well-liked Nitro City Park, the Avampato Discovery Museum, and the Clay Centre for the Arts and Sciences. The airport in Charleston is also only 20 minutes away from the hotel.
The 150 rooms in this 4-star hotel have either a king bed or 2 queen beds. Please note that you must be at least 21 to reside at this facility. With pillow-top mattresses and down comforters, rooms are cozy. Additionally included is a pillow menu.

Morgantown Marriott at Waterfront Place:
The luxurious Morgantown Marriott at Waterfront Place is a short distance from West Virginia University and offers a variety of amenities. Modern design may be seen in the freshly remodeled rooms and suites. They have wood floors, fresh white linens, and workstations with comfortable leather desk chairs. They are decorated in neutral tones. There are refrigerators in the rooms as well as room service.
There are many kid-friendly attractions close by, or you can stay local and use the indoor pool with lap lanes, the neighboring hot tub, and even the wave pool.

Lakeview Golf Resort & Spa:
The expansive Lakeview Resort and Spa is located in Morgantown, West Virginia, on the shore of Cheat Lake. The accommodation in the lodge provides views of the resort's surrounding hills, and there are two championship golf courses there as well.
The pristine lakefront makes for an unforgettable evening stroll, but the 40,000-square-foot sports and fitness center may persuade you to burn some energy inside instead.
Tennis facilities, racquetball courts, and cutting-edge exercise equipment are all part of the lakeside fitness center. In the indoor pool or Jacuzzi, unwind after your workout.

Wilson Lodge at Oglebay Resort & Conference Center:
Many families have annual vacation traditions at Oglebay Resort, which has been around for over a century. It is situated in Wheeling, which has some of the state's most beautiful scenery.
A championship golf course and over 1,700 acres of outdoor activities, such as skiing, hiking, fishing, and swimming, make it a great weekend destination to work on your game. On-site attractions include a zoo with more than 60 species, museums, gardens, and shops.

FAQ:
Which is better to visit Virginia or West Virginia?
At 103.7, Virginia's total rating is significantly higher. The one expense category in which Virginia performs better is healthcare, which does have something to do with West Virginia's difficulties in providing its residents with access to healthcare.
What is West Virginia most known for?
The state is well-known for its variety of outdoor activities, including mountain biking, hiking, skiing, and whitewater rafting. Its rolling mountains, valleys, and hills gave it the moniker "the Mountain State."
Is West Virginia a good place to live?
There are several reasons for retirees to make West Virginia their home. The scenery is breathtaking, yet it also boasts senior living complexes and low-cost apartments. In addition, everyone can find something to love about living in West Virginia because there are so many outdoor things to enjoy.
Why would someone want to live in WV?
The Mountain State, generally referred to as West Virginia, is a great place to call home! It is not just a beautiful place, but its economic growth is also booming. There are plenty of jobs available in a wide range of career pathways because many exciting industries are flourishing.