Where to Stay in Toronto?: Explore Different Areas (2023) and Unforgettable Journey
Are you looking for where to stay in Toronto? Here, we've compiled a list of Toronto's top lodging options and what each neighborhood offers curious lone travelers, families, and couples. However, you might be asking at this point where to stay in Toronto to have the ideal holiday. Given that Toronto is a sizable city with numerous distinct neighborhoods and locations, this is an essential topic! Ideally, you want to be in the middle of things, close to the major sights.
Toronto is one of the world's busiest cosmopolitan cities and Ontario's provincial capital. Toronto, founded in 1750, is renowned for its skyscrapers, stunning parks, welcoming neighborhoods, vibrant culture, and seductive gastronomic scene. Visitors may easily create the ideal experience thanks to its vibrant and highly individualized neighborhoods and districts. In this article, we'll cover the most reliable places to stay in Toronto as well as where to stay in Toronto for tourists, families, nightlife, and on a budget. Let's read the article to find out where to stay in Toronto.
Toronto Downtown:
If you are visiting Toronto for the first time and looking for where to stay in Toronto. Downtown, which is all but the city's center, is a must-visit location in Toronto. This renowned global hub for shopping, tourism, and all things culinary ensures that there is something (and then some) for everyone. The Canadian National Railway Company erected the 553.3-meter-tall CN tower downtown, the tallest free-standing building in the world until 2007.
Visitors to the tower can take in the city from 1,122 feet in the air, eat in the 360 restaurants, and brave the windy Edgewalk. Die-hard shoppers will want to experience the massive Eaton Centre mall and the premium Bloor Street shopping district. If you ever find yourself in the former region, visit the Royal Ontario Museum, a veritable gold mine of historical and natural marvels.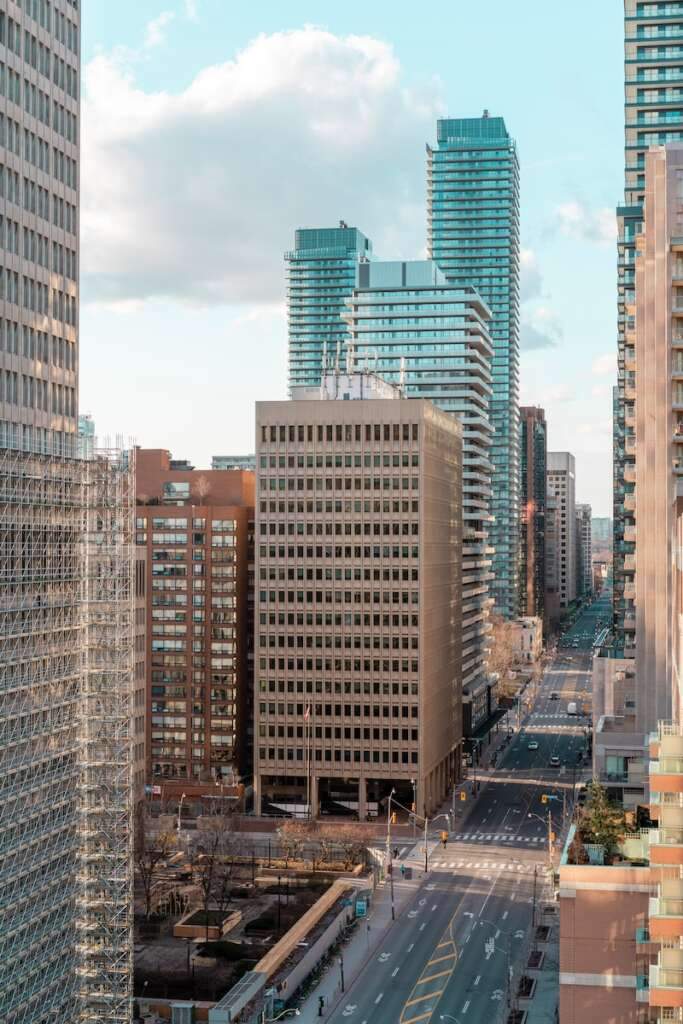 Entertainment District:
Where to stay in Toronto for nightlife? The Entertainment District is an excellent option for anyone seeking nightlife, convenience, and proximity to all the major Toronto tourist sites like the CN Tower because it is both central and energetic. Expect costs to be higher and a slightly less range of cheap hotels in the Entertainment District, which is also fantastic if you prefer luxurious upmarket hotels and major chain hotels.
However, I did discover some fantastic lodging options organized by price range! The center of the city's nightlife is located in Toronto's Entertainment District. You can't beat the Entertainment District if you enjoy partying all night and making the most of Toronto's nightlife.

Harbourfront:
Look here to see where to stay in Toronto for families. The Harbourfront neighborhood, located on the picturesque shoreline of Lake Ontario, provides spectacular views of Toronto and a distinctive experience for tourists hoping to live like a local. Harbourfront is perfect for families because it has all the parks, trails, beaches, and events one could want.
Toronto waterfront center, the Harbourfront Centre, hosts year-round food, art, and music events, especially during the warmer months. The most fantastic places to enjoy Lake Ontario views are waterfront bars and restaurants, providing convenient access to ferries and boat rentals that transport visitors to the renowned Toronto Islands.

Yorkville:
People are searching for the best place and where to stay in Toronto for a luxurious life. This chic district in downtown Toronto near Yonge and Bloor is well-known for its chic shops, cafes, and restaurants. Bloor Street's "Mink Mile" is well-known for its galleries and design studios.
Visitors to Toronto can have a particularly stunning experience in Yorkville, with its opulent tree-lined avenues and lovely Victorian homes. Yorkville offers a variety of unusual things to do for art enthusiasts and shopaholics. Visitors to Yorkville Park can travel through time thanks to an outstanding urban forest divided into sections to symbolize Canada's many regions.

Chinatown:
The thriving Chinatown neighborhood of Toronto, founded in 1878, has a distinct identity and is the ideal trip for food lovers and Anthony Bourdain-style travelers. Visitors can enjoy the diverse world of Chinese, Thai, Japanese, and Vietnamese food here at restaurants that range from the traditional to the fusion, as well as several marketplaces and shops.
You can find a ton of fresh vegetables, trinkets, and herbal treatments on Spadina Avenue, as well as a ton of street food vendors to stop at for a snack along the way. The Toronto Chinatown Festival and the Chinese New Year celebration are two notable festivals held in Chinatown each year.
Related: Best Time to Visit Vietnam: Explore the Best Areas (2023)

West Queen West:
If you find where to stay in Toronto for the most fabulous neighborhood. This trendy new neighborhood draws trendsetters and artists worldwide thanks to its galleries, open studios, countless stylish restaurants, pubs, and specialty shops. Vogue magazine has named it one of the world's most excellent communities.
Explore the vibrantly painted streets—with Graffiti Alley setting the bar—while exploring the area's profusion of apparel, artwork, music, and delectable foods. The modern art lover's destination is, without a doubt West Queen West, where year-round residents almost expect to find interactive gallery spaces and current shows.

Midtown:
The University of Toronto, in addition to some of the city's most well-regarded restaurants and attractions, are all located in Midtown Toronto, which encompasses multiple districts. You won't find a more active area to stay in Toronto than this one, which is bursting with things to do, see, and experience. One of Toronto's most well-known sites is the magnificent hilltop home known as Casa Loma.
Henry Pellatt, a businessman, bought this Gothic Revival estate in 1903, and it is now a museum and fairytale-worthy location with gardens, stables, an excellent art collection, and many photogenic backdrops. Cinephiles will be interested to discover that many movies have been filmed in Casa Loma, including Scott Pilgrim vs. The World, X-Men, and Crimson Peak.

Frequently Asked Questions:
Where in Toronto is the finest area to stay?
The finest places to stay in Toronto include Downtown, Chinatown, Entertainment District & Financial District, Harbourfront, Midtown, Yorkville, and West Queen West because these are the tourist hotspots with the most attractions.
What part of Toronto is posh?
Many wealthy Torontonians live in St. Andrew-Windfields in spacious, contemporary homes and condos. Without a doubt, this Toronto neighborhood is one of the most costly ones! Extensive green grounds surround the contemporary homes, making this part of Toronto charming.
What is the most well-known street in Toronto?
The most well-known street in Toronto is Yonge Street. One of Toronto's oldest streets is this one. Downtown Yonge, home to the Eaton Centre, Massey Hall, and the Elgin & Winter Garden Theatre, is another important location in downtown Toronto.
When is the most affordable time of year to travel to Toronto?
The cheapest months to visit the city are from December through April. The chilly weather deters many travelers from traveling to Toronto at this time of year. Accommodations are therefore offered at reasonable prices.
How can I see Toronto on a tight budget?
Walking or biking is a fantastic method to explore the city without spending cash on transportation.