Discover the Best Canmore Hotels for Your Next Vacation
The Canadian city of Canmore is close to Banff National Park. The Rocky Mountains and alpine forests surround it, while the Bow River flows through its center. Canmore and the surrounding area are filled with activities. Simply said, it's one of our favorite places in Alberta to unwind, spend a few days (or weeks), and breathe clean mountain air.
Canmore also serves as an excellent hotel base to explore Banff for activities like skiing, hiking, and many others. But the travel from Calgary to Canmore is straightforward; it is a good idea to stay in a top-notch hotel in Canmore to enjoy all of this goodness easily.
Canmore Inn & Suites
The Canmore Inn & Suites, in the center of Canmore, has a three-story water slide, an indoor pool, and accommodations with cable TV and views of the mountains. The distance to Canmore Golf & Curling Club is only 20 minutes by foot. Free WiFi is available.
Microwaves, coffee makers, and refrigerators are available in each Canmore Inn & Suites guest room. They are equipped with a desk, a safe deposit box, and a lounge space.
The hotel also provides visitors with a hot tub, a gym, ski storage, and conference space.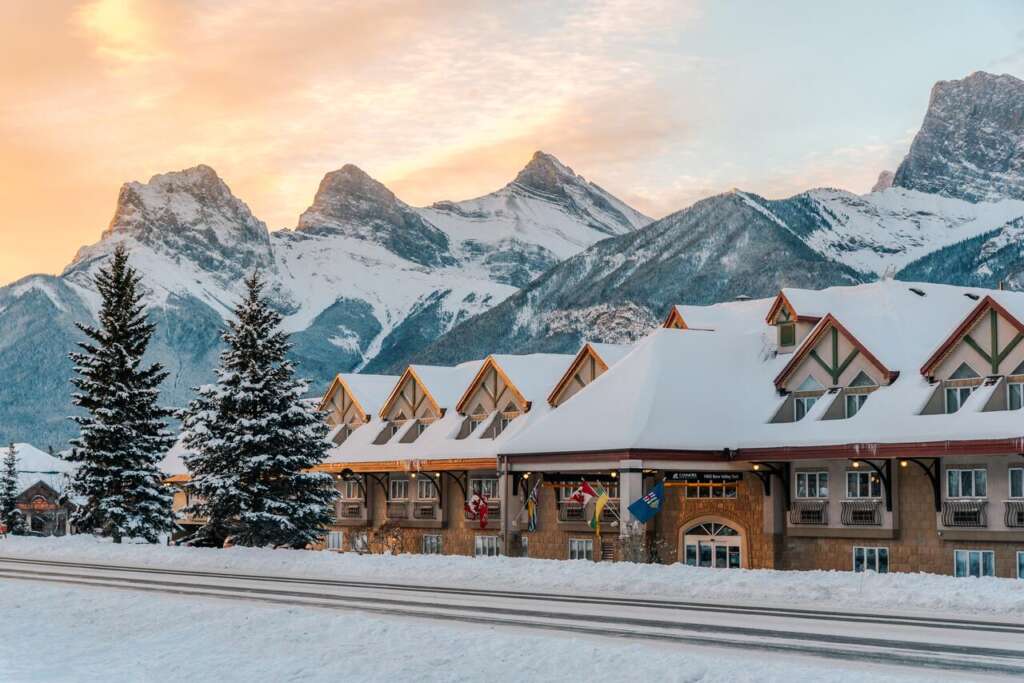 RELATED: Miette Hot Springs: A Traveler's Guide
Silver Creek Lodge
This Canmore lodge, which has a full-service day spa, is approximately 4 miles from Banff National Park. Dinner is available at Wild Orchid Asian Bistro. Every suite comes with a fireplace and a fully functional kitchen.
The Silver Creek Lodge's one- and two-bedroom suites come with separate sleeping & living rooms, in-suite laundry, and balconies. There are flat-screen cable TVs and free WiFi available.
A eucalyptus steam room is part of the Bodhi Tree Spa at Lodge Silver Creek. There are also body massages, manicures, and facials available. There is also underground parking offered.

Coast Canmore Hotel & Conference Centre
A short drive from Banff, the Coast Canmore Hotel & Conference Centre in Canmore has an indoor pool and sauna. Along with a 24-hour business center, a 24-hour reception, and speedy check-in and check-out options, it features a fitness center.
The hotel's rooms are cozy, with a flat-screen TV and tea and coffee-making amenities. They have a workstation, free wifi internet, and bottled water.
The hotel's restaurant serves breakfast and dinner, giving visitors a convenient dining option close to their room. Alternatives include a variety of international eateries close by.

Basecamp Resorts Canmore
The Basecamp Resorts Canmore, located in the center of the Canadian Rockies and eleven miles from Banff, is about a mile from Lady Macdonald Mountain. It is the perfect location for those looking to enjoy the numerous winter sports and even summer activities. The Whyte Museum, The Cave and Basin National Historic Site, and more are all within an hour's drive of three major ski resorts.
The resort's distinctive style comes with many enjoyable activities and first-rate services. There are alternatives for cycling, hiking, horseback riding, boating, fishing, golfing, and skiing, depending on the season (the majority will cost extra).

Pocaterra Inn & Waterslide
The Pocaterra Inn & Waterslide has a sauna, a heated indoor pool, and a waterslide. Each room has a seating space. 1.5 kilometers away lies the Canmore Golf & Curling Club. Every day, a freshly cooked breakfast buffet is offered.
Each features a desk for work and a coffee/tea maker. A microwave, as well as a refrigerator, are provided in every lodging. The property has a fitness center. Pocaterra Inn & Waterslide has a hot tub for unwinding.

Super 8 by Wyndham Canmore
The Super 8 by Wyndham Canmore is situated just outside Banff National Park, in the center of Canmore. One of the hotel's main features is its closeness to the park, which enables guests to stay there while participating in outdoor activities like hiking or skiing in the summer or winter.
The hotel offers much more than easy access to Banff National Park. For instance, it has a business center that allows business travelers to make presentations and print as many copies as required. The on-site exercise center is ideal for preventing your routine from becoming stale while you are on holiday.

Quality Resort Chateau Canmore
Canmore's Quality Resort Chateau Canmore is close to Banff National Park. There is also an indoor pool, Jacuzzi, spa, and wellness center. There is also complimentary Wi-Fi.
Visitors at Chateau Canmore can take advantage of several amenities, such as a sauna, outdoor tennis courts, and conference spaces. Additionally, it has a currency exchange, a 24-hour reception, and babysitting services.
Rooms at the resort are spacious and come with a kitchenette and a private bathroom. They have a refrigerator, a Jacuzzi bath, and a coffee maker.

The Georgetown Inn
The Georgetown Inn resides in the city's historic district, just a short distance from restaurants, shops, and other top sights. This boutique hotel, a 50-year fixture in the area, is just a few feet from the Potomac River.
This non-smoking hotel offers free WiFi in all public areas and guest rooms and same-day dry washing. The hotel provides guests access to a health center, a cardio room around the clock, and 24-hour bell service.
The Washington Sports Club on M Street is accessible to guests of the Georgetown Inn for free, and on-site food is available in the kitchen and bar.

The Malcolm Hotel
The Canmore Museum And Geoscience Centre may be reached by foot in just 10 minutes from the upscale Malcolm Hotel by CLIQUE, located in a well-known tourist location. It has free Wi-Fi, an outdoor pool, and a Jacuzzi.
Among the helpful amenities offered by Malcolm Hotel by CLIQUE are a ticket service, speedy check-in and check-out, and a concierge. The resort has a library where guests can relax with a book. A well-stocked fitness center is another amenity of the hotel.
Hair dryers and freezers are available in the rooms of the Malcolm Hotel by CLIQUE. The hotel's on-site restaurant offers guests a distinctive eating experience, making it the perfect choice for people who prefer to eat nearby.

FAQ
Is Canmore expensive to live in?
So how do they manage to make it work? Working two jobs, going grocery shopping in Calgary or Cochrane, and living with roommates all help some people pay their monthly expenditures.
What is Canmore Alberta known for?
A limitless variety of outdoor activity possibilities are available due to the more than 71km of multi-use trails located inside the town boundaries, the World Class Canmore Nordic Centre, hiking, scrambling, 5 major ski resorts,  climbing, kayaking, canoeing, mountain biking,  and rafting.
Is Canmore in Calgary?
Canmore is a city in Alberta, Canada, close to the southeast edge of Banff National Park. It is situated about 81 kilometers (50 miles) west of Calgary. It is situated in the Rocky Mountains of Alberta, in the Bow Valley.
Is it good to live in Canmore?
With little crime and much to do all year long, it is a lovely and tranquil location to live.