7 Luxury Hotels in Palm Springs
Over the past ten years, hotels in Palm Springs have grown steadily. Today, you may find anything you want, from peaceful boutique properties to warm rustic locations. Want to reserve a lavish five-star property outfitted with every conceivable comfort and a fun restaurant? Well, Palm Springs also offers a ton of that.
The alluring "desert modernism" look and understated ambiance remain unaltered; you're just as likely to see a group of European retirees exploring the renowned Design and Architecture Center as a Hollywood A-lister unwinding by the pool. Each hotel on the list has a pool because a Palm Springs hotel without one is like a filthy martini without an olive.
Korakia Pensione Hotel:
This resort is ideal for couples. You won't even believe you are in Palm Springs because of the lush Mediterranean and Moroccan influences sprinkled throughout. You'll notice Korakia's distinctive keyhole-shaped grand entryway right away. Citrus blooms, oleander bushes, olive trees, date palms, bougainvillea vines, exquisite Moroccan fountains, and a stone cascade can be seen in the central courtyard. It has been dubbed one of the "sexiest hotels in America" and is a favorite hangout for actors, authors, producers, and photographers. The homes were initially constructed in the 1920s and 1930s and later updated. However, every room still contains handmade and antique furnishings. What does this hotel lack, save the two heated pools?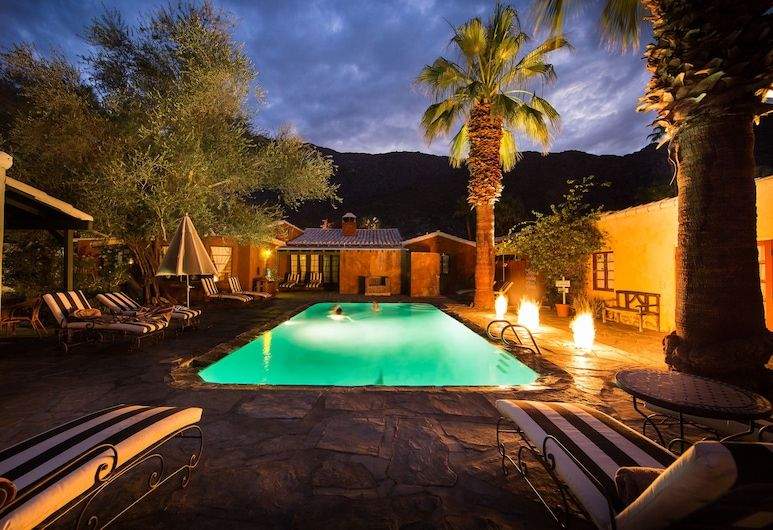 Kimpton Rowan Palm Springs Hotel:
At the Rowan, a cutting-edge hotel that debuted in 2017, you can stay in the heart of the activity. You can quickly walk to the most extraordinary eateries, pubs, and stores because the hotel is situated on a prominent corner of downtown. You won't mind the water misters that keep things cool in the desert sun, and the rooftop pool's views of the surrounding mountains are unbeatable. A neighboring bar caps it all off with summer party music and lots of places to relax. Please take advantage of their free beer and wine happy hour, held every day in the lobby. After that, you may eat modern American cuisine and enjoy 270-degree views of the city and the San Jacinto Mountains at their rooftop restaurant, 4 Saints.

Dive Palm Springs Hotel:
The contemporary getaway we all need is Dive Palm Springs—offering suites with four-star accommodations, including the orchard suite with a hot tub overlooking the grounds from various sun terraces. The pool is the perfect place to rest before exploring the neighborhood's eateries, cafes, and pubs to satisfy any cravings—a toast to it.

Ace Hotel and Swim Club:
For youthful, trend-setting vacationers coming to the desert, the Palm Springs Ace Hotel, located in a former Motel 6, is a popular party spot. They have all the amenities with record players and vintage magazines in the rooms and a photo booth and retro macrame in the lobby. As time passes, more and more visitors start to resemble hippy cult members rushing around with canes and fancy robes that have been decked out. Guests are also provided with elegant walking sticks and robes during their stay.
It's also a little bit of a cult; the visitors are die-hards who come to see and be seen around the pool, riding beach cruiser bikes, or dining at the respectable (albeit a little costly) restaurant King's Highway (which used to be a 24-hour Denny's). Non-guests can access the scene because the hotel offers $ 20-day permits ($30 on weekends) for pool use, allowing them to enjoy the events and live music that frequently occur there.
If you're down to party all night with stylish 20-somethings, The Ace is your location; however, the more refined (or laid-back) traveler might look elsewhere. The Ace is almost so fantastic that it's turning into a caricature of itself. Unless you wish to go back in time to your youth? You only have one life to live.

Hilton Palm Spring Hotel:
This group at Hilton is undoubtedly knowledgeable about hotels. Who would have predicted it? They're in the middle of everything, with the San Jacinto Mountains serving as the backdrop, and some of the neighborhood's best restaurants and coffee shops are nearby. This is a very Palm Springs environment. Do you feel like doing a little exploring? Board the shuttle bus from the Hilton Palm Springs and embark on a journey of discovery. If you're staying at the hotel, which is a good idea because it has a nice pool and lots of space for sunbathing in Palm Springs, the pool area is a doozy. Also on-site are several excellent restaurants and bars and a superb spa, and the service is just as refined as expected and highly suggested.

Also Read: 9 Luxury Hotels of Mexico City
Les Cactus Hotel:
This hotel is unquestionably one of our top choices if you want something more private from your Palm Springs vacation. It's a small but wonderfully shaped retreat in the middle of downtown Palm Springs, and it offers some of the best customer facilities of any hotel we've been at in this area. Free bikes, a fantastic outdoor pool, immaculately comfortable hammocks, and super-cute breakfast boxes all demonstrate the commitment to hospitality present throughout this hotel and serve as an excellent accompaniment to taking in the view of San Jacinto Mountain, which is just a short distance away.

Colony Palms Hotel:
We always fall into a dreamy, carefree trance on the journey to Palm Springs, and this cozy setting only adds to the city's flashy attractiveness. The hotel has changed significantly throughout its nearly 90-year history since mobster Al Wertheimer first constructed it in the 1930s (the pantry had a hidden door leading to a brothel). Even though the town's main strip is only a block away, the modern rooms are opulent without being over the top, and the lush vegetation will make you feel as though you are hidden away in a rural Spanish hacienda. Weekends see a flurry of activity at the tree-shaded pool, but it never gets out of hand. Purple Palm, the speakeasy-style restaurant located downstairs, is a chic place to go for supper after a day spent relaxing in a bikini.

FAQ:
What is the enjoyable part of Palm Springs?
The most sociable area of Palm Springs is downtown California. The enormous palm palms lining Palm s Canyon Drive on either side provide a picture-perfect city view. Most lodging options, eateries, stores, and pubs are concentrated in one convenient downtown neighborhood.
Why is Palm Springs become so famous?
This well-liked vacation destination is renowned for its magnificent sunny weather, golf courses, dining establishments, lodging options, and hot springs. Since the 1930s, Palm has been a popular escape from the bustle of Los Angeles and is home to many Hollywood celebrities.
What is the rich place of Palm Springs?
Andreas Hills is the most affluent, renowned, and picturesque area in the desert city of Palm and is frequently referred to as the "Bel Air of Palm Springs."
How much expensive is Palm Springs?
The cost of living in Palm, California, is 20% more than the national average. Your career, the local real estate market, and the area's average wage can all impact living costs.
What is the best time to go to Palm Springs?
February, March, and April are the best months to visit to experience the best weather of the year. At this time, the usual daily highs are in the 70s and 80s, while the desert evenings bring colder temperatures.