Pet-Friendly Hotels in Wildwood New Jersey: Explore Multiple Hotels.
Looking for a hotel in Wildwood New Jersey, the United States, where you may stay with your dog, cat, or other pet? Check out the list below: pet-friendly inns, cabins, bed and breakfasts, and motels. You can select the listings by the size and type of your pet, as well as the amount of pet fee the accommodation charges, to make sure you pick the ideal place.
Tide Winds Motel:
No weight or size restrictions apply. Everyone is welcome. Each pet costs $25 per day. We ask that your pet be kept in a crate when you leave the room. Each unit is permitted up to 3 pets. The area around the pool is off-limits to pets.
The beach that enlarges 14 feet a year is large and expansive—only 1.5 blocks separate Tide Winds from the convention center and a two-mile boardwalk.
Countless stores, restaurants, attractions, nightclubs, and entertainment are all within walking distance. Stone Harbor, Atlantic City, and Cape May are all nearby. Fun for the whole family at wildlife sanctuaries, marinas, and water sports. Most Popular in the USA Morey's Amusements.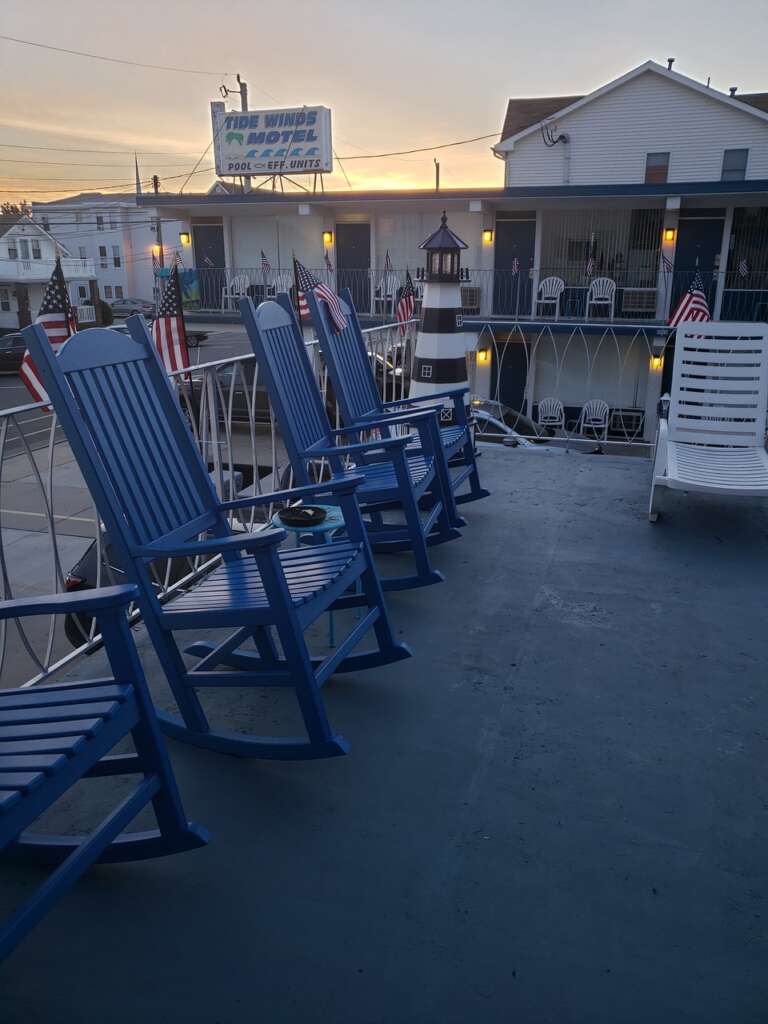 The Shore House:
The Shore House, 400 meters from Northern Wildwood Beach, has complimentary bikes, a seasonally open outdoor pool, and air-conditioned lodging with a balcony and free WiFi.
A flat-screen TV, complimentary toiletries, a hairdryer, and a shower are available in the apartment. A kitchen with an oven, dishwasher, and microwave are also included in some apartments.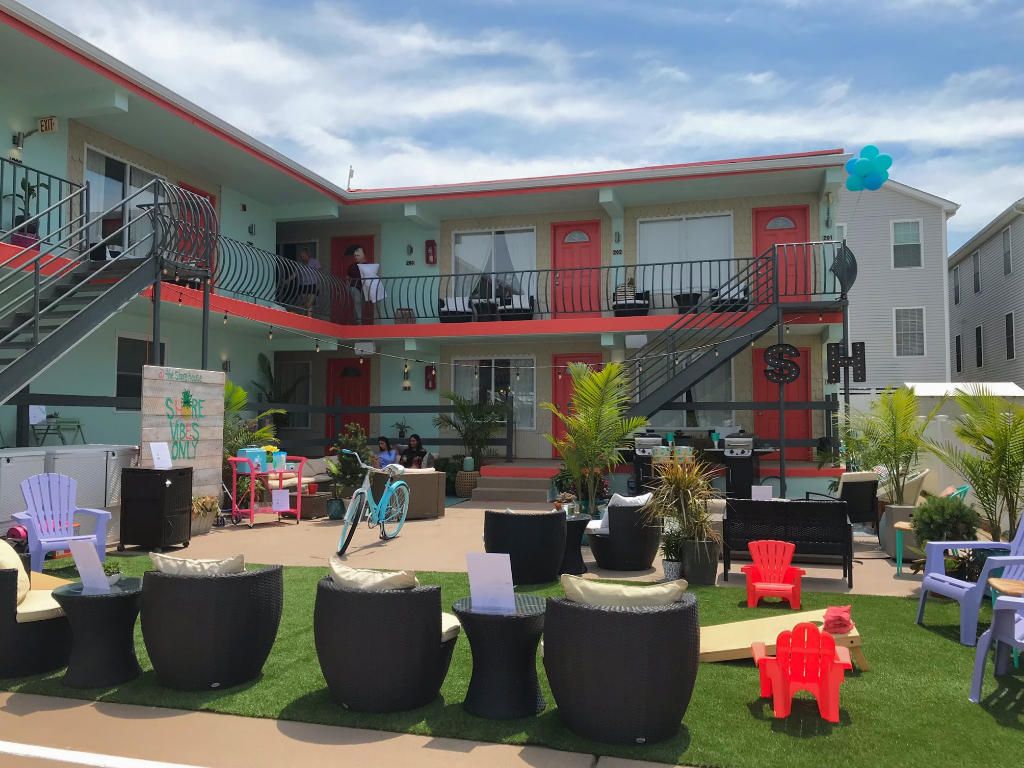 Fountain Motel Townhouse with Shared Pool:
This Wildwood New Jersey vacation rental is next to Adventure Pier and less than 5 minutes from Wildwood Beach. It has an entire kitchen and cable TV.
The four-bedroom Fountain Hotel Townhouses with Shared Pool is air-conditioned, has a separate sitting room, and easily sleeps nine guests. This property has three on-site bathrooms.

Sandbox Motel:
This Wildwood motel has rooms with refrigerators and microwaves, an outside pool, and a sun deck with a hot tub. The use of the WiFi is free for visitors.
Every conditioned room at Sandbox Motel has a cable TV. Some rooms additionally include a terrace or balcony with patio chairs. Every room has a private bathroom with a bathtub and shower. The units on the second story have vinyl plank flooring, while the rooms on the lower floor have tiled floors.

Garfield Beach House:
Garfield Beach House offers lodging with internet access for free and free private parking in the area of Wildwood New Jersey, close to Northern Wildwood Beach and Wildwood Beach.
Each apartment has air conditioning, a private bathroom, and a kitchen with a hob, refrigerator, oven, and other cooking appliances.

Rus Mar Motel:
Rus Mar Motel in Wildwood offers accommodations with internet access for free and free private parking, about 100 meters from Wildwood Beach. The Wildwood Boardwalk is 600 meters away, the Splash Zone Water Park is 1.5 kilometers, and Morey's Piers is 1.3 kilometers from the property. The hotel includes accommodations for families.

Binns Motor Inn:
The Boardwalk is 5 minutes from Binns Motor Inn in Wildwood New Jersey. On-site private parking is cost-free. A TV and an individual bathroom are provided in each room.
There is a cash machine on the grounds. A sun patio and an outdoor pool are also available to visitors to the resort during specific seasons. Free coffee is provided every morning from six to ten in the lobby.

Twilight Motel of Wildwood New Jersey:
This Jersey Shore resort is 322 meters from the Boardwalk and the ocean and 483 meters from Morey's Piers & Beachfront Water Parks. WiFi is provided for free.
The accommodations come with a microwave, a refrigerator, and cable TV. A kitchen is available in some rooms.
Mango Motel of Wildwood New Jersey:
The beach, Boardwalk, and Morey's Piers amusements are all within a 5-minute stroll of this Wildwood motel. There is an outdoor pool on the property.
The Mango Motel has cable TV, a microwave, and a refrigerator in every room. Some accommodations include a dining room and a kitchen.
Hotel Cabana Oceanfront/Boardwalk:
The Hotel Cabana Oceanfront/Boardwalk in Wildwood has serviced apartments, non-smoking rooms, a seasonally open outdoor pool, free WiFi, and a terrace. North Wildwood Beach is a 60-meter walk away. A 24-hour front desk and a travel desk are available at this four-star hotel. On-site private parking is offered.
Each hotel accommodation has a balcony with a view of the water. Each Resort Cabana Oceanfront/Boardwalk room has a flat-screen TV and air conditioning.
The lodging is close to popular attractions like Wildwood Beach, Splash Area Water Park, and Morey's Piers. Hotel Cabana Oceanfront/Boardwalk is 63 kilometers from Atlantic City National Airport, the closest airport.

Monaco Motel Wildwood New Jersey:
The Monaco Motel – Wildwood is located on Ocean Avenue's design in Wildwood, 30 meters from the Wildwood Boardwalk and Wildwood Beach. This Wildwood New Jersey hotel is 200 meters from both Morey's Piers Exciting Activities Pier and the Wildwoods Exposition Center. Monaco Motel is located 550 meters from Splash Zone Water Park.
Each room has a 32" flat–screen TV, a mini refrigerator, and air conditioning. Each private bathroom has a bathtub, shower and multiple combinations.
Barbecue grills are available at the Monaco Motel – Wildwood. A vending machine is one of the additional amenities available at the building. Parking is provided without charge, and WiFi is available.

Rio Motel and Suites:
In Wildwood, the Rio Motel and Suites are 1.2 kilometers from Morey's Piers and 11 km from Emlen Physick Estate. The Wildwoods Exposition Center, Splash Zone Water Park, and Wildwood Boardwalk are within a short drive from this property. The hotel has free WiFi and room service.
The motel's guest rooms have a flat-screen TV, air conditioning, and a private bathroom with complimentary toiletries. A few of the rooms also come with a patio. All the Rio Motel and Suites rooms offer towels and bed linens.
Wildwood Beach, Crest Beach, and North Wildwood Beach are popular attractions close to the lodging. Rio Motel and Suites are 64 kilometers from the Atlantic County International Airport, the closest airport.
FAQ:
Is my dog allowed in Wildwood New Jersey?
Dogs travelling to the Wildwood New Jersey region can visit the dog park or swim on the beach with their families. Between the Glenwood area and Maple Avenues is where you'll find the Wildwood Dog Resort & Beach. The dog beach is available from dawn to sunset, and the dog park is open daily.
Are animals permitted on the Wildwood New Jersey, Boardwalk?
The biggest dog park in the world, featuring dog-friendly amenities and loads of pup advantages, is the Wildwoods Dog Resort & the beach on Glenwood Avenues and the Boardwalk. Dogs can also have a great time at the Dog Beach on Glenwood Avenue.
Does the Wildwood New Jersey, Zoo allow dogs?
Here at Wildwood Park & Zoo, we enjoy sharing our love of animals and conservation with all our guests. We kindly ask that you provide our visitors and animals with the most outstanding experience possible. Pets shouldn't be brought into the zoo since they can disturb the animals and spread illnesses (service animals are acceptable, though!).
Can you snooze on Wildwood New Jersey, Beach?
Regulations. Unfortunately, camping on the beach is not allowed in Wildwood Crest. Anyone is prohibited from visiting beaches between 11 p.m. and 6 a.m. Additionally, it is prohibited to picnic, grill, or light fires on the beach.