Top 10 Free Things to Do In Copenhagen, Denmark
Despite having an unfavorable track record for being pricey, Copenhagen features plenty of free historical sights and things to do. Beautiful images of pastel-colored houses can frequently be captured while strolling along the canals. The national museum has several fascinating exhibits that are free to view year-round if you want to learn more about Denmark's lengthy history.
Copenhagen is one of Europe's greenest cities. Free bikes are available for rental at more than 110 bike racks located throughout the city center, in keeping with the area's environmental attitude. Utilize the roomy bike lanes found on most roadways and pedals through opulent palaces, botanical gardens, and hippie districts all day long. Please continue reading our list of free activities in Copenhagen.
The Little Mermaid Statue and Kastellet
The Little Mermaid monument, which has stood in Copenhagen since 1913, has practically taken on the role of the city's emblem. Thousands of people visit Langelinie Pier every day to take the perfect picture of Copenhagen, and thousands of them stop by the bronze and granite sculpture that is perched delicately atop a rock there.
Despite being one of the city's most well-known landmarks, she probably won't wholly impress you when you visit. It's one of those items that has attracted an oddly high level of buzz! However, she is still worth seeing because Kastellet, one of Northern Europe's best-preserved strongholds, is right nearby and absolutely worth a wander.]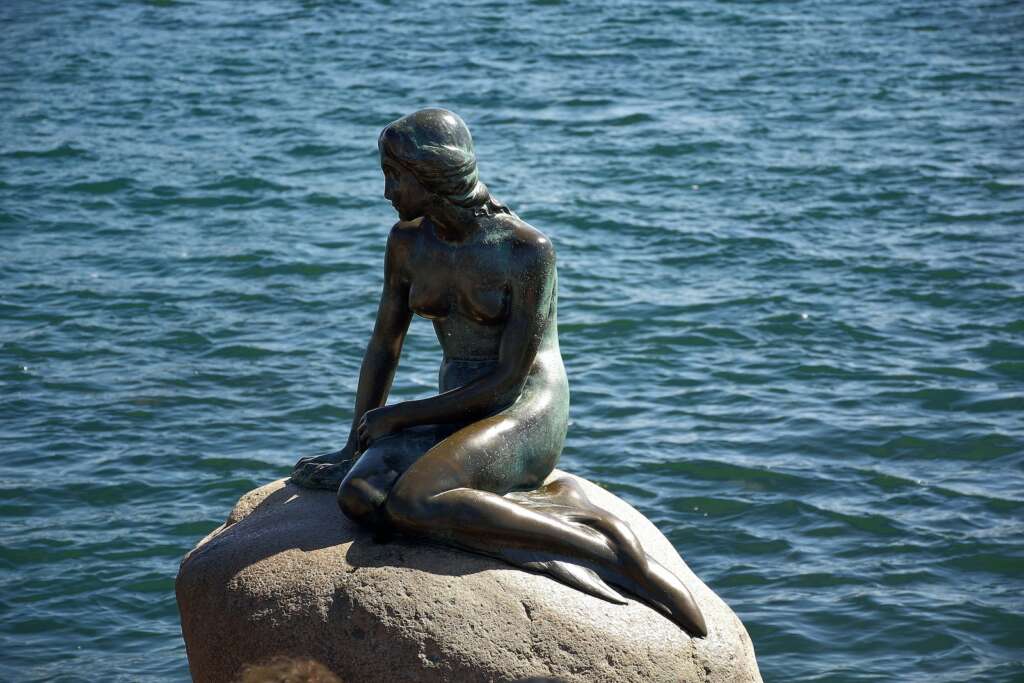 Nyhavn Waterfront
Another popular tourist destination in Copenhagen is Nyhavn, one of our fave free activities there. The Nyharvn Waterfront is among Copenhagen's most popular photo spots, surrounded by pastel-colored homes.
One must not miss the renowned row of colorful canalside dwellings. Stroll along the canal past the lofty masts of boats, whether they are cheering up a Danish grey day or gleaming in the springtime sunshine. Just ensure you don't forget your camera!

The Botanical Gardens
The wealthiest living collection of plants in Denmark, with 9000 distinct species, can be found in the Botanical Gardens, a magnificent green sanctuary in the middle of the busy city of Copenhagen. The gardens are dedicated to protecting and studying plant life and fungi. The gardens at the University of Copenhagen are a wonderful day trip for any city tourist who appreciates the environment.
Their long history dates back to 1600 when the university's first garden was established. Landscape architect Jens Hendeliowitz renovated the King's Garden at Rosenberg Castle between 2009 and 2012. However, the gardens as we know them opened their doors in 1874.

Freetown Christiania
The renowned Christiania neighborhood of Copenhagen is one of the city's most intriguing and peculiar districts. Around 1000 people live in Freetown, established in 1971, while thousands of visitors from outside come every day to look.
Although it is a contentious location because of its lenient stance regarding hash and marijuana, the amazing street art, relaxing cafes, and unique atmosphere make it a fascinating destination. Park your bike and stroll, but unless otherwise specified, avoid taking pictures, as you might get into trouble.

RELATED: 7 Of the Best Hot Spring Hotels in Iceland
National Museum of Denmark
Although the National Museum of Denmark offers paid guided tours, admission to its displays is free. If the weather permits, visitors may even bring their own food to eat in the museum's lunch room or garden.
The museum offers a number of ongoing exhibits, including its famed Ethnographic Collection, which showcases religious and cultural artifacts from all over the world and history, and its Danish Prehistory collection, which includes archaeological discoveries like the burial of the Egtved Girl.

Amalienborg Palace
Amalienborg Palace allows visitors to see the changing of the guard by the Life Guards. Every day of the year, at 12 o'clock, a troop of guards shifts positions in front of the royal palace.
The guards are replaced with coworkers coming on foot from their barracks by Rosenborg Castle during the Vagtparade. Music is frequently played throughout the event, especially if the queen or other royal family members are present.

National Gallery of Denmark
Visitors to the permanent exhibitions at the National Gallery of Denmark are admitted free of charge. These exhibitions span more than 700 years of art and span from early Renaissance pieces to avant-garde and thought-provoking contemporary art; they are divided into four categories: European Art, Danish and Nordic Art, Danish and International Art, and French Art.
Paintings by historical masters like Christian Kbke and Vilhelm Hammershi are sure to please. In contrast, sculptures and installations by modern masters like Ann Lislegaard and David Shrigley are sure to please. Some special shows at the gallery are also open to the public without charge.

Stella Polaris
Stella Polaris, a free, one-day electronic music festival that travels to five different places in Denmark, including Kolding and Snderborg, is ideal for music festival enthusiasts. The inaugural Stella Polaris took place in 1997, and since 2001 it has become a staple of Copenhagen's summer cultural calendar.
Speakers have been put across the park for the Copenhagen leg, and a DJ booth is set up in front of the Frederiksberg Castle to ensure that nobody is left out of the music. Everyone from discriminating music lovers to families with young children is drawn to the festival because of its laid-back and welcoming atmosphere.


Frederiksberg Garden
One of Copenhagen's biggest parks is Frederiksberg Garden, often known as Vondelpark. This 18th-century English-style park, close to the Copenhagen Zoo, was previously solely open to royalty until 1971.
During the summer, Svendsen's Boat Service provides boat cruises for a modest price as a relaxing way to explore Frederiksberg Garden. As Frederiksberg Garden offers broad views of Frederiksberg Palace, you might see many folks there having picnics.

Torvehallerne Market:
Explore Torvehallerne Market, an outdoor market in Copenhagen that sells stunning, vibrant fruits, vegetables, and flowers. The product is eagerly awaiting your camera. As soon as you enter the glass structures, you'll see rows of kiosks selling pastries, local Danish meats, open sandwiches (smorrebrod), booze, and chocolates. The foods offered at this market won't disappoint if you don't mind spending a few Danish kroner on a snack.

FAQ
Are museums in Copenhagen free?
Copenhagen can be pricey to visit, but if you know where to go and when to go, you can find many free museums and other attractions. Currently, 15 museums in Copenhagen provide free entrance.
Is Copenhagen cheap for tourists?
Although visiting is incredibly pricey, it is unquestionably worthwhile. You do not need to stay there for a long time because you can visit everything in Copenhagen in a few days. Due to the Copenhagen Card's inclusion of free public transit and access to the city's top attractions, traveling to Copenhagen may be done on a budget.
How to go to Copenhagen on a budget?
Purchasing a Copenhagen Card is one of the simplest methods to save a lot of money in Copenhagen. With free entrance to more than 80 attractions and unlimited use of public transit, the Copenhagen Card is a complete city pass.
How much money do I need for 4 days in Copenhagen?
Copenhagen costs between $75–$120 per day for travelers on a limited budget. These costs are based on what you'll require in order to comfortably visit the city on a low budget.