7 Of the Best Hot Spring Hotels in Iceland
Iceland is filled with geothermal energy, from exploding volcanoes to strong geysers, and few activities immerse tourists in this natural phenomenon as the nation's famous hot springs. The country has cozy, peaceful thermal pools, from the well-known Blue Lagoon south of Reykjavik to the remote Mvatn Nature pools in the mountainous north.
Here are seven of the top Icelandic hot springs you shouldn't miss if you consider visiting the Land of Fire and Ice.
Sky Lagoon:
The Sky Lagoon, carved into Iceland's jagged Atlantic coast, combines breathtaking ocean views with a tranquil hot spring ambiance. It is one of the nation's newest thermal spas in Kársnes Harbour, just outside Reykjavik. It debuted in April 2021. This geothermal pool has a 230-foot infinity edge with an ocean view and is often between 100- and 104 degrees Fahrenheit. Additional on-site amenities include a cold pool, sauna, steam room, cold mist, and shower.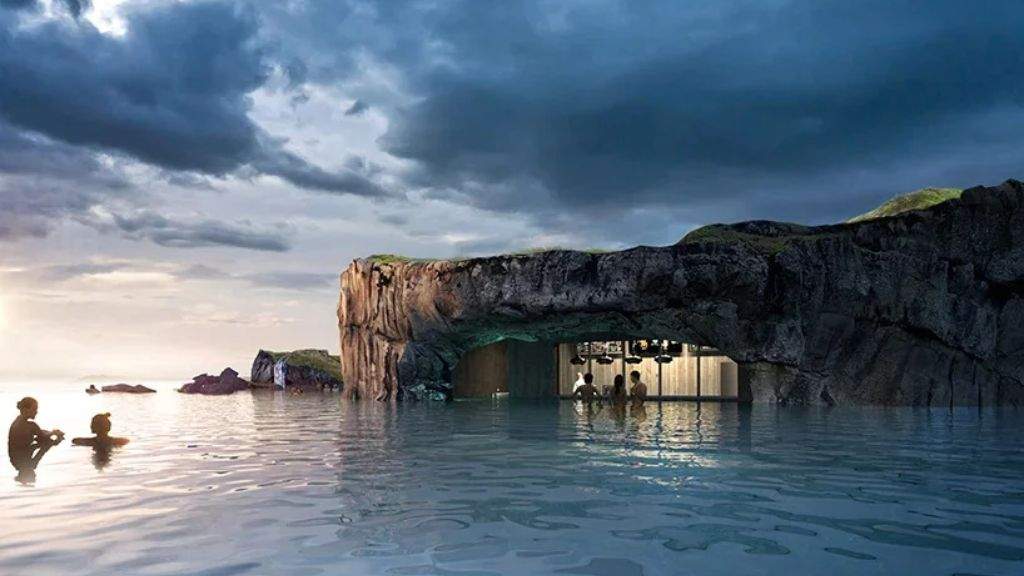 Gamla Laugin
This hot spring, also known as the Secret Lagoon, is considered one of the oldest in the nation and was first used to teach swimming to young people in nearby settlements. The steam pouring from the pool can be seen from the main road, roughly 90 minutes drive from Reykjavik center.
For an additional $25, adults can rent swimsuits, towels, wine, beer, and refreshments before entering the event. The historic hot spring house is still present and accessible, even with the addition of a contemporary changing home and amenities.

Secret Lagoon
One of Iceland's best hot springs is also its oldest swimming pool. In 1891, The Secret Lagoon, often referred to as Gamla Laugin by locals, opened for recreational use. Water naturally heated to a temperature of between 100- and 104-degrees Fahrenheit is still available. The warm lagoon, heated by three neighbouring geysers, also has privacy, a unique attraction in Iceland's top hot springs. It is primarily off the beaten path for tourists and is situated in the Hverahólmi geothermal area, just beyond the Golden Circle.

GeoSea Geothermal Sea Baths
The GeoSea Geothermal Sea Baths in the sleepy fishing village of Hsavik provide a taste of Icelandic culture. These springs are surrounded by mountains and are situated on a cliff with views of Skjálfandi Bay and the Arctic Circle to the north.
Stay for the opportunity to observe whales or the northern lights if the time of year is suitable, and come for the mineral-rich hot springs. These soothing hot springs include locker facilities, storage, and refreshments available right there. The temperature stays about 100 degrees Fahrenheit.

Blue Lagoon
The Blue Lagoon is, without a doubt, Iceland's top hot spring. The pinnacle of hot springs luxury can be found at this famous Icelandic attraction: Visitors can use the sizzling turquoise seas, spas, swim-up bars, and even the opulent Silica Hotel, which is a nearby lodging option.
The setting combines eye-catching design elements like moss-covered boulders and scenic bridges with luxury spa amenities, including a sauna, mask bar, and in-water massages. Additionally, Blue Lagoon is practical as well as peaceful. Its proximity to Keflavik Airport makes it the ideal spot to recover from jet lag before beginning an Iceland trip.

Reykjadalur Steam Valley
Reykjadalur, a lush green valley with mud pools, hot springs, and a naturally warmed river safe for swimming, is the epitome of natural beauty. The short-day trip destination of Reykjadalur is only 30 kilometers from Reykjavik. The swimmable river is a two-mile stroll from the parking area. Avoid the mud pits and hot springs by staying on the route. A boardwalk surrounds the swimmable river, a narrow stretch of water that consistently hovers around 104 degrees Fahrenheit.

Seljavallalaug
Seljavallalaug in southern Iceland is among the region's most tranquil natural jewels, despite its unassuming surroundings. Seljavallalaug is one of the largest swimming pools in the nation, measuring 30 by 82 feet. It's free and accessible to everyone, but unlike most hot springs, you swim there at your own risk. Because Seljavallalaug is not routinely cleaned, algae can grow there. Another draw for many is the lack of facilities and lifeguards. The setting promises magnificent mountain and ocean beauty as it is situated between mountains on the rough southern coast.

Mývatn Nature Baths
From the tranquility of Mvatn Nature Baths, a hot spring approximately fifty miles from Akureyri, take in the snow-capped highlands of northern Iceland and the ethereal aurora borealis displays. These inviting pools are naturally heated in the Lake Mvatn geothermal area, which is only 65 miles south of the Arctic Circle. In addition to the soothing alkaline bathing lagoon, there is a swim-up bar, a steam room, and a café right on the property.

Laugarvatn Fontana
West of Reykjavik, Fontana is a resort and wellness facility situated directly on a lake. Nothing could be more soothing than looking out over a body of water from the pool. In addition to the hot springs and steam rooms, the spa serves bread baked by geothermal heat, which you won't find at the Blue Lagoon.
The Fontana crew will take interested guests to the lakefront twice daily to dig up the day's bread harvest. With just a particular pan and basic materials, it is feasible to bake a wonderful loaf of rye bread using geothermal energy.

Landmannalaugar:
The Landmannalaugar hot springs are in a lava field in Iceland's highlands' Fjallabak Nature Reserve. The "People's Pools," referred to locally, are situated amid a well-liked hiking area. Driving down the southern shore, roughly three hours west of Reykjavik is the most convenient method of transportation. Unlike other hot springs that are more popular for socializing, this hot spring is frequently used to rest weary legs during multi-day excursions.

Hveravellir
Let's return to Iceland's Highlands. to view the Hveravellir Geothermal Area this time. It is located in the western highlands near the Kjolur highway (F35), some 200 km from Reykjavik.
There are many fumaroles in this area. The view is breathtaking any time of year that you go. You must plan your travel carefully because it is in a remote place. A refreshing dip in the hot spring area can be added to any of your many leisure activities.

FAQ
What is the most powerful hot spring in Iceland?
Because of its tremendous flow rate and extremely hot water, Deildartunguhver is regarded as Europe's most potent hot spring. Deildartunguhver, Europe's largest hot spring, may be well worth your time if you're traveling close to Borgarnes in western Iceland.
What is the famous hot pool in Iceland?
The Blue Lagoon is one of the most well-known and visited tourist destinations in Iceland. It is a definite must-see on any journey to Iceland and was designated one of the 25 wonders of the world by National Geographic.
What is the big hot spring in Iceland?
Due to its tremendous flow rate and extremely hot water, Deildartunguhver is thought to be Europe's most potent hot spring.
How many hot springs are in Iceland?
You might be stunned to learn that Iceland only has 350.000 people, despite having over 200 swimming pools and over 45 natural hot springs.