Here are The Top 10 resorts in Palm Springs To Visit This Summer
Around 100 miles east of Los Angeles, amid the magnificent desert, sits the city of Palm Springs. This resort area offers mild temperatures and sunny skies throughout the year, stunning natural beauty, fantastic hiking trails, golf courses, and top-notch dining options.
Over 100 golf courses in the Greater Palm Springs area, including the neighboring communities of Rancho Mirage, La Quinta, Palm Desert, and Indian Wells. This region is also home to numerous resort hotels that provide a wide range of services and amenities. You might also want to visit the neighboring Desert Hot Springs hot springs.
In the Palm Springs region, lodging options range from expansive resorts like the La Quinta Resort & Club and Curio Collection by Hilton, which is situated on 45 acres, to cozy boutique resorts like the Ingleside Inn, which is just a short distance from the Palm Canyon Drive shopping district in the city center.
Sparrows Lodge:
Although Palm Springs is renowned for its legendary late-night pool parties, some people travel to the desert in search of the utmost in leisure. The only music you'll hear at Sparrows Lodge, a quiet and beautiful haven, is that of hummingbirds, making it the ideal spot to unplug completely.
It's not challenging to picture old-school movie stars coming here to escape the press—possibly because they did. Castle's Red Barn, as Sparrows Lodge was formerly known, was built by MGM actor Don Castle in 1952 and was the place to be for celebrities who didn't want to be seen or recognized. The 20-room rustic resort still offers non-famous travelers the same kind of haven today.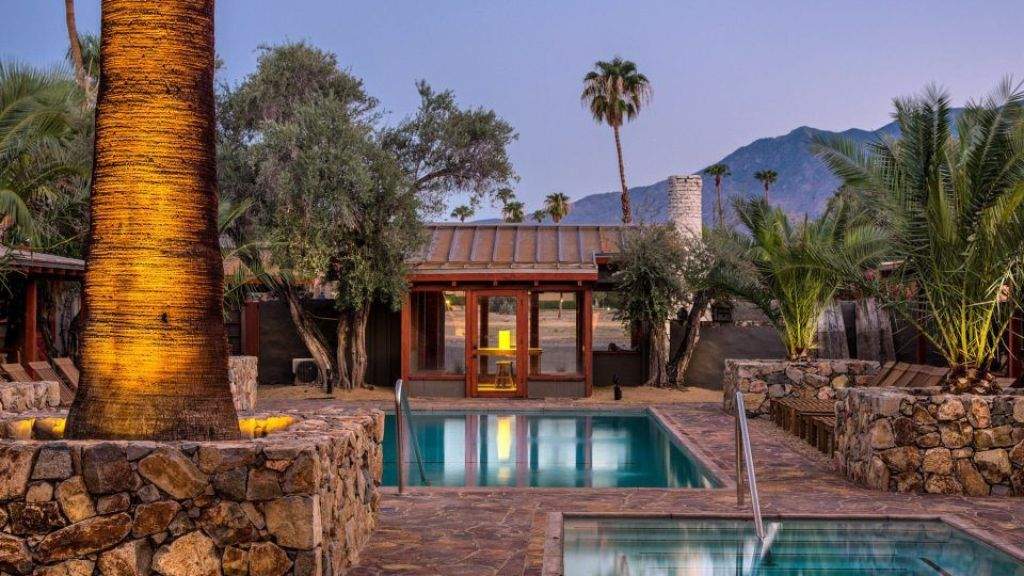 Parker Palm Springs:
The Parker Palm Springs is the city's pinnacle retro-luxury resort and delivers a very different vibe from La Quinta Resort's traditional luxury. The Parker Palm Springs pioneered the city's most recent revival as a fashionable, upscale resort when it opened in 2004.
This Jonathan Adler-designed complex, built from the first Holiday Inn in the state and a collection of bungalows, is situated on 13 acres of lush, exquisitely maintained gardens and plants, many of which have pathways running through them.
There are numerous swimming pools, an enormous outdoor chess board, tennis courts, a croquet lawn, a bocce ball court, and even a lemonade stand and snack bar by the pool.

Ace Hotel & Swim Club:
Initially, this retro-themed resort was a Howard Johnson's motel with a connected Denny's. It was converted into the ultimate hipster holiday resort 10 years ago, with a vintage cafe, on-site lounge, and several carefully planned experiences.
Many of the former Denny's original designs and architectural features remain. However, it is now known as King's Highway. It offers vegetarian burgers while the on-site DJ plays songs from a chosen playlist. Although the resort does not provide room service, you can order items for takeaway and pick them up yourself.
Two pools, various sports like ping pong and pool, and other activities are available at this mid-century modern resort in the desert.

The Ritz-Carlton, Rancho Mirage:
The Ritz-Carlton Rancho Mirage, one of the renowned hotel chain's original properties, epitomizes luxury. Sometimes a resort retreat needs a touch of luxury. The hotel's guest rooms are serene and dripping with extravagance. They include deep soaking tubs, stone flooring, and exquisite, natural colors with flashes of Palm Springs color.
Several ground-floor rooms also have outdoor fire pits inviting you to cuddle outside while admiring the stars. One of the most well-liked areas of the property is the infinity edge adults-only pool, which offers the best views of the Jacinto Mountains.

Omni Rancho Las Palmas Resort & Spa:
Around 40 minutes from Palm Springs, in Rancho Mirage, is the enormous family-friendly Omni Rancho Las Palmas Resort & Spa. It has 240 acres of recreation and entertainment, including its own water park.
A 27-hole championship golf course is available for golfers, and a 20,000-square-foot European spa is known for spa aficionados. There are three big resort-style pools and 25 tennis courts, one of which is just for adults.
The resort has its own two-acre water park named Splashtopia in addition to the pools. The park offers a variety of attractions, such as two 100-foot-tall waterslides, a lazy river, and its own beach.

RELATED: 10 Best West Virginia Resorts
Two Bunch Palms:
Two Bunch Palms is a private, opulent resort situated in the foothills above Desert Hot Springs, around 30 minutes from the center of Palm Springs. Desert Hot Springs is one of the rare locations in the world with naturally occurring hot and cold springs near one another.
This spa complex, which is said to have once served as Al Capone's desert hideout, today provides a variety of opulent treatments, hot and cold pools, and nutritious meals. Natural mineral spring water heated to 99 degrees Fahrenheit and drawn from an on-site aquifer supplies and heats the pools and

Korakia Pensione:
The Korakia Pensione is a distinctive little retreat occupying buildings on both sides of a street in the Historic Tennis Club neighborhood, walking from the Tahquitz Canyon hiking trails and downtown Palm Springs. It was constructed in the 1920s by Scottish painter Gordon Coutts as a Moroccan hideaway.
Anyone with an Instagram account can identify its recognizable keystone-shaped grand entrance on the Moroccan side with its gushing fountains covered in rose petals. Early silent-film actor J. Carrol Naish, who lived across the street from the artist, possessed a 1930s Mediterranean estate with a rare 1918 California adobe cottage with a private courtyard and lemon grove.

Avalon Hotel & Bungalows Palm Springs:
The traditional Spanish-style casita accommodations at the Avalon Hotel & Bungalows Palm Springs have contemporary interior styling and opulent amenities.
The Starwood subsidiary Design Hotels, which features hotels with distinctive architecture, includes this boutique luxury resort. Given that it's located in the middle of the city, it resembles a Palm Springs resort.
There are 54 guest rooms and 13 private villas on the four acres of immaculate landscapes that make up the Avalon Palm Springs. The villas resemble miniature houses with living rooms, kitchens, and fireplaces. The rooms and suites are all decorated in a spectacular Hollywood Regency style.

FAQ:
What is so famous about Palm Springs?
This popular vacation destination is renowned for its magnificent sunny weather, golf courses, dining establishments, lodging options, and hot springs.
What is the best month to go to Palm Springs?
February, March, and April are the best months to visit to experience the best weather of the year.
What country is Palm Springs in?
California, United States.
Is Palm Springs in Florida or California?
Southern California's Palm Springs is located in the county of Riverside. It is located in the Coachella Valley, near the base of Mount San Jacinto, which rises to a height of 10,804 feet (3,293 meters).