Best Things to Do in Scranton, Pennsylvania: That Will Ignite Your Senses
The cultural and economic centre of Lackawanna County is Scranton Pennsylvania, a surprisingly beautiful city tucked away in northeastern Pennsylvania. It was formerly a railroad, industrial, and coal mining hub, but now it is best known for serving as the backdrop for the hit television series "The Office."
Thousands of immigrants came to the affluent city at the end of the 19th and start of the twentieth centuries to work on the railroads or in its anthracite mines. This resulted in significant and appealing buildings sprouting throughout the city, earning it the moniker "The Electric City."
There are numerous enjoyable things to see and do in Scranton, even if the city's heyday has passed. This is due to the proximity of charming parks and winding trails to intriguing old industrial sites and museums showcasing the region's rich history.
Lackawana State Park:
The picturesque Lackawanna State Park in Pennsylvania can be found about fifteen minutes drive north of the city centre and offers a variety of thrilling outdoor activities. It is centred on the sizable lake of the same name and offers swimming, sailing, camping, hiking, and biking activities.
Since 1972, the place has been protected as a park, and its picturesque setting includes extensive woodlands and fields with numerous little streams and pathways snaking through them. Initially inhabited by the Lenape tribe, white farmers later occupied the region and built a horse racing track and fairgrounds where the campsite sits now.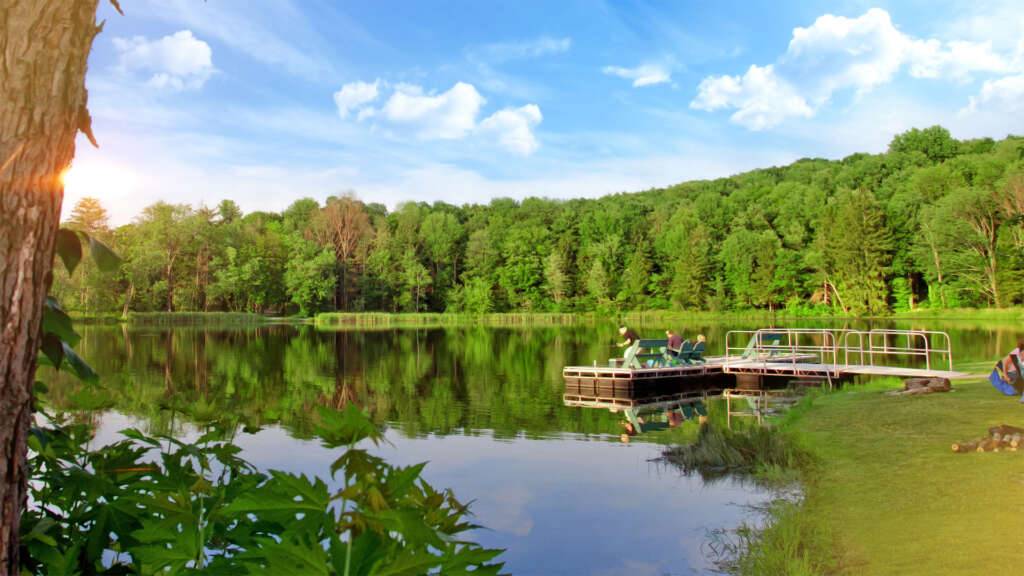 Steamtown Market Place:
One of the best locations in Scranton Pennsylvania, is the Market Hall at Steamtown if you like to explore a large mall rather than the natural outdoors. Its various stores and restaurants, all conveniently located in front of the critical historical place of that exact name, offer something for every interest, palate, and price range.
It was first opened in 1993 as a part of a significant initiative to rehabilitate the downtown area, and as of this writing, its two floors are home to over fifty shops and boutiques. They sell anything from cosmetic products and fashion accessories to books, toys, and video games and are primarily locally owned and run.

In addition to its sizable food court, an indoor playground, a tranquil spa, and a small aquarium for guests of all ages to enjoy. In addition to the Scranton Public Market, held every weekend, the mixed-use mall houses a boxing club, music lessons, and a community college.
Everhart Museum of Scranton Pennsylvania:
The excellent Everhart Museum is close to Nay Aug Park. It has been a longtime family favourite and is home to a fabulous collection of artifacts, relics, and fossils. It was opened in 1908 and is now Northeastern Pennsylvania's most prominent public museum. Its extensive galleries are divided between two subjects: natural history and the fine arts, and it is named after renowned physician and philanthropist Isaiah Everhart.
As a result, visitors can view prehistoric dinosaur bones, stuffed animals, ancient Egyptian funerary items, African masks, and more modern works by Jackson Pollock and Andy Warhol, among other artists. Along with fascinating sculptures and ceramics from diverse nations and civilizations worldwide, artistic creations from Asia, Europe, and America are also included.

Montage Mountain Scranton Pennsylvania:
Montage Mountain, one of the best ski areas in the state, towers over Scranton Pennsylvania, to the south. You can be skiing or snowboarding down its gentle slopes and choosing between snow tubing or snowboarding in just fifteen minutes from the city centre.
Although snow sports may not be commonly associated with Pennsylvania, the resort features 26 courses that span the hill and a perfect 1,000-foot vertical drop. Enjoy breathtaking views of the nearby valleys and the city below as you ski across its varied terrain.

Montage Mountain's water park is a fantastic place for visitors to splash around in the summer with lazy rivers, sunbathing spaces, and many entertaining water slides. Batting cages, beach volleyball, and mini golf are just a few of its major attractions. It also organizes a lot of outdoor events and concerts.
RELATED: 8 Things to do in Allentown Pennsylvania: Museum, Park, Zoo & Beautiful Places.
Anthracite Heritage Museum:
The outstanding Anthracite Heritage Museum is necessary for everyone wanting to learn more about the state's history. Its artifacts and displays give an impression of life for early settlers who came to the region to work in its formerly abundant mines, mills, and factories.
It is located west of McDade Park and is part of a more extensive complex that preserves Pennsylvania's anthracite mining history. It covers immigration to the region, the development of the industry, and the challenging realities associated with working in a mine in the 1800s. It is full of fascinating exhibits and vintage photographs.

You may visit a model of a miner's residence and an eerie old saloon in addition to seeing vintage equipment and tools and hearing about the appalling working conditions.
Nay Aug Park:
Nay Aug, the biggest park in the city, spans the breathtaking gorge of the appropriately titled Roaring Brook. Despite being close to the centre, the area's woods and waterfalls are far from the bustling downtown, where many amenities and activities are available.
Nay Aug, which in Munsee means "noisy brook," runs through the craggy gorge and down rapids carved out of the rock during the last ice age. Cross the stream's covered bridge or climb to the top of the park's tall treehouse for the most incredible viewpoints of the stream and the lovely trees surrounding it.

Steamtown National Historic Site:
The city's most distinctive landmark is Steamtown National Historic Site, located in the city centre. You may browse a sizable collection of relics, pictures, and vintage equipment at the railroad museum in addition to its endless rows of gleaming old steam locomotives.
The museum was founded in 1986 in the former Scranton Yards. Its numerous displays and trains are focused on a functional turntable and a newly built roundhouse.

Frequently Asked Questions:
Why is Scranton Pennsylvania, famous for?
Nottingham lace manufacture in Scranton Pennsylvania is well known. The city diversified its economy following the fall and eventual extinction of the coal sector in the 1950s and won renown for its "Scranton Plan," which created jobs through industrial development.
Is there anything from The Office that can be seen in Scranton Pennsylvania?
Outside of downtown Scranton Pennsylvania, you may also go to the actual places where "The Office" was filmed. You may visit real sites in Lackawanna County, like the Houdini Museum, Anthracite Heritage Museum, and Lackawanna Coal Mine Tour.
Can a person walk through Scranton Pennsylvania?
Scranton is a Fairly Walkable City.
Why is Scranton Pennsylvania, so inexpensive?
According to Ruddy, Scranton Pennsylvania is the best city since it has rates that the most significant cities can't match, as well as cheaper property taxes and property values.