The Best Hot Springs you can Visit in Montana.
Visiting hot springs in Montana is one of the greatest ways to see the grandeur of Big Sky country in a place renowned for its untamed landscapes and protracted winters.
Numerous companies in the state's western region provide natural hot springs, lodging, and food options. After soaking in its numerous pools, locations like Quinn's Hot Springs, for instance, provide delicious cuisine and cozy lodge rooms for guests to enjoy.
Elkhorn Hot Springs, Norris Hot Springs, and Chico Hot Springs are a few other hot spring resorts in Montana. Commercial hot springs are close to the largest communities in western Montana, such as Missoula, Helena, and Bozeman. Party and event venues like Bozeman Hot Springs frequently host well-known gatherings.
Quinn's Hot Springs
The fact that Quinn's Hot Springs Resort is situated in Paradise, Montana, is only fitting. The resort is possibly as gorgeous as it gets, located alongside the Clark Fork River amid hills covered with trees. The focal point of the entire area is the natural hot springs. A chilly plunge and two salt-treated pools are included in addition to a series of five all-natural pools that range in temperature from 100 to 106 degrees Fahrenheit.
Although day tourists are permitted, overnight guests have unfettered access to the hot springs from 7 a.m. to 11 p.m. The resort's lodgings include a few standalone river and hillside cabins.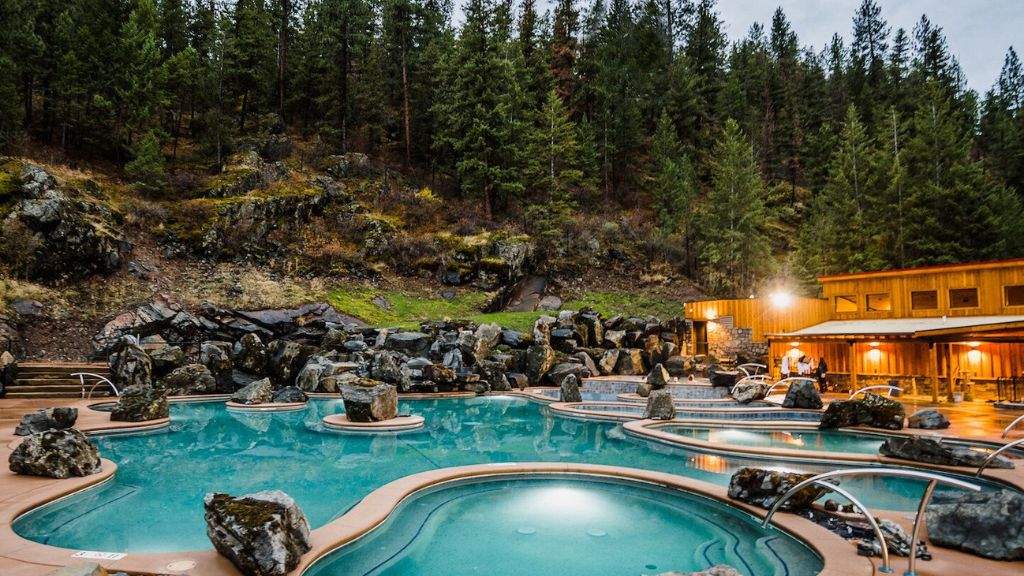 Norris Hot Springs
Norris Hot Springs may be built on naturally mineral-rich water, but there's much more to do here than merely soak. The location frequently features live music, which you can hear from your poolside seat, and it has a farm on the property that produces a selection of incredibly fresh food. There is also on-site camping available in the summer.
The enormous pool has a distinctive wood-lined area containing 38,000 gallons of pure mineral water. The Montana scenery is front and center, possibly the most significant aspect.

Broadwater Hot Springs & Fitness
The outdoor pools at Broadwater Hot Springs have a fresh, contemporary appearance, but they have a rich past that stretches back to 1889. The outdoor pools' temperature ranges from 86 to 104 degrees Fahrenheit thanks to an artesian well that flows into them. Additionally, there are a fitness center, saunas, steam rooms, and cold plunges.
After a long soak to whet your appetite, visit the on-site brewpub and grill, which pays tribute to the racquetball courts that formerly inhabited the area. The taproom's tabletop material, old wood court flooring from 1978, is maybe the most notable.

Yellowstone Hot Springs
Although Yellowstone Hot Springs doesn't have as much history as some other places on this list, it is nonetheless close to the north entrance of Yellowstone National Park and has brand-new, contemporary facilities.
The facility contains a hot pool that can get up to 105 degrees Fahrenheit, a cool plunge, and a temperate main pool. Additionally, it provides tourists with the ideal home base for visiting the national park and using the warm hot spring water by providing cabin rentals and on-site tent and RV campsites.

Elkhorn Hot Springs
Elkhorn Hot Springs was established in 1918 and hasn't changed much. Visitors that visit the spa are given a flavor of what life was like in Montana in the early 1900s; electricity has been introduced, but the cabins and lodge are still unassuming.
The property's most notable feature is unquestionably the hot springs in Elkhorn. Since the water is naturally heated, no chemical treatment is necessary. The interior wet sauna may get as hot as 106 degrees, while the outside pools are between 92 & 102 degrees. Additionally, the entire complex is tucked away amid the stunning Pioneer Mountains.

RELATED: 
Chico Hot Springs
Chico Hot Springs, which opened in 1900, now has two outdoor mineral pools and a wide range of services. This commercial establishment offers a day spa, abundant housing, a historic dining room for gourmet eating, and the chemical-free soaking at Chico. Additionally, Chico has a barbeque by the pool.
The Chico Spa offers body wraps and massages. Rooms in the neighboring Fisherman's Lodge and the Historic Main Lodge are available for overnight stays in Chico. Cottages are also available, ranging from upscale ones with private spa baths to basic ones with private decks. Private bathrooms are available in each cabin.

Lolo Hot Springs
Less than 40 miles southwest of Missoula, Lolo Hot Springs is a hub for outdoor recreation. This business establishment, which is situated on 125 acres of private land and is surrounded by the Lolo National Forest, offers an inside heated mineral pool as well as a sizable outdoor pool area. Up to 106 degrees Fahrenheit are reached in the mineral pool indoors.
Lolo Hot Springs offers hotels, entertainment options, a restaurant, and a wonderful spot to bath. It offers a campground and a selection of cabins. The lodge serves as a hub for many events and activities.

Symes Hot Springs Hotel
Hot Springs, Montana, has a historic resort hotel called the Symes Hot Springs Hotel. It's a throwback with contemporary conveniences. Symes has three swimming pools with temperatures ranging from 107 degrees to 95.
More than 30 different room types with various mattresses are available at the hotel. Some accommodations include a private Jacuzzi or claw-foot tub. Steak, seafood, and chicken meals are on the extensive supper menu at The Symes Bathhouse Grill & Cantina.

Jackson Hot Springs
Jackson Hot Springs, located in southwest Montana close to the Idaho border, has a homely western feel. Jackson's outdoor, kid-friendly pool is accessible year-round and offers a nice relaxing spot during the chilly winter months. Only Thursday through Sunday are the only days the pool and its surroundings are open.
The Hot Springs Grill serves finger foods, including onion rings and nachos, as well as breakfast, lunch, and dinner.

Sleeping Buffalo Hot Springs
About 35 miles south of the Canadian border, Phillip County in northern Montana has a privately owned hot spring called Hot Springs.
A rigger drilling for oil discovered the natural hot water at this commercial plant over a century ago. This natural spring, which exclaims from a deep well more than 3,000 feet underground, received additional infrastructure a few decades later as part of President Roosevelt's New Deal.

FAQ
What are the names of the hot springs in Montana?
The best hot springs in Montana include Quinn's Hot Springs, Chico Hot Springs, Broadwater Hot Springs, Lolo Hot Springs, and others.
Does Montana have any hot springs?
A renowned natural hot spring called Bozeman Hot Springs is situated in the midst of Montana's stunning Gallatin Valley. Visitors have been coming to these natural hot springs to unwind and refresh for more than a century.
How many hot springs are in Montana?
61 hot springs are known to exist in Montana, and many more can be reached by short border crossings.
What is the most popular hot spring?
The Blue Lagoon in Iceland, probably the most well-known hot spring in the world, is as tranquil as it is beautiful.