7 Fun Things to do with Kids in Panama City Beach in 2023
The most famous attribute of Panama City Beach is that it is the most stunning location on earth! Everyone can find something to do, making it a fantastic and must-see relaxing location for families. The beach, the boardwalk, waterparks, and other family-friendly attractions are all available in Panama City. The following list is a sample of a few of our top family-friendly things to do in Panama Beach, but many more options are available!  
You can venture far from the sandy shores in your search for entertainment. There are many fantastic PCB attractions for kids to enjoy, even though you should spend at least a few hours at the beach. Some of the best locations are listed below if you're looking to keep youngsters entertained while traveling.
Enjoy Panama City Beach:
Although PCB is home to several beautiful beaches, some contend its namesake beach is the most beautiful. Quartz crystals from the Appalachian highlands thousands of years ago give the beaches powdery white color.
Considering that PCB experiences 320 sunny days on average per year, visiting the beach as a family is among the most excellent and affordable activities to do in PCB with kids. Build sandcastles, play volleyball, enjoy a swim in the Gulf, and create lifelong memories with children of all ages.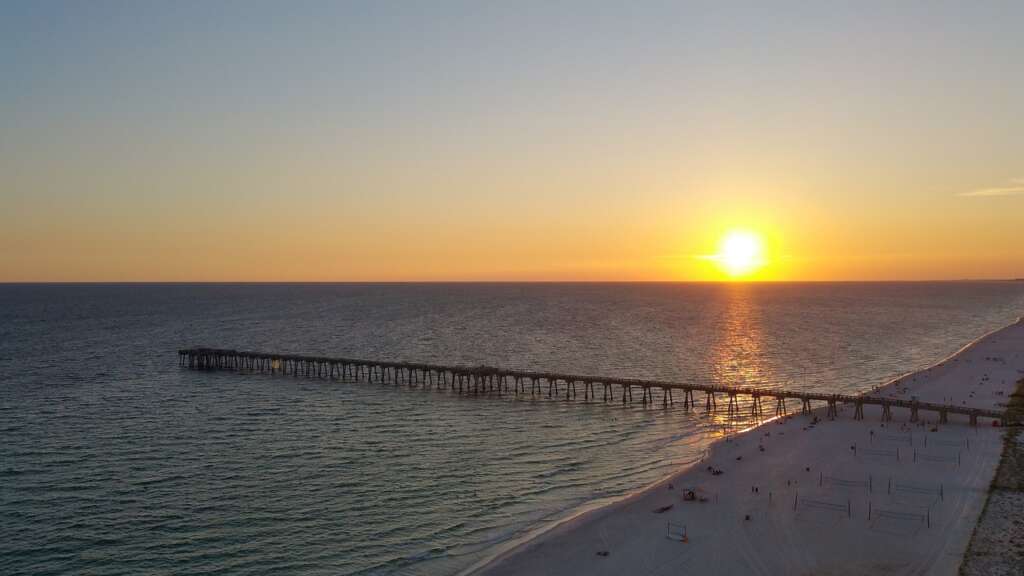 Sky Wheel:
Take your children up on the SkyWheel perception wheel to offer them the experience of a lifetime. You may observe all PCB from 200 feet above while relaxing in the fully enclosed gondolas. When you touch down again, pick up a few souvenir images to bring home as a priceless keepsake.
After that, bring your kids to the ropes course to burn off some energy. They can cross suspension bridges, climb cargo nets, and other obstacles on the course while securely fastened in by the full-body harness. Once worn out, your kids may refuel for fun at the snack bar before going through the 18-hole range.

Hiking At St. Andrew State Park:
With St. Andrew's Bay and the Gulf of Mexico on one side and this well-liked state park on the other, families have a beautiful chance to enjoy outdoor activities and explore the area in its unspoiled state.
The Heron Pond and Gator Lake pathways are two half-mile options in the park. You can stroll along the Heron Pond Trail to Sandy Point while traversing a flatwood pine forest. The Gator Lake Walk offers a lovely view of the lakefront.

Camp Helen State Park:
There are many things to discover in Camp Helen State Park, which is situated on Bay County's extreme western edge. Stand-up paddleboards and kayaks can both be rented. On Tuesday nights, Camp Helen State Park runs Movies and Smores, a free film screening event with kid-friendly activities every summer.
You can learn more about Camp Helen's unique background by visiting the Visitors Center. View some photos from our trip to Camp Helen a few years ago.

Zoo World Panama City Beach:
Let's say you're looking for a fun vacation activity that teaches children of all ages the value of animal protection. Then you should put Zoo World at the peak of your travel to-do list. More than 260 different creatures from all over the world may be found at ZooWorld, and some of them can be met up close by your family. A sloth may be petted, visitors can stroll around with flamingos, alligators, and giraffes can be fed, and there are other daily displays and shows at ZooWorld.
It is open daily between 9:30 and 5:00. Tickets cost $19.95 for adults, $13.95 for kids aged 2 to 12, $18.95 for seniors, and children under two are admitted free. The mission of ZooWorld is to educate the public about our shared duty to protect wild environments while showcasing the beauty and diversity of wildlife. They let visitors interact closely with the animals they encourage and learn about their lives.

Coconut Creek Family Fun Park:
One of the top family-friendly activities in Panama City Beach is a trip to Coconut Creek Family-Friendly Park for more all-ages adventures. Coconut Creek's two tropical 18-hole little golf courses will entertain and challenge the whole family. The well-known Coconut Gran Maze is an additional amenity.
Your navigational abilities will be tested as you combine efforts to locate the exit in this well-known football field-sized maze. Throughout the year, the PCB attraction is perfect for various sizes and ages of groups and families, providing hours of laughter and fun. The primary family-friendly PCB destination in town is Coconut Creek, which aims to be one of the best.

Ripley Believe it or Not Museum:
One of the best ideal family activities in Panama City is visiting Ripley's Believe It Or Not Museum if your kids are curious and enjoy all things bizarrely. At Ripley's Believe It Or Not Museum, visitors can locate a shrunken head display; fanciful kids crawl section, and the famous Odditorium and discover all kinds of odd, outrageous amusement.
Enjoy the mind-blowing 7D Moving Cinema, the perplexing Mirror Maze, and the odd and crazy galleries. Even better, kids will like the Laser Race. Without purchasing colored wax moisture from your hands to bring home as a keepsake, no museum visit would be complete.
Related: Best Fun Things to Do in Colorado Springs with Kids in 2023
Frequently Asked Questions.
Do children enjoy Panama City Beach?
Of course, it is! In Panama City Beach, various water sports are accessible, including paddleboarding, jet skiing, kayaking, and more.
Do families go to Panama City Beach?
Families should visit Panama City Beach for their holiday. The beach is ideal for unwinding, having fun, and relaxing.
How much does Panama City Beach expense?
Panama City Beach, one of the most appropriate locations to reside on the Florida coast, has a cost-expense index of 106, making it more affordable than several towns of similar size.
Why is Panama Beach famous?
There are two state-run parks (Camp Helen State Park and St. Andrews State Park), numerous public beach access points, waterfront eateries that serve fresh local seafood, and renowned attractions in Panama City Beach, which has 27 miles of white sand beaches along the Gulf of Mexico.