All Inclusive 5 Best Cancun Resorts For Families.
This Cancun city is in the Mexican state of Quintana Roo, located on the Yucatán Peninsula's northeast coast. It is the administrative center for the municipality of Benito Juárez and a popular tourist attraction in Mexico. One of Mexico's easternmost locations is the city, which is located on the Caribbean Sea. It is close to the Riviera Maya, a popular tourist destination on Mexico's Caribbean coast.
Its ideal white sand beaches were formed by nature, but it required human creativity to make this location the lovely vacation spot it is today. The city began as a little fishing community and is today a top tourist attraction. The hotels in this city were constructed to take full advantage of the unique geography of the point of the Yucatán Peninsula, Mexico. The city center and the hotel zone are the two distinct regions of the city. The city center is teeming with top-notch eateries, marketplaces, and retail establishments. Here are the Best 5 family resorts in Cancun.
The Riviera's Azul Beach Resort.
Located in the south, a short trip away, at beautiful Puerto Morelos. Despite having only 100 rooms, this hotel offers the amenities of much larger all-inclusive resort families in the area. There are many options, with three restaurants and eight outdoor pools for a new experience every day. There are well-run youth organizations for all ages and infant conveniences like bottle warmers and strollers.
The Riviera's Azul Beach Resort by Karisma is unquestionably the most family-friendly all-inclusive resort in this area. You will arrive at a genuinely fantastic family-friendly resort that takes pride in children's activities and all-inclusive gourmet dining, even though you must make a small transfer along the lovely coastline to Puerto Morelos. The list doesn't end with "loaner baby equipment, kid's club, and parent support." Indeed, the video below does not do this resort's family-friendly attributes justice.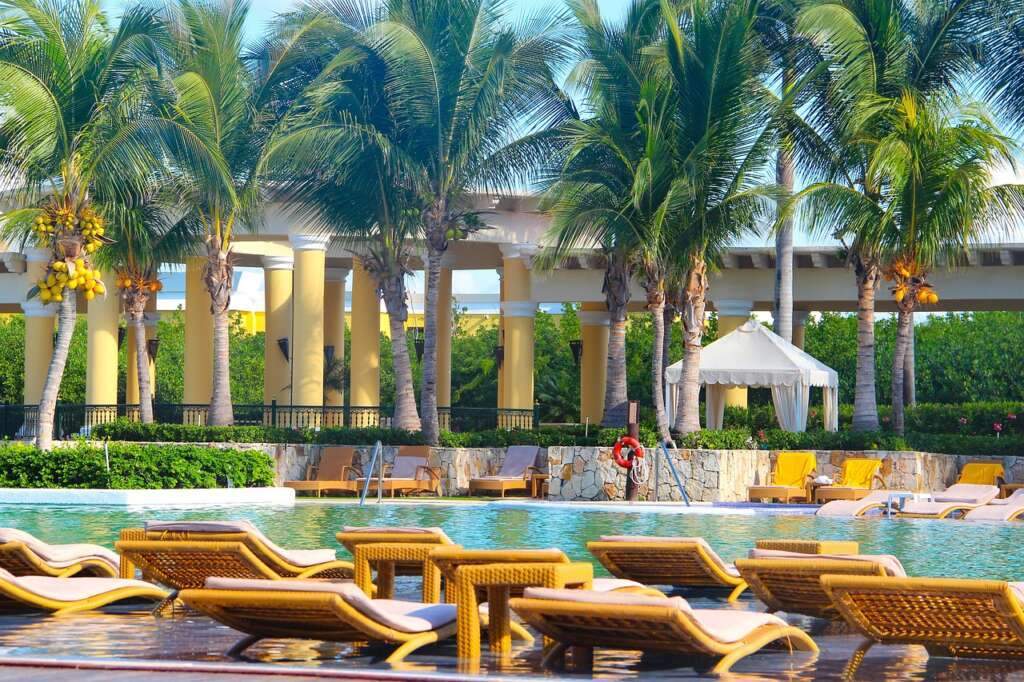 RELATED: Things to do in Guadalajara, Mexico
The Moon Palace Resort.
For families seeking the entire experience and a variety of kid-friendly activities, the Moon Golf and Spa Resort, seen below, is another excellent option. However, there are also excellent offers to be found in a number of other excellent resorts at various price points. According to legend, the town's location was chosen based on a computer analysis of the best locations for resort communities. The computer was correct since this city has become a popular tourist destination that produces more overall happiness than almost any other city.
However, there are some kid-friendly beach towns on the Yucatan Peninsula. While teenagers may have fun there, you can start to appreciate the amenities that make this a truly family-friendly place once you leave the city. A beautiful resort with several unique benefits. They conveniently connected kids' rooms with adorable children's robes and toys. While younger children can try out a bodyboard, teens can practice surfing on a wave simulator. Several times a day, a dolphin encounter experience is also offered.

RELATED: Disney Cruise Packing List, Necessaries & Explore Best Destinations.
The Club Med.
There are clubs for somehow age ranges with equipment tailored to each group's needs for safety and development. Programs for children aged two to three include their favorite activities, such as stickers, water games, outdoor games, songs, and the like. As kids get older, they still participate in creative and athletic activities. Before turning 10, kids can participate in dance courses, cooking classes, and after-dinner activities.
The spa offers teen services that are appropriate for 11 to 17-year-olds. These are intended to interest teenagers in wellness care rather than massage treatments. In contrast to other resorts, there are also more imaginative activities like dancing and singing workshops, trapeze, hiking, and picnics accessible for teenagers. We appreciate the inclusion of these activities in programs for youth.

The Beach Palace Family Resort.
Beach Palace is yet another outstanding all-inclusive family resort in Cancun. They provide a program intended to foster family ties. The kid's program and activities center was recently renovated to complement the all-inclusive kids' program. There are kid-friendly specialties for meals that they can partake in with other kids while their parents enjoy a relaxed lunch.
The initiative gives walkie-talkies for parents to communicate with their children at any stage to children aged 4 to 12. Tennis, golf, soccer, Spanish, piata, camping, disco, and many other activities are practiced or taught at the devoted club.

The Riu Hotel.
The Hotel Riu (All Inclusive) is in a prime located on a white sand beach with clean water in one of the most well-liked tourist destinations. Try Renova Spa for a few days of indulgence. You can take advantage of any available treatments along with the gym and Jacuzzi. Additionally, your strength will be swiftly recovered once you've spent some time tanning at one of our three freshwater pools.
The hotel includes themed restaurants in addition to a buffet. There are many different cuisine options, and we can also satiate your cravings for flavors worldwide. The Hotel Riu's 24-hour All Inclusive program offers a variety of daily activities that you may have fun with your family, friends, or significant other. Additionally, there is never a dull time because of our extensive selection of activities. They offer a wide variety of entertainment alternatives for children and adults, including RiuLand for people under 18, as well as various forms of nightlife and daytime entertainment.

FAQ.
Cancun, is it suitable for families?
Depending on where you want to stay close to, both Cancun and the Riviera Maya have excellent family-friendly resorts. Resorts on the Riviera Maya are more conveniently located near Tulum and Playa del Carmen than are those in the renowned hotel zone.
How much would a trip to Cancun cost my family?
On average, a 7-day trip to Cancun costs about $1,216 for a single traveler, $2,004 for a couple, and $3,758 for a family trip. On average, hotels in Cancun cost between $25 and $525 per night, while most vacation rentals vary from $20 to $440 per night for the whole house.
Why are hotels in Cancun so expensive?
Millions of tourists travel to Cancun yearly, making it a well-liked tourist destination. The strong demand may result in higher lodging, food, and activities costs. Taxes on tourism: Travelers to Cancun are subject to a tourism tax levied by the Mexican government, which raises the entire cost of a trip.
Why is Cancun well-known?
White sand beaches, nightlife, water sports, Mayan sites, nature, and some of the top all-inclusive resorts in the world are all things that Cancun is famous for. A few attractions that draw 10 million visitors to Cancun, Mexico, each year are listed here.