Fun Things to do in Nashville with kids
Nashville, the state capital of Tennessee, has a long history of having a beautiful music culture.
In addition to being home to Vanderbilt University, "Music City" is also the location of notable locations for music, such as the Grand Ole Opry House and the Ryman Auditorium.
But this city isn't just about the music; many family-friendly activities can keep you busy for days. If you're looking for ideas, check out this list of the happiest things to do in Nashville with kids!
Travel to Fannie Mae Dees Park.
This is the home to many parks. You can enjoy the outdoors anywhere in Nashville, from Bicentennial Park to Centennial Park, which features a full-scale reproduction of the Parthenon in Greece. Fannie Mae Dees Park is one of the most distinctive, family-friendly parks.
Due to the park's spectacular exhibition of enormous dragons coated in mosaic tiles that protrude from the ground, locals refer to it as the Dragon Park.
Playground equipment, a covered picnic area, and a splash pad are other excellent elements for youngsters of giant, ground-emerging dragons coated in mosaic tiles.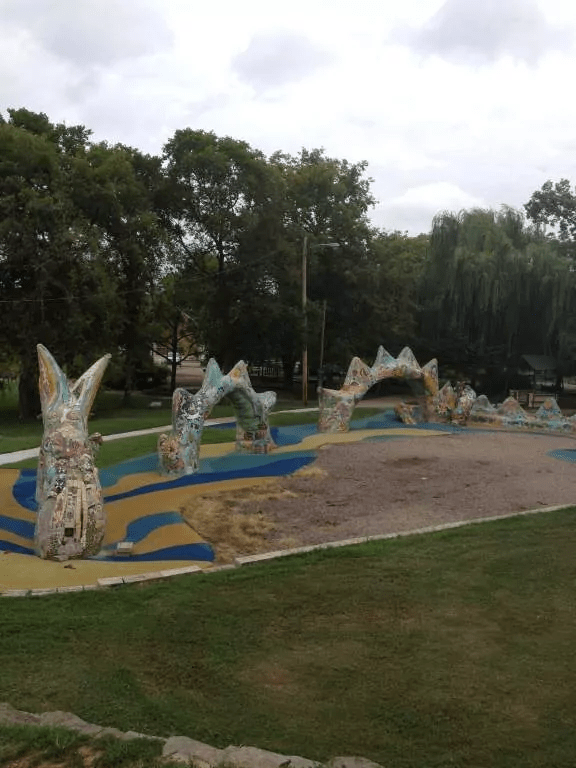 Children's Tours.
Everyone in the family will find a tour in Nashville to their liking.
Download one of our Nashville self-guided GPS audio tours. Or utilize our narrated walking excursions. With 15 stops, Trolley Tours offers a well-liked hop-on, hop-off tour of the city.
A skilled tour guide is on board a colorful trolley where you can learn about it. You can take your time anywhere; another trolley will pass in 20 minutes. We have a bus tour comparison piece here. Of course, many other fantastic buses travel through Nashville that you may try.
The open-air vehicle trip blends entertainment and education, and this horse-drawn carriage ride is a distinctive way to see downtown if you're searching for a smaller group tour.
A more luxurious choice is to take a live music-accompanied river trip on the General Jackson Showboat.
Try the after-hours Ghost Tour at Andrew Jackson's Hermitage or a walking scavenger hunt during the day to get the family moving.

Zoo in Nashville.
The zoo has many exotic species, outdoor pathways, birds, bears, leopards, a jungle gym, and more.
To learn more about how the zookeepers care for the animals, check the calendar of their educational sessions. You can ride the Wilderness Express train, spin on the Wild Animal Carousel, see the Lorikeet and Tortoise feedings, and view the exhibits.

Visit the Nashville Children's Theatre Performances.
This Theatre is a nonprofit company that conducts summer camps, acting workshops, and performances.
NCT is the oldest youth-focused professional theater in the nation and is broadly regarded as a top destination for culture, entertainment, and education for people of all ages.

Schedule:
Storytimes are scheduled for Tuesdays and Wednesdays at 10:30 and 11:30 am.
Most Fridays and Saturdays at 10:30 and 11:30 am, the puppet show
Professional Events.
l Basketball, football, and other sports teams all call Nashville home.
l Visit a hockey or baseball game with your family.
l The NHL Predators play hockey from October to April. (Check their calendar for public, accessible practice.
l August through December is football season for the NFL Titans.
l A Minor League Baseball (MiLB) team called the Nashville Sounds competes from late March through early September.
l All year, the Vanderbilt Commodores compete in collegiate football, Basketball (men's and women's), baseball, and soccer. (Admission to soccer games is free!)
Nashville's Madame Tussauds Museum.
This city is home to a location of the world's most well-known wax museum. You and your family can meet the biggest stars in this city and discover the city's musical heritage. See renowned musicians like Reba, Luke Bryan, and Elvis Presley perform. Madame Tussauds is open every night of the week until 9:00 pm, except Sundays when they close at 7:00 pm.
The Grand Ole Opry, an excellent alternative for youngsters, is next to Madame Tussauds, although it is not close to downtown, so you can schedule a time to see both.

Free Activities for Kids in Nashville.
You can enjoy many free activities with your family if you bring them along. Our Top 10 includes some family-friendly choices like:
The Fannie Mae Dees Park features enormous, vibrant dragons that protrude from the ground.
Stroll along the Honky Tonk Highway.
Attend the football or hockey team's practice.
Schedule for Predators training in Nashville.
Dates for Tennessee Titans.
Visit the Nashville Library to attend a puppet show or story time.
Participate in a First Saturday Art Crawl.
Our main post on Free Things to Do has many more free activities for children.
State Museum of Tennessee.
Storytime & Interactive Children's Gallery.
Visit Kidsville, a free, knowledge-sharing, and creative weekly event held at the Parthenon's art museum every Saturday at 11:00.
Live music to be heard.
Take a Tour of the Sights.
Visit Hatch Show Print for a free family event.
Activities For Kids at Night.
At night, Music City comes to life. There are some suggestions for family-friendly entertainment and activities in this area. Some fantastic kid-friendly things in our Top10 include:
1. Madame Tussaud's.
2. at the Wildhorse Saloon, line dancing.
3. Participate in a Sporting Event.
4. Eat some comfort food from the South.
5. National Youth Theater.
6. Nashville Ghost Tour.
7. going to a sporting event.
8. Go on a dinner cruise.
9. Large-scale dances.
10. Frist Center for the Visual Arts and the Frist Art Museum.
Friends and family Restaurants.
There is a list of family-friendly Nashville eateries that will provide a delectable supper. The majority provide a kids' menu.
1) BB King:
Young children can dance.
Kids' menu.
Live jazz and blues.
2) Tavern Wildhorse:
Have fun learning to line dance to live music.
Kid's menu for $5.99.
3) The Bluebird Cafe.
No children's menu; however, they provide sandwiches and appetizers.
Possibly challenging for young children.
During performances, listeners are requested to maintain silence.
4) Pastaria.
Children's menu.
Kids' menu items are discounted by half Between 5 and 6:30 pm on Tuesdays, Thursdays, and Sundays.
5) The Drug Store.
Kids' menu.
Outdoor recreation.

Live Music.
Many music venues only require you to be under 18 to enjoy, which is excellent if you have older music fans.
It's not the best for babies, but teenagers will like the show because establishments like Bluebird Cafe and Station Inn allow children as long as they sit quietly.
Also Read: The Best 13 Things to Do in Bakersfield California
Visit and go biking.
You might hire a bike from Nashville B-cycle if you're taking your family on vacation with some teenagers. You may rent the bike for more extended periods for just $5 for one hour. You can utilize the greenways to go between neighborhoods, have a family ride via off-street pathways, cross pedestrian bridges, and more.
Frequently Asked Questions:
What can children enjoy in Nashville?
Fun Locations for Children:
Skatepark on Sixth Avenue.
Ignore Nashville.
Zoo in Nashville.
Brentwood Ice Rink.
Is Nashville a good destination for kids?
The entire family may enjoy a variety of museums, attractions, and parks in Nashville. The Country Hall of Fame, go to the Ryman Auditorium, and Cheekwood Estate are a few of the most well-liked attractions.
Is Nashville a decent place to bring up children?
One of the very desirable places to reside in the Southeast is Music City, which has plenty of family-friendly activities, reasonable housing options, low crime rates, and excellent schools.
What kind of food is well-known in Nashville?
 Hot chicken, meat and three biscuits, barbecue, fried fish, and desserts are just a few of Nashville's six delectable specialties that are well worth trying.
Is it expensive to live in Nashville?
Nashville, Tennessee, has a cost of living that is 2% cheaper than the national average and 9% higher than the state average. While utilities are around 11% less expensive in this city, Tennessee, housing is 6% more expensive than it is nationwide.