Fun Things to do in New Orleans Couples in 2023
Couples wishing to experience the city's colorful culture will find enough to do in New Orleans, home to colonial homes and garden courtyards. If you could not attend the opulent Mardi Gras, you could still dress up at several museums devoted to the event.
If you and your companion both enjoy the macabre, New Orleans is where you can go to some of the most horrible places on earth and even spend the night there. See our list of the most romantic places in New Orleans to spend time with your special someone, from sailing the Mississippi River to dancing the night away to live jazz.
French Quarter:
Due to its abundance of mansions, art galleries, and structures constructed in the 18th century, many people consider the French Quarter the heart of New Orleans. Jackson Square is a pleasant area for a promenade where you can frequently see fortune tellers, jazz musicians, and street performers.
Visit the charming Garden District to take in the sights of magnificent residences and gardens. If you enjoy horror films, you might enjoy visiting haunted historical sites like the LaLaurie Mansion and the Orleans Historic Voodoo Museum.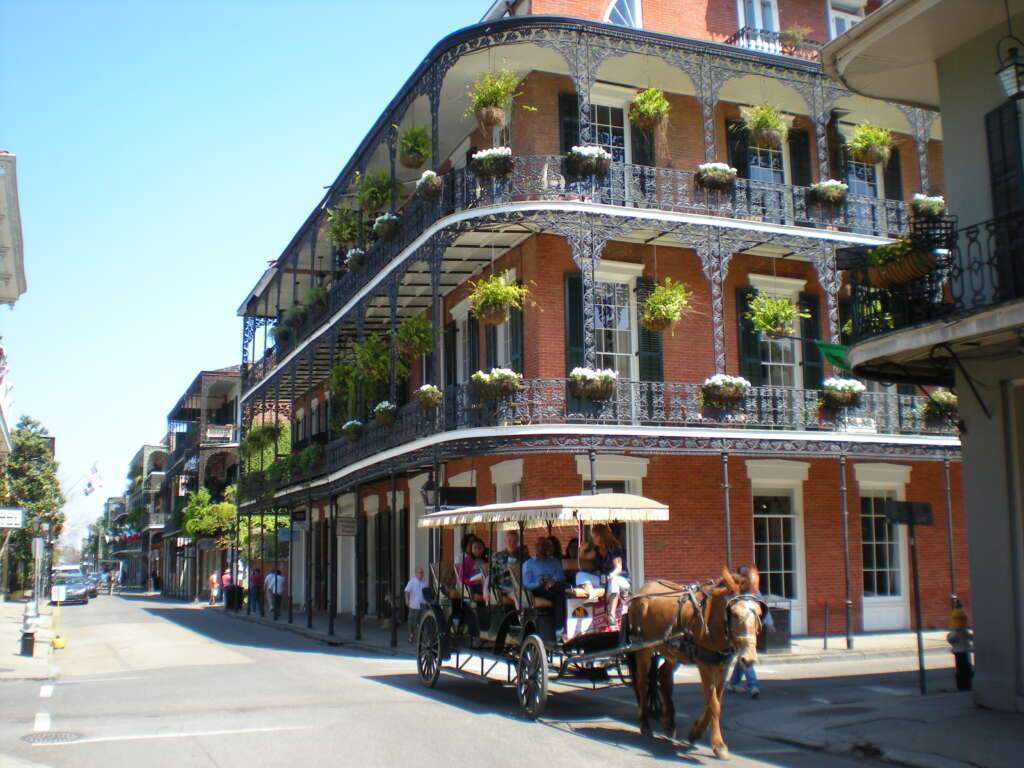 Bayou Saint John of New Orleans:
Water sports like canoeing, paddle boarding, and kayaking are available at Bayou Saint John. People interested in the river can rent canoes, paddleboards, and kayaks from various stores.
You can paddle towards Lake Pontchartrain while viewing City Park and the French Quarter. A 4.7-mile Wisner Bike Path runs along the western side of Bayou St. John, and many joggers may be seen enjoying the paths bordered with trees.

Southern Food and Beverage Museum:
The Southern Food & Beverage Museum features informative displays, cooking shows, and tasting events highlighting South Louisiana's culinary heritage. The museum offers culinary lessons on Mondays and Thursdays for people who want to learn how to prepare foods like gumbo, jambalaya, and banana fosters. Check out a museum of the American Cocktail housed in a similar building if you and your companion enjoy drinking them. The admission fee entitles you to entry into both museums.

Spooky Cemetry for Date Night:
The city's more than thirty cemeteries—six listed on the "historic sites included on the national register"—are among its most intriguing, unsettling, and well-liked sights. Seeing at least one cemetery was a must-do because I've always adored cemeteries. The idea of watching scary movies on a dating night also makes sense. Undoubtedly, some of the stories we hear are love stories. But these attractions' distinctive qualities and histories can be more spooky than sensual.

Botanical Garden:
More than 2000 different plant species worldwide can be found at the New Orleans botanical gardens. Amazingly gorgeous and vivid plants can thrive in Louisiana's humid, prosperous air. You'll adore the sights, sounds, and tranquility these well-known gardens provide.
Spend a couple of hours getting away from the city's noise and bustle by taking a romantic stroll through the lovely gardens with your special someone. The Orleans Botanical Garden is open Wednesday from 10 a.m. morning to 8 p.m. evening and Thursday through Sunday from 10 a.m. to 4 p.m.

Sazeracs:
The new Sazerac House in New Orleans is a must-see for couples who enjoy drinking. The museum has unveiled an interactive experience at the intersection of Canal and Magazine streets that honors the tradition and history of the city as it relates to the Sazerac cocktail, which was created there in the 1850s.The museum entrance is free and offers free samples, but you may upgrade to many premium tasting events led by passionate professionals.

RELATED: 10 Best Fun Things to Do for Couples in St. Louis:
Roosevelt Hotel:
Visit the storied Sazerac Bar at The Roosevelt Hotel, where the famous concoction was created while Sazerac is still fresh in your mind. Visit around the holidays when the hotel lobby is lavishly decked out for Christmas for a beautiful treat. Stay for dinner and enjoy an elegant meal that combines regional ingredients with Mediterranean flavors at the rustic-yet-swanky Italian restaurant Domenica.

Louisiana Swamp Adventure.
Adventuresome couples can check out ToursbyLocals, where residents offer a customized tour of the Louisiana marshes. Upon arrival at Honey Island, you will board a vessel for a two-hour excursion of the marsh's biology and history after being picked up from your lodgings and driven there.
Wildlife viewers will want to watch for alligators, bald eagles, wild boars, and other animals, while nature lovers can admire the flora of one of the country's most pristine swamplands.

Marigny Neighborhood:
For a different perspective on Crescent City, stroll outside the French Quarter and visit the Marigny district. Numerous musicians, painters, philosophers, and others who live a bohemian lifestyle may be found in the region. You are likely to find a few of the best and most genuine jazz clubs in the city on Frenchmen Street, one of the most musically active streets in the area.

The Ritz Carlton:
Enjoy three hours of relaxation in The Ritz-Carlton Spa, New Orleans' brand-new couple's suite. This indulgence experience offers a bathtub, massage tables, a couch, a TV, a daybed, an 80-minute couple's massage, a bath, and relaxation time in the suite. Afterward, liven things up with a few beverages and enjoy award-winning guitarist Jeremy Davenport's music in the hotel's appropriately titled Davenport Lounge.

FAQ:
What enjoyable activities can couples do in New Orleans?
European Quarter.
Museum of Southern Food and Drink
Cities Park.
The Café du Monde.
Bayou Saint John canoe trip.
European Quarter.
Cities Park.
Can couples find a romantic setting in New Orleans?
Couples will find plenty of romantic activities in New Orleans. Along with Paris, Venice, and Rome, it is frequently listed as one of the most romantic cities in the world.
What is the city of New Orleans known for?
New Orleans is famous worldwide for its unique music, Creole food, unusual dialects, and yearly celebrations and festivals, most notably Mardi Gras. The French Quarter, the city's historic core, is renowned for its Spanish and French Creole architecture and exciting nightlife on Bourbon Street.
Is New Orleans affordable or pricey?
New Orleans, is it pricey? It is not expensive to get to New Orleans. Hotels typically cost between $100 and $200 per night, but you can quickly eat out in Crescent City for less than $20 per meal and enjoy a fantastic dinner. Free festivals are only one of the numerous inexpensive and free things to do in New Orleans.