Best Fun Things to Do in Houston for Couples: Explore Cheap Things, Activities to Do at Night.
Houston can be as appealing as you want it to be, from the abundance of green urban spaces for solitary walks together to the spectacular sites where you can watch enchanting light shows at dusk. Houston, one of the country's largest cities, surprisingly has many romantic getaways for couples.
The Buffalo Bayou Park & the Houston Arboretum are just two examples of Houston's most romantic spots in the great outdoors. Share special moments with the city's stunning landmarks, including the Twilight Epiphany Skyspace or the impressive Waterwall at Williams Tower. The icing on the cake may be a memorable meal at a revolving rooftop restaurant. To get started, check out these great romantic activities in this city.
Fun Things to Do for Couples at Night:
Therefore, if you're looking for "date ideas near me," "date ideas," "date night," or even "places to visit on a date nearby," we've got you covered! View this selection of enjoyable date ideas for the more critical Houston area, both during the day and at night.
Go Ice Skating:
The Galleria is stunning, despite your doubts that a mall could be so. The best thing, however? It has an open-year-round ice skating rink there. Together, flee the oppressive Texas heat in the summer or during the holidays, and skate around one of Houston's most stunning Christmas trees while holding hands. Admission is $14, and renting skates cost $5. You can keep your belongings in lockers for just $1. After skating, relax in the opulent 51fifteen with beverages from the specialty cocktail menu and escape the mall's turmoil.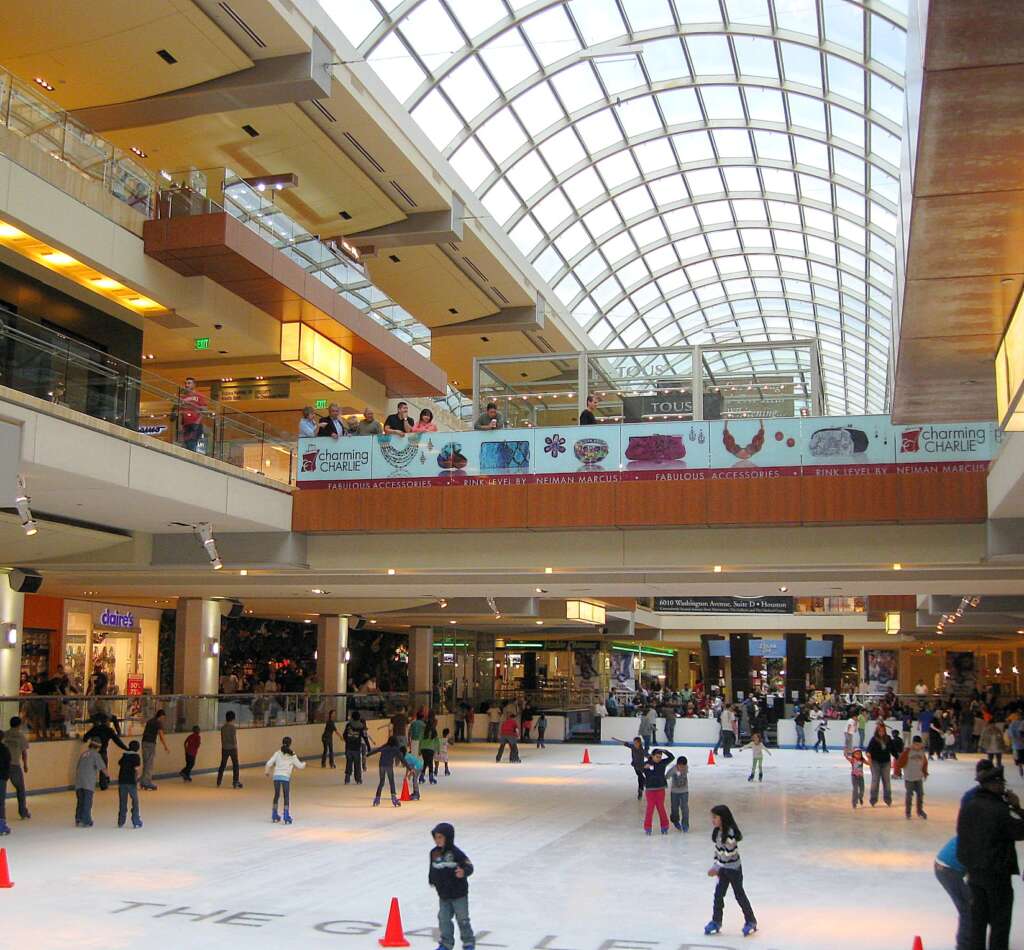 Go on Bayou for Brunch & Biking:
Consider renting a tandem type of bike and exploring the Buffalo Bayou paths for the outdoorsy, adventurous pair. Along the bayou's banks are 20 miles of hiking and bike routes. The lush oasis is the ideal place to escape the city without leaving it. In reality, the trail provides excellent views of the city skyline.
With 160 acres containing water and greenery, this sizable park is perfect for a romantic picnic. Dine beneath lighting at the Dunlavey in the middle of the park for a more elegant breakfast. Enormous live oaks shade the balconies, and the tables on the second floor have a view of a lush green area. You won't even be aware that you're in a city!

Lawndale Art Center:
In a 100,000-square-foot abandoned warehouse in Houston, artist James Surls established Lawndale Art Center in 1979. Its objective was to offer university graduate sculpture and painting students studio and exhibition spaces. This city's university included it as a part of the whole. In 1989, Lawndale Art Center changed its legal status to a non-profit, and in 1992, it relocated to a Joseph Finger-designed art deco structure from the 1930s in the Museum District of this city.
Each year, the center's galleries host more than 20 avant–garde art exhibitions that feature the work of about 500 artists. Additionally, it plans casual gatherings for conversations and significant annual events like The Big Show, Design Fair, and Dia de los Muertos (Day of the Dead). Lawndale had a reputation for hosting contentious works by local talent and served as a model for several other alternative art places in this city.

Blossom Hotel Houston:
Blossom, a stunning facility with lunar–inspired architecture that opened in 2022, has 276 simple guest rooms that welcome pets, so you won't have to leave your four–legged companions behind while on a romantic getaway. Watch a movie together on their Fifty" Samsung smart televisions or go downstairs to rendezvous, the social center in the lobby area, for some snacks and a handmade cocktail. In addition to a rooftop pool, a Peloton workout facility, and a Mercedes–Benz shuttle service, a Japanese dessert bar and restaurant are slated to open in 2023.

Fun Cheap Things to Do This Weekend in Houston:
Is saving money a part of your New Year's resolutions? We have your back. While a few dollars could go a long way toward allowing you to experience all this city fully has to offer, there are still many affordable and accessible activities you can participate in. By reading on, discover fun and affordable ideas to see and do in this city.
RELATED: Discovering the Best Things to Do in Krabi Thailand in 2023
Twilight Epiphany Skyscape:
The sun's rising, and set are wonders in and of themselves, mesmerizing natural events that fill us with awe, wonder, and romance. At James Turrells' installation, Twilight Epiphany, the sky takes on a completely different hue.
Every day, excluding Tuesday, there are two sequences at sunrise and dusk. The sunrise series starts 40 minutes before sunrise, while the sunset sequence starts 10 minutes before. Visitors are told to arrive 15 minutes early for each phase. The general public can participate for free.

Rothko Chapel:
The calm, modest Rothko Chapel is tucked away in Montrose alongside the shady lawn from the Menil Collection. The chapel has functioned as a cutting-edge landmark and serene sanctuary since 1971. The room has a practically palpable calm within, providing viewers with a meditative setting to view the fourteen Rothko murals that grace its walls.
The chapel is open to guests as a haven from the bustle of daily life. The chapel is open every Wednesday through Sunday, from 10 am to 6 pm. While there is no charge for admission, timed tickets must first be reserved.

FAQ:
Does Houston make a suitable city for singles?
Thanks to its varied employment opportunities, variety of real estate choices, hipster beer gardens, and other amenities, H-Town is a terrific location for singles and younger professionals. The top areas in Houston for single people and young professionals are listed below!
Which month is ideal for weddings in Houston?
Nearly all of the year is warm in Houston, making it a perfect place to get married, but June, October, and December are the most sought-after months for weddings in this region.
Is Houston best for Dating?
Houston was classified as the 6th worst place for dating in a recent survey by the real estate research firm Clever because there aren't as many options for date nights there, and the average romantic night bill is $15 to $21 more expensive than in the top 10 cities.
Is Houston an affordable city?
Despite how it sometimes feels, Houston is still one of the most reasonably priced large cities in the United States. As a result of spending over 50 percent of their total salary on transportation and housing, many area residents are currently in a dire financial situation in this city.