Discovering the Best Things to Do in Krabi Thailand in 2023
The southern Thai region of Krabi Thailand is home to all the expected treasures. From the stunning beaches, clear water, reefs of coral, waterfalls, and fantastic caverns to explore. A spectacular variety of sceneries can be found in Krabi, from a hilly landmass encircled by the breathtakingly beautiful Andaman Sea. A 130-island archipelago makes up this region. Go climbing rocks in the morning, then unwind on the beach. The beaches of Krabi are more stunning than those of Surat Thani's Koh Samui and Koh Phangan.
And it receives much less tourism than Phuket, which is more well-known. Famous beaches include Ao Nang and Railay! If Bangkok has been driving you crazy, travel to Krabi in the south for restorative time and discovery. It includes famous party islands, such as Koh Phi Phi, and off-the-beaten-path locations. It's an excellent location for leisure and entertainment for people seeking something more laid back.
Railay Beach:
Try Rock Climbing:
Numerous spectacular cliffs in Krabi draw rock climbers from throughout the world. These enormous limestone pillars in Railay, a tiny peninsula in Thailand between Krabi and Ao Nang, made Krabi one of the world's most thrilling rock climbing locations. There are various distinctive rock climbing routes in Railay Beach.
It would support you if you had a particular degree of agility and toughness to deal with them. Your rock climbing abilities will be put to the test on several stages throughout the rock climbing game. Since tall limestone cliffs wall off the mainland, Railay can only be reached by boat. Among all the outdoor rock climbing locations in Krabi, this is one of the more adventurous activities.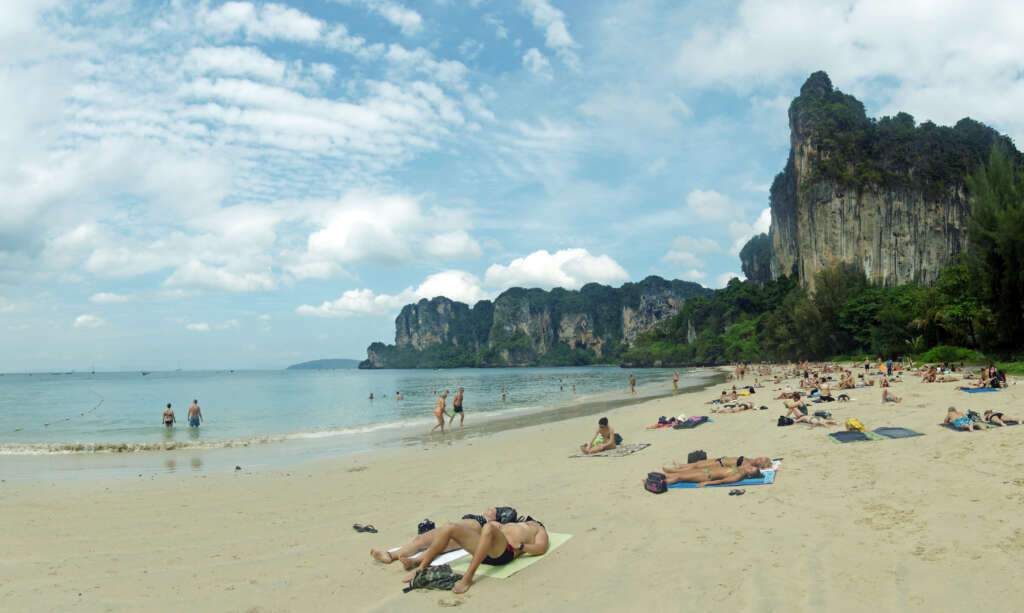 Khao Ngon Nak Viewpoint:
Krabi Town's Khao Ngon Nak viewpoint is popular with hikers and outdoor enthusiasts. Thanks to the challenging and thrilling routes that lead to the location. Exploring the Point, called Dragon Crest Mountain, is one of the most beautiful free activities in Krabi Thailand.
A stream, two overlooks, a waterfall, a peak, and many magnificent landscapes can be seen along the trail, which is around 4 km long. King Kong and Avatar, among other Hollywood productions, have included similar terrain. All the photographers appreciate the pleasant pleasure of the summit's breathtaking view.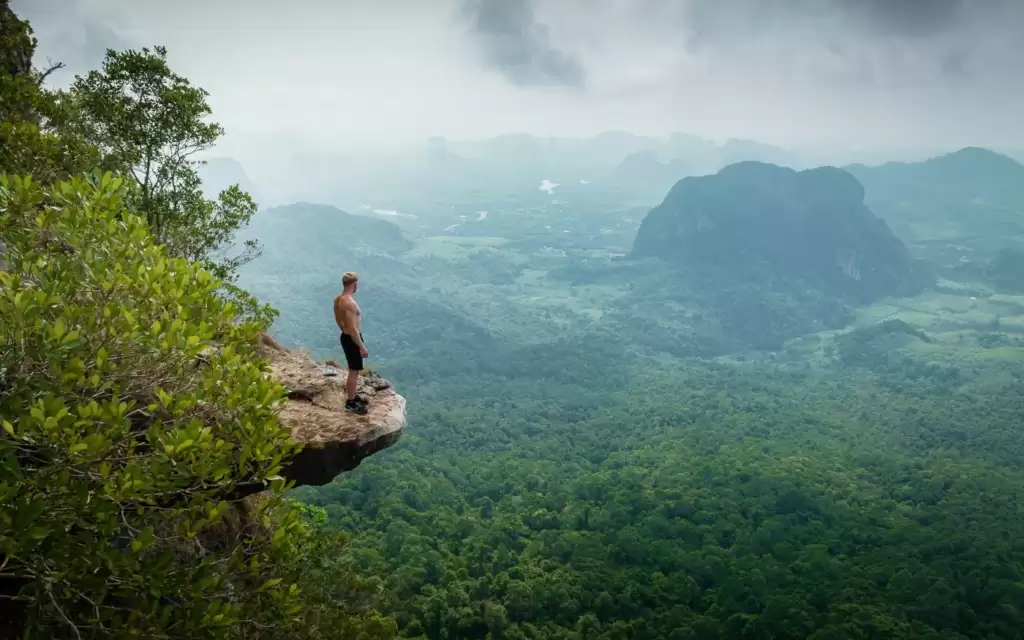 Ao Nang of Krabi Thailand:
The primary beach resort on Krabi's mainland is Ao Nang. Additionally, it offers the busiest nightlife on the mainland. Ao Nang provides a lively and enjoyable night out even though there aren't as many flashing lights, loud sound systems, and wild parties as you would find in adjacent Phuket.
There are several bars, most of which have a relaxed and informal atmosphere. Simple coastal shacks, diving bars, athletic bars, live music venues, and swankier establishments with stunning vistas and delectable cocktails are dispersed across the region. Center Point features a dance floor and live music, while Soi RCA is an excellent place for frivolity.

Khao Khanap Nam Krabi Thailand:
The Khao Khanap Nam Mountains, one of Krabi's most visited tourist destinations, serve as the City's entrance and are 100 meters high. As you venture down the forbidden road (I kid you not) inside the caves, summon all your courage. Although the area is more well-known for the numerous human remains discovered and the hypotheses behind their fate, caves containing groups of stalagmites and stalactites are undoubtedly worth visiting.
Cover the narrow passage to the cave by landing on the mangrove that connects the two. As you navigate the bones and debris, put your nerve to the test. You should be blessed if you found a skull or some errant ribs! The excursion to Khao Kanab Nam can be combined with visits to a nearby mangrove forest and a typical Thai fishing hamlet to make things more enjoyable.

Bungee Jumping:
Highest Point in Krabi Thailand:
As you launch via one of Thailand's highest bungee jumps, take a leap of faith. The tallest bungee jump in Thailand and the fifth highest in Asia occurs in Krabi at 56 meters. You can try the catapult as an alternative to the standard bungee leap, launching you into the air.
The trained personnel that assists you also reinforces your safety. The bungee leap in Krabi is also compared favorably to those in New Zealand, the most famous bungee jumping location on Earth. Everything is always available to you and is kept in good working order.

Related: 7 Best Beaches in Texas: Explore it for Tourists and More.
Krabi Town:
The capital of Krabi, Krabi Town, is a charming place in its own right. Due to its function as a crossing point to other islands and beaches on the mainland, Krabi Town is a critical center for many tourists. But a stroll around is worthwhile! There are a variety of hip and trendy bars and eateries in Krabi Town.
The tastiest regional curries can be found in the vintage markets. Even some of the cultural things are worth visiting. The best part is that alluring mangrove forests, wetlands, and rivers encircle it. Moreover, there are striking limestone cliffs and, of course, the glamorous blue sea.

Krabi Town is significantly less tacky than neighboring Ao Nang. Although the area for travelers and backpackers has grown, many cafes, hostels, and upscale hotels remain there. Even though gentrification has occurred here, Krabi town has retained its charming residents and bustling town vibe. Take a culinary class, have a Thai massage, or just meander about and get lost.
Frequently Asked Questions.
What makes Krabi Thailand famous?
Krabi Thailand, is well known for its breathtaking Islands, beautiful Beaches, and picturesque landscape. A few people live in the City with the finest and most beautiful coral reef views in the entire globe, making it an excellent destination for coral diving.
Is it worthwhile to visit Krabi Thailand?
Krabi Thailand Town, the province's capital, is a small, laid-back city with a great starting point for tours, including island hopping and sightseeing. This town isn't on a beach but contains the Krabi River. Thus, many tourists avoid it.
What should you avoid in Krabi Thailand?
Avoid taking a longtail boat over tiny islands.
Leave out Wat Tham Seua (the Tiger Temple).
Thai food buffets in the seaside Krabi style should be addressed.
The Krabi Market at 5 am is irrelevant.
Which month is desirable for Krabi Thailand?
The busiest travel season, November to March, is the ideal time to visit Krabi Thailand. Krabi has severe rainfall from June to October. Hence only a few tourists visit there.
How much is Krabi Thailand Expensive?
Krabi's average cost of living is $597, ranking 13th out of 35 in Thailand and the top 19% of the least expensive cities worldwide. Krabi is ranked 7566th overall out of 9294 cities.