The Best Time to Visit Thailand (2023): What to Expect?
If you are exploring the best time to visit Thailand, you are at the right plate-form. Southeast Asia's most popular and easily accessible travel destination is Thailand. But just because this tropical paradise is close to the equator doesn't mean it is always warm and pleasant.
According to Jack Tydeman, a travel expert on Travel + Leisure's A-List and senior Southeast Asia specialist at Audley Travel, Thailand is a tropical nation with two seasons. Although generally warm year-round, the winter months of November through March are the prime period to explore Thailand. Because they coincide with the peak dry season, before the country enters the rainier season from May through October, April is the hottest month in Thailand.
Distinct and best seasons to visit Thailand.
Thailand experiences three distinct seasons:
The High Season is from November to March.
The Shoulder Seasons from April to June.
The Low Season is from July to September.
Thailand is a large country that spans more than 1,000 kilometers from north to south, so conditions vary depending on where you are. For instance, October ushers in the Gulf's monsoon season and the Andaman coast's bright high season. Read on to learn the optimum times to arrange your trip to Thailand before making reservations for your rainforest tree house and island boat tour.
The opportune moment to discover Thailand For Good Weather.
The dry season is the best time to visit Thailand, which begins in most of the nation in November and lasts through March or even into April and May for the best weather. (The Lower Gulf contains the idyllic islands of Ko Samui, Ko Phangan, and Ko Tao, which is a notable exception.) The Lower Gulf experiences its wettest months from October through December.
With typical temperatures in the mid-80s, clear, blue waters, little possibility of rain, and stunning lush terrain from the previous monsoon season, November through February generally have the most incredible, most comfortable weather.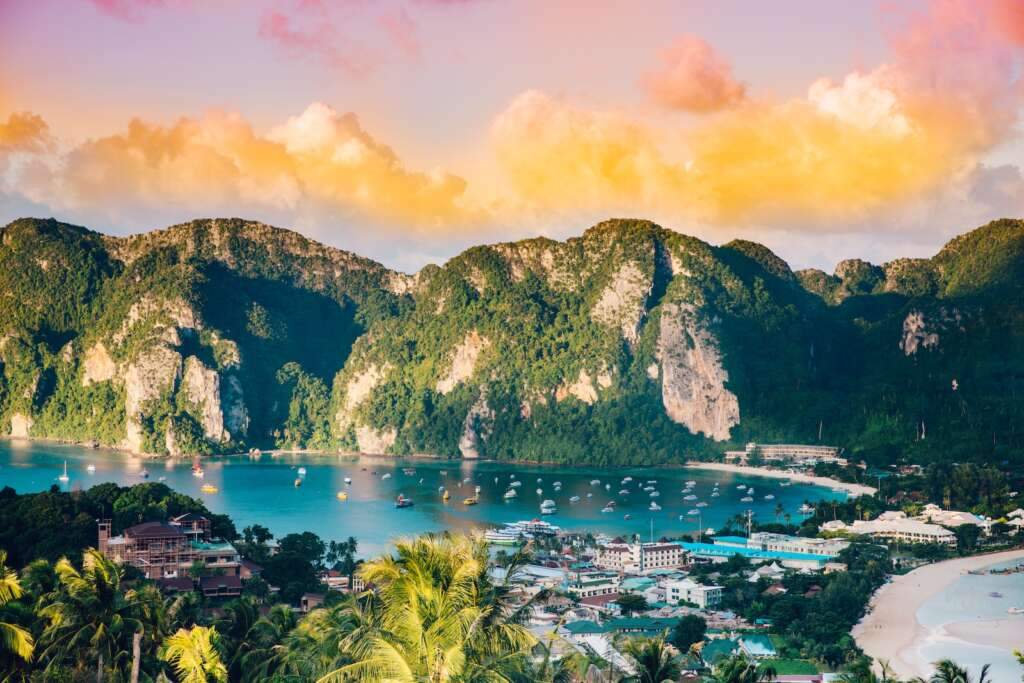 The Most Affordable Time to Visit Thailand.
Thailand is a great travel location that is inexpensive all year round. Still, tourists may discover the most significant savings on lodging, transit, and tours during the low/monsoon season (July through September). Thailand is beautiful at any time of the year, but some months are hotter than others, and some are wetter. Since most of the country is in a tropical rather than a monsoonal region, rainstorms tend to be brief and intense.
As a result, this time of year is now known as the "green season" because the rains turn the landscape green and fill rivers and waterfalls, according to Tydeman. Traveling off-season has significant benefits because prices are frequently lower and generally more peaceful, making it an excellent deal.

Visit Thailand for Festivals.
Also important are Thailand's numerous festivals, which range from the early-spring fruit festivals to the late-November Lopburi Monkey Festival. Both Yi Peng, during which tens of thousands of rice paper lanterns are invented into the sky, and Loy Krathong, during which candle-lit baskets are dropped into the water, are part of the cherished Lantern Festival, typically held in November.
Bangkok's Chinatown transforms into a sea of tourists, worshipers, dragon dancers, and drummers during the Chinese New Year in January or February, illuminated in crimson by firecrackers and hanging lanterns.

Scuba Diving in Thailand.
It is one of the best times to visit Thailand if you enjoy scuba diving. Thailand's gorgeous marine national parks and world-famous underwater destinations draw divers from all over the world. The whole of Thailand's east coast may be dived all year round, but between November and April, when the seas are calmest, and visibility is best, is the best time to visit Phuket, Krabi, the Phi Phi Islands, Ko Lanta, and Khao Lak—the gateway to the magnificent Similan and Surin Islands. From mid-May until mid-October, the marine parks at Similan and Surin are closed.

Best Time to Visit Thailand for Shopping.
Whenever you travel to Thailand, try to schedule at least one weekend in Bangkok so you may explore the mystifyingly huge Chatuchak Weekend Market, which is accessible to the general public on Saturdays and Sundays. Depending on what you're looking to buy, the weekend market may even be visited on a rainy day since it is mostly indoors and covered. (The market offers quick eats, shopping, and even foot treatments.)

Best Time To Visit Thailand
Traveling Months
Max/Min Temperature
Seasons
March to July
30-34 degrees Centigrade
Summer – Hot and humid
July to October
23-29 degrees Centigrade
Monsoon – Heavy rainfall
November to February
18-32 degrees Centigrade
Winter – Cool and pleasant
Related: Best Enjoyable Things to Do with Kids in Anaheim in 2023
Thailand in Winter Season.
Average temperature: 32 degrees high and 18 degrees low.
Weather: Winter is the best time to visit Thailand, without a doubt. The temperature is reasonable, and the monsoon has passed. The sunny and dry days make them ideal for sightseeing or simply lounging on the beach. Thailand, however, is congested in the winter, as is customary with any tourist location with improving weather. However, this doesn't lessen the appeal of the location because in Thailand, more is better.

Thailand in Summer Season.
The average temperature ranges from 30 degrees to 34 degrees.
Weather: Although Thailand's summer months are often considered off-peak, many students and backpackers nevertheless opt to travel at this time. Summer is the best time to visit Thailand. The nights are muggy, and the days are scorching, with a light wind in the evenings. Since it deters many visitors, Thailand's dry season is the best time to find fantastic prices on lodging and tour packages.

Frequently Asked Questions.
Which is the best time to visit Thailand?
(November through February)
Thailand's best weather is now, even though it may be winter elsewhere. You won't be covered in sweat for minutes due to the lower humidity and less intense sun. A cold breeze from the sea blows in the evenings, which is lovely.
What makes Thailand worth visiting?
Thailand s the most famous place in the world. What possible justifications exist for people's love of visiting this far-flung location? It can be the peaceful beaches, the delectable cuisine, the breathtaking scenery and temples, the rich history, or the historical and cultural attractions.
What is the main export of Thailand?
Thailand is well-known for its spa treatments, Buddhist temples, beaches, nightlife, and, of course, it's shopping.