The Best Things to Do in Cleveland: A Must-Do List
Best things to do in Cleveland: The biggest city on Lake Erie in Cleveland, Ohio, is proudly situated on its shores. Cleveland hailed as the birthplace of rock & roll, has produced its fair share of well-known citizens. Some influential Americans, including President James A. Garfield and John D. Rockefeller, are buried there. But if you're concerned that this location is solely focused on the past, don't be; this restored town is brimming with things to see, discover, and even sample.
Along with historical structures and early 20th-century architecture, the city offers many wonderful natural parks and reserves to explore. In its bustling arts and culture sector, you can frequently discover new museums, theaters, and grassroots performance spaces that are the best things to do in Cleveland. Attend a symphony performance or ride along a beautiful bike trail. Catch a show at a renowned theater or ride some of the top rollercoasters in the nation.
Public Square:
Since the latter half of the eighteenth century, the city has included the historic Public Square. It boasts an ice rink, amphitheater, lawn, and cafe and was recently renovated. Numerous major public events, including concerts, rallies, and parades, are held there.
History-wise, the bodies of James A. Garfield and Abraham Lincoln were previously on display in the square for everyone to see when they passed away. There are numerous striking monuments in Public Square. Moses Cleaveland, the city's founder, its soldiers and sailors, and the enormous Fountain of Eternal Life, a war memorial fountain, are all honored in separate fountains.
So, if you're looking for things to do in Cleveland, a visit to the historic Public Square should be on your list. It not only offers a glimpse into the city's past but also provides a lively and engaging experience for visitors of all ages.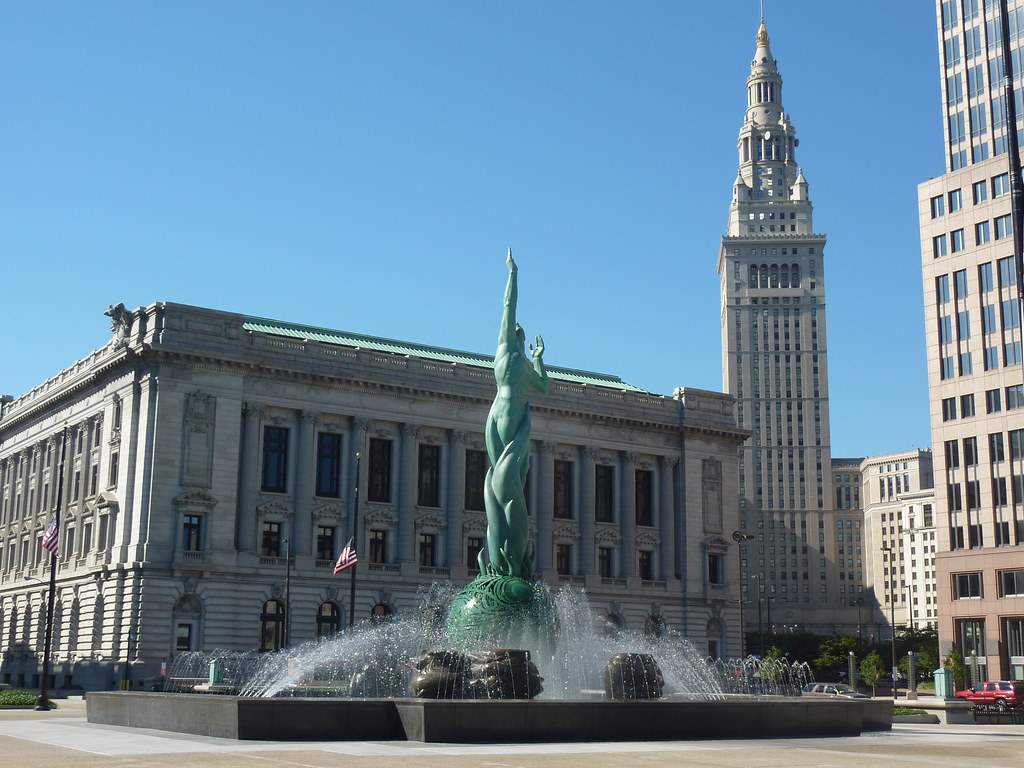 Cleveland Museum:
There are some incredible and unique things to do in the Cleveland Museum of Natural History collection. There is much to learn about, from whole dinosaur bones, including many tyrannosauri, to moon rocks. Live Ohio-native animals and flora are displayed at the Perkins Wildlife Center, including essential species like otters, coyotes, and eagles.
The Museum is home to one of the most influential groups of human skeletal remains and a replica of Lucy, an early hominid estimated to be over 3 million years old.

Best thngs to do in Cleveland, Lake Science Center:
Tour to The Great Lakes Science Center is the best things to do in Cleveland to take kids. It features hundreds of interactive exhibits to keep you entertained and fascinated. The Augmented Reality Sandboxes can pique your interest, or the Cleveland Creates Zone can be where you try your experiments.
In addition to the Apollo Guidance Module and modern spacesuits, the NASA Glenn Visit Center is at the GLSC. Additionally, it contains a wealth of knowledge about space travel, including details about astronauts' daily lives. If you're ever in Cleveland, you must go here.

Metro Park Zoo:
A massive 183-acre zoo and park, Cleveland's Metroparks include exotic animals, outdoor pursuits, golf, and retail. Since 1882, the park has been a Cleveland institution. It has replicas of the Australian bush, the rainforest, and the African savannah.
One the best things to do in Cleveland, and the most significant primate collections in the country, including gorillas, lemurs, and aye-ayes, may be found in the zoo. Additionally, it features a rare exhibition of animals from the Asian highlands, including the red panda, snow leopards, and amur leopards. A trip to the Metroparks is undoubtedly one of the most enjoyable things to do in Cleveland.

The Holden Arboretum:
A visit to this 3,500-acre beauty will be a soul soother whether you're taking in the spring's lush blooms or winter's snow–draped branches. The well-kept trees surrounding the property allow you to experience a little bit of rural idyll in addition to the many classic botanical garden elements are the best things to do in Cleveland.
Take a moment to admire the lush grounds, where you can snowshoe in colder months. Admire the tropical blooms and imposing native trees side by side.
Related: Best Enjoyable Things to Do in Miami for Couples: Explore the South and Miami Beach activities.

Cleveland Aquarium:
Visitors can get up close and personal in the walkthrough sea tube with some of the giant Cleveland Aquarium's larger occupants, such as three types of sharks, stingrays, and moray eels. As they swim above your head, observe these amazing toothy creatures are the best things to do in Cleveland.
A native Ohio river, a tropical forest and reef, and a coastal boardwalk are just a few ecosystems the aquarium recreates. Visitors can examine stingrays, seahorses, cleaner shrimp, and coral up close in the touch pool.

Best things to do in Cleveland, Botanical Garden:
Cleveland Botanical Gardens will appeal to those who love the outdoors. The gardens will provide a distinctive experience in the city, with two tropical glasshouses filled with exotic plants and trees from Madagascar and Costa Rica. A tour to Botanical Garden are one of the best things to do in Cleveland. Meet the tortoises and armored lizards that call the glasshouse home.
The Botanical Gardens also have outdoor displays, such as a Japanese garden and a perennial garden, as well as other quiet spots to unwind and take in the beauty of nature. A cafe, library, and art gallery are also in the gardens.

The best things to do in Little Italy:
If you're looking for fun things to do in Cleveland, Ohio, during the weekend, head to Little Italy. This little area has over 25 fascinating galleries, 20 mouthwatering restaurants, and a rich culture. It's unquestionably one of the most popular Little Italy spots nationwide. This Cleveland region first appeared 130 years ago on Mayfield Road, where Italian sculptor Joseph Carrabelli started to produce works of art made of marble and granite.
It didn't take long before Italian families started to establish themselves nearby. Little Italy offers several unique things to do in Cleveland throughout the year, including bocce competitions, art walks, and more, and picturesque streets to explore. So if you visit at the appropriate moment, you can see them.

Frequently Asked Questions:
What has made Cleveland famous?
Cleveland is renowned for its fervent sports fans, Roll Hall of Fame and the Rock, various delectable regional cuisines, vibrant neighborhoods, and parks. This quaint city has a lot to offer for those who take some time to explore it.
Is there nightlife in Cleveland?
The nightlife in Cleveland is extensive and varied, including cultural areas, pinball and video arcades, music and entertainment clubs, and even ninja warrior training facilities.
What is Cleveland dish renowned for?
These are the best things to do in Cleveland:
1-Slyman's sandwiches with corned beef.Facebook for Slyman, Jack Frost Donuts.
2-The Carmageddon to Melt Bar and Grilled.
3-The Frank's bratwurst sandwich.
Is Cleveland, Ohio, a costly place to live?
Housing costs in Cleveland are 17% less expensive than the average, and utility costs are 2% less expensive. Gas prices and other transportation costs are 6% less than the national average.