Best Things to Do in Chicago for Couples in 2023, Hiking Areas, Parks, Theatres, and More Activities
One of the loveliest places in the American Midwest is Chicago. This is due to the city's excellent combination of carefully designed urban landscapes along with a wide range of recreational opportunities. Other activities in the city can strengthen relationships between couples and honeymooners, in addition to the lovely parks that line the Lake Michigan shoreline.
You can enjoy the most romantic locations in this city's lake area as a couple in various ways, including on a bike for two or by setting sail on a candlelit dinner cruise. The Centennial Wheel, which dominates the Chicago skyline, can provide quiet moments and breathtaking views. A helicopter ride provides some of the best vistas.
The Centennial Wheel:
On Navy Pier, a giant Ferris wheel called the Centennial Wheel provides breathtaking views of the city's skyline as you take a leisurely ride up. You may take in miles-long panoramic vistas of Lake Michigan and Chicago when you get to the top of this wheel.
Given that it appeals to children and adults, every person can enjoy a ride on the wheel. The inviting and pleasant enclosed gondolas that travelers ride up on allow even people afraid of heights to have fun still. An entire loop of the wheel takes about 15 minutes.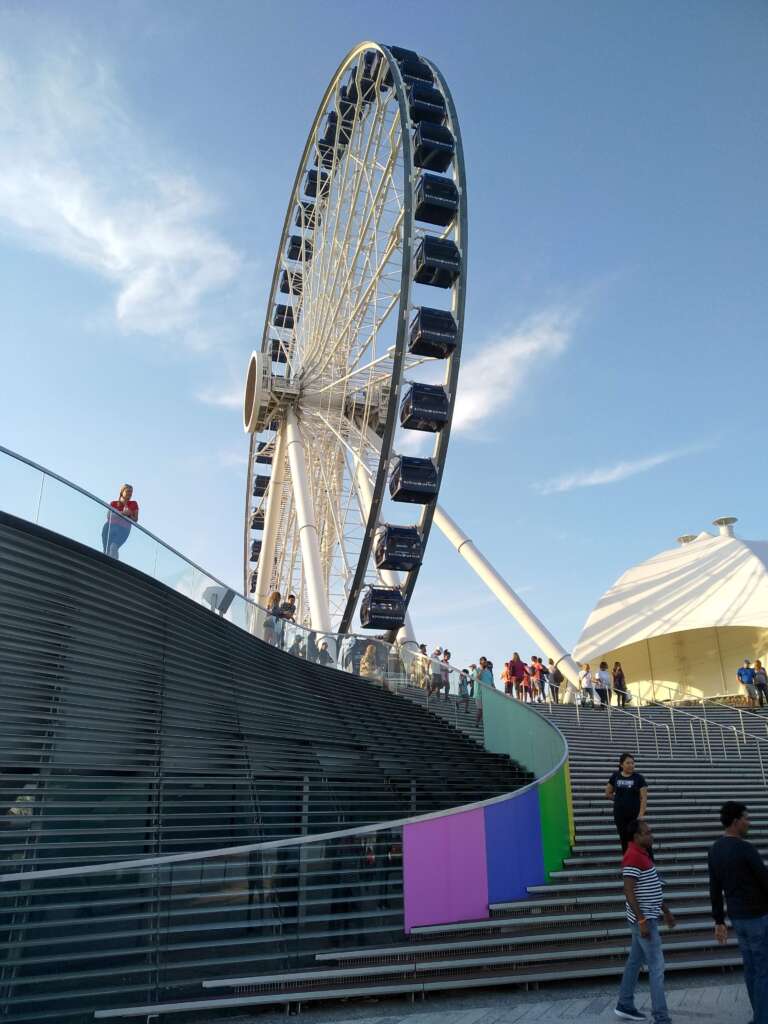 Chicago Theatre:
The Chicago Theatre is a theater for performing arts that hosts musicals, comedies, family performances, and more. It is renowned for its beautiful architecture, unique design, and extensive past. It served as a cinema when it first opened in 19921, and the architecture of this pioneering American film palace inspired many theaters that followed.
This theater is the ideal place to go after having lunch at a neighboring restaurant or for an evening out. Additionally, several motels are nearby, with various options mentioned on the theater's website.

Chicago Lakefront Trail:
A great area to enjoy the city's shoreline of Lake Michigan is the Lakefront Trail of this city. This 19-mile concrete walkway runs beside the city's downtown area and provides breathtaking views of the city's skyline and lake. A few sandy areas, parks, and restaurants along the route make it a perfect area to utilize some time or the whole day in the city.
The lakefront route distinguishes Chicago from other cities, even if numerous large parks are dispersed. This route, about 20 miles long and parallel to the city center, provides locals and visitors with various outdoor activities. The track is smooth, easy to use, and frequently crowded with runners, hikers, rollerbladers, and others searching for a place to exercise in the city.

Chicago Botanic Garden:
Over more than 45 years, the 385 acres and 27 gardens at the Botanic Garden have delighted visitors. There are several choices for a stroll across the gardens, located on and around nine islands, at any time of year. Visitors can choose from several annual seasonal and fitness walks at the Botanic Garden.
The Daniel F. and Ada L. Rice Conservation of Plants Science Centre's nine research labs are in the gardens. Researchers and graduate learners are working diligently to protect the globe by preserving the world's plants.

Natural History Museums:
Travelers who enjoy history, particularly local history, would greatly benefit from visiting this city. For a more in-depth look at the heritage and history of this fantastic city, see the History Museum of this city. The History Museum is conveniently situated in the southern section of Lincoln Park and is only a short distance from Old Town, a hip area with a wide variety of delicious dining and drinking establishments.
We adore Old Town Pour House (for fantastic apps, craft beer, and sports television) and Cracked English (for margarita specials and tacos). Alternatively, visit the Field Museum for an exciting peek at natural history worldwide. From SUE, the famous T. Rex skeleton, to exquisite jewels of every color, to Ancient Egyptian artifacts, you may discover it all here.

Urban Parks of Chicago:
The abundance of beautiful parks in the city's center is one of its most impressive features. There are parks to stroll and take pictures for hours, from the artistically rich Millennium Park and the festival-friendly Grant Park to the petite but adorable Lurie Garden. Remember to visit the Bean, also known as the Cloud Gate sculpture.
Alternatively, go outside the city to Lincoln Park, which has a zoo and many beaches. It's a fantastic location for exploring, biking, running, playing frisbee, etc. You may find Garfield Park and its lovely conservatory, a sanctuary for 120 thousand tropical plants across 1.6 acres of glass-topped internal space if you travel a little west of the city.
Related: Top Beaches in Jamaica for Couples in 2023
Millennium Park:
About Millennium Park, it is well worth a trip on its own. A 24.5-acre green area makes up the park with many exciting things to see. That is situated on the Loop and directly next to the Art Institute. Fantastic artwork, lovely scenery, and The Bean are all present. A visit to this city would only be complete with seeing the Cloud Gate sculpture, an iconic piece made of stainless steel.
The Jay Pritzker Pavilion is located in Millennium Park, and if you're lucky, you might see an outdoor musical performance there. With its two 50-foot LED projections, the Crown Fountain is another excellent example of how technology and art coexist.

Frequently Asked Questions:
When is Chicago more romantic?
If you can believe it, Chicago is filled with romance even during the coldest months.
Is it pricey to fall in love in Chicago?
Chicago, Illinois, has a cost of living that is 20% more expensive than the whole average and 31% more expensive than the state average. Housing costs in this city, Illinois, are 52% over the whole average, while utility costs are only 3% lower.
How much does it cost to live in Chicago on the minimum wage?
The analysis found that a single person without children in Chicago must earn $65,500 after taxes to live comfortably.
Can you drink in public in Chicago?
In Chicago and most other Illinois cities, it is illegal to consume alcohol in public. The police have the legal power to detain you If you are strolling down the road while consuming alcohol from an open bottle of wine or beer.