Planning a Trip to Morocco? Here's the Best Time to Visit for Ideal Weather and Festivals
Morocco has stunning diversity, including towering mountain ranges, broad deserts, and historic cities. How about the greatest time to travel?
Travelers are enthralled by Morocco's vibrant culture and welcoming people. The vibrant towns and souks, delectable cuisine, traditional riads, and camel rides through the desert will completely overwhelm your senses.
This North African nation has four unique seasons, and each one offers fantastic tourist experiences. The weather can be as varied as the terrain, thanks to the High Atlas Mountains' extremes, the vast, golden desert, and miles of breathtaking coastline, yet there is always something to enjoy.
March to May (Spring)
Although spring is cooler than autumn, it's still a great season to travel to Morocco, with May—the start of summer—being the best month. The day's heat is still tolerable in most regions, and nature is in full bloom, making it ideal for those who want to spend time outside. March heralds the start of the season, with blossoming trees and flowers.
Springtime temperatures are generally pleasant, the skies are clear and sunny, and the landscapes are brilliant and green. Even though the evenings are still chilly by April, the days are warmer and longer. However, there is a danger of sandstorms in the Sahara due to high winds. In many regions, the high temperature in April is 75°F (24°C), while it is slightly cooler by the coast.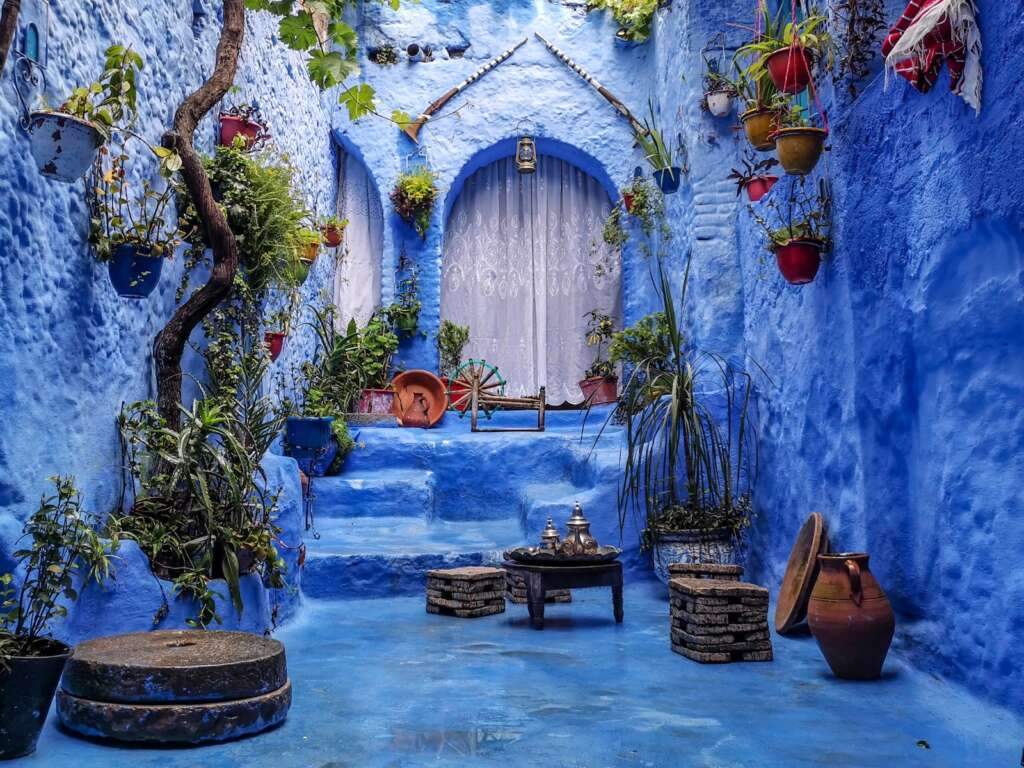 June to August
Summers in Morocco are oppressively hot, with July being the warmest month. Marrakesh has typical daily and overnight temperatures of 83°F (29°C) and 70°F (21°C), with midday highs of up to 100°F (38°C). Major cities in the heart of the country shouldn't be off limits if you can handle the heat, but you should also plan trips to the coast and the Atlas or Rif mountains.
Visiting the Sahara in eastern Morocco in the early morning or late night when the sun has set is preferable because it will be sweltering there. However, avoid being misled by the intense heat of the day because nights can be much cooler.

September to November
Next to spring, autumn is one of the best times to visit Morocco, especially for first-timers and those wishing to see the highlights. With gentle, low temperatures of 58°F (15°C) and maximum daily highs of about 84°F (29°C) in Marrakesh, the weather is hotter than in the spring months but less uncomfortable than in summer.
If you are in the Atlas Mountains, you can anticipate significantly colder weather coincides with the leaves turning. On the beaches, the sun's heat and the ocean breeze's cold may compete directly for your attention. This shouldn't stop you from visiting the seaside, as it's less busy now that locals have gone home; by November, though, the ocean may be best experienced by those wearing wet suits.

December to February
Contrary to popular belief, Morocco has a winter season. In the Atlas Mountains, where it snows, you may even reserve a ski vacation (best in January). In other places, it is bright and sunny but cold. For instance, Marrakesh experiences typical lows of 43°F (6°C) and highs of 66°F (19°C). The little rain that does fall—about 2 inches (51 mm) or less over 7–11 days a month—adds to the pleasant climate. The most rain falls in the north, leaving southern Morocco a little drier. Remember that once the sun sets, the temperature will drop in what is known as the "cold country with the hot sun."
The medinas of Moroccan cities are wonderful for touring now since there are fewer tourists and rates are at their lowest, with February being the least expensive month for travel. Just in case, pack a raincoat. Even though the Sahara has cold nights (like other places), most camps have heating so you can go there in a fair amount of comfort.

Cheapest Time to Visit Morocco
The most important aspect of trip preparation is budgeting. Traveling is expensive, mainly when done abroad. Planning around off-peak travel periods may result in significant savings on travel and lodging.
November is the cheapest month to visit Morocco. In the middle of spring, between March and April, travel demand is highest. Fall's first few months can be hectic and pricey.
You may reserve inexpensive flights and get fantastic hotel rates in November. Even some nicer resort options in cities like Tangier or Casablanca may offer you a sizable discount.
The benefits of traveling to Morocco in November are numerous. The modest number of other travelers and the inexpensive lodgings just so happen to

Least Busy Time to Visit Morocco
November is a fantastic time to travel to Morocco. There are fewer people, and it's cooler and cheaper, too. If you don't mind cool evenings and the possibility of seeing snow in the mountains, you'll have a terrific experience.
It's hard to guarantee that visiting Morocco in November won't result in a crowd. No matter when you visit, there will inevitably be other visitors who have the same thought you did: travel during the off-season to avoid the crowds.
By going in November, you can lessen your exposure to other tourists. November is the best month to travel there to avoid crowds and take full advantage of everything Morroco offers.

RELATED: Planning Your Dubai Adventure: When to Visit for Optimal Weather and Unforgettable Adventures
Worst Time to Visit Morocco
It's challenging to suggest that there is a bad time of year to travel to Morocco. Morocco always has something going on, no matter the season. The nation has much to offer, including a rich history, stunning beaches, and a distinctive culture.
Try to steer clear of traveling to Morocco in the spring or autumn if you dislike large crowds. The busiest times of the year can also bring sandstorms from the Sahara and severe rain from the north in the spring.
Early spring and summer are the costliest months to visit Morocco, so if money is an issue, you should be aware of this. Prices tend to be highest in June and July. The worst time to travel to Morocco will depend more on your personal travel choices than any travel fad. Thankfully, there are several travel options available outside of the peak season!

FAQ
What time of year is the cheapest to visit Morocco?
June and July are considered as the high season. January is the most affordable month to travel to Morocco.
What is the best month to visit Marrakech?
The best seasons to visit Marrakech are in spring and autumn when the weather is often nice without becoming oppressively hot. The best times to go are May and September because they often have less rainfall than other autumn and spring months.
How many days is enough to see Morocco?
If it's your first time going, you should definitely aim to stay for at least a week. That will enable you to explore some of the desert's cities and much of it at a leisurely pace. But ideally, you ought to plan for between 10 days to 2 weeks.
Is Morocco an expensive place to visit?
Morocco can be very affordable, but if you like luxury vacations, the country also offers the most opulent and extravagant way of life that money can buy.