The Ultimate Guide to ST. Thomas All-Inclusive Resorts
St. Thomas is one of the few areas in the eastern Caribbean where US citizens can go without a passport and is a beautiful island getaway. That's because it is a part of the U.S. Virgin Islands, a U.S. territory in the Caribbean, along with St. Croix and St. John. Overwater bungalows are not available, but visitors may still enjoy white-sand beaches, a laid-back atmosphere, water sports like scuba diving and snorkeling, as well as duty-free shopping. All tourists, from those seeking the greatest family beach vacation to newlyweds looking for all-inclusive honeymoon destinations, should give it some thought.
Blongo, Bay Beach Resort.
Bolongo Bay Beach, a family-run hotel on the island's southern shore, asserts to have been the first to implement the all-inclusive idea there and is still the only real all-inclusive resort choice as of this writing. It has its own bespoke catamaran and is located on a 1,000-foot stretch of golden sand. Tours to neighboring St. John can be taken from there.
The lone dining option at this resort is Oasis Restaurant & Pool Bar. It serves breakfast, lunch, and dinner in addition to serving as a bar till late. Conch fritters and other native fare, as well as tropical drinks, are what visitors can anticipate. Iggie's Beach Bar & Grill, the hotel's other dining option, has been closed as a result of hurricane damage since 2017.
Beachfront, Ocean View, and Value rooms are the three different room categories the resort offers. Beachfront Rooms are some of the closest to the ocean of this resort, and Ocean View Rooms are located on the second and third levels. Private balconies are a part of both the Ocean View and Beachfront accommodation categories. Value accommodations are located behind the restaurant and offer a partial ocean view.
Related: Things to do in Guadalajara, Mexico: Tours, festivals, Shows, concerts, and Places to Go.
Westin Beach Resort & Spa, and Frenchman's Reef.
The new resort is taking reservations and is about five miles from Cyril E. King International Airport (STT). The building will have three on-site restaurants, a coffee shop, and a bar in addition to a Heavenly Spa by Westin. Although award nights are not yet available, you will be able to use Marriott Bonvoy points to book them when they do. There are many different room sizes and types available, including deluxe rooms for more frugal tourists and a one-bedroom presidential suite or terrace. Garden views, partial ocean views, and full ocean views are all possible orientations. Starting at $523 per night, rooms at The Westin Beach Resort & Spa at Frenchman's Reef are available.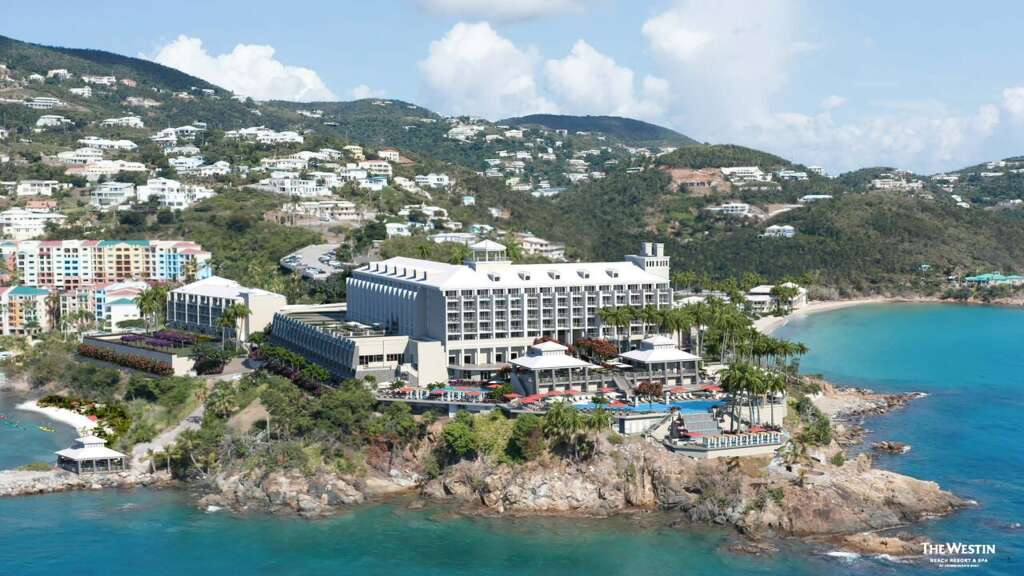 Ritz-Carlton.
For travelers with a larger budget or a lot of Marriott Bonvoy points to use, The Ritz-Carlton in Great Bay is a great choice. A $100 million refurbishment of the resort recently included the addition of a new family-friendly pool with a thrilling waterslide. The resort also has a catamaran of its own that it uses for private events, sunset cruises, and snorkeling excursions.
This hotel has four restaurants so an all-inclusive option is not available, but you can reserve a package that includes daily breakfast for two people or a club-level room that includes complementary meals all day. The Ritz-Carlton offers a variety of accommodations, from resort-view rooms to three-bedroom presidential suites.

Morningstar Buos Haus Beach Resort.
The 392-room, amenity-rich Westin next door (see above) will be joined by the 94-key Morningstar Buoy Haus Beach Resort, the second Marriott hotel to open at Frenchman's Reef in spring 2023. Beachfront, oceanside, and two suites with a neutral color scheme will exude a contemporary Caribbean ambiance only feet from a quarter-mile arc of white sand.
A swim-up bar and an infinity edge pool with private cabanas will be available at the resort. The fine dining establishment among the four eateries/bars will be Isla Blue, which will highlight regional seafood and creative mixology. Salt Shack Beach Bar & Grill, a laid-back beach club, will serve light fare while Sandbar will focus on Caribbean drinks.
All visitors to Buoy Haus will be able to use the luxurious amenities at the Westin Frenchman's Reef. There will be free non-motorized water activities, snorkeling excursions, and sunset sailing on the Flying Frenchman, the resort's luxurious catamaran, in addition to the daily programming for people of all ages.

The Weston St. John Resort.
For your stay on the island, the Westin St. John Resort Villas is a superb points option. The hotel offers a variety of attractions that make it a desirable higher-end choice for families, including a private beach, Sugar & Spice Spa, a sizable resort-style pool, the Westin Family Kids Club to keep the little ones occupied, and more. If you're traveling with a bigger group, the multi-bedroom villas can be useful.
The Westin St. John Resort Villas offers studios, one- and two-bedroom villas in a variety of floor plans. Since the dining options at this hotel are limited, having a kitchen in each room gives you the flexibility to prepare meals as you see fit.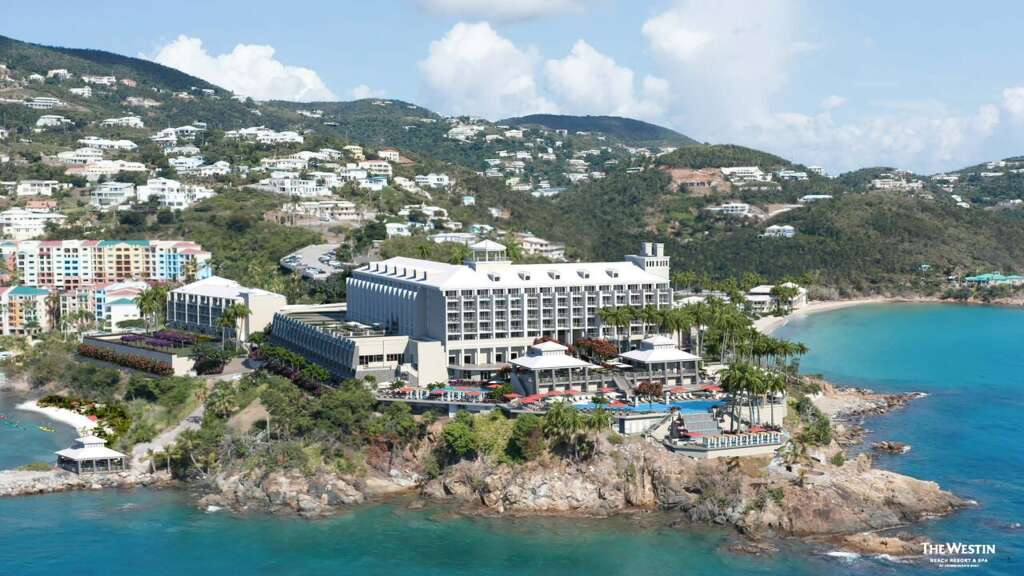 St. Thomas Secret Harbor Beach Resort.
A boutique hotel with apartment-style lodgings, Secret Harbor Beach Resort is situated both on the beach and on a hill. There are studio, one, two, and three-bedroom condo suite options available to guests. The hillside condos offer greater seclusion and are closer to resort facilities than the oceanfront units, which are more centrally positioned.
A freshwater pool, tennis facilities, three dining options, and online food provisioning to supply your room is among the resort's attractions. Free Wi-Fi is available, and a full-time concierge is available to assist with booking any trips or bookings. Also on-site at Secret Harbor Beach Resort is a dive store. Divers of all abilities can take trips at the PADI Five-Star Aqua Action Dive and Watersports Center.
Frequently Asked Questions.
Is St. Thomas home to any all-inclusive resorts?
The only All Inclusive Resort on St. Thomas is Bolongo Bay, which introduced the idea to the US Virgin Islands in 1989.
How is all-inclusive defined in the Virgin Islands?
The only conventional "all inclusive" resorts in the US Virgin Islands that include food, drink, and activities as part of a package deal are Divi and Bolongo Bay.
St. Thomas is it pricey?
Even though it is a tax-free territory, the USVI is indeed pricey. However, if you book a hostel room or an inexpensive airbnb for $70 per night, you can visit St. Thomas on a tight budget. Eat in more neighborhood restaurants rather than expensive ones, etc.
What makes St. Thomas unique?
The second-oldest synagogue in the Western Hemisphere, Fort Christian (1680), and Camille Pissarro, a Danish-French Impressionist painter, were all born in St. Thomas. Scuba diving, golf courses, picture-perfect beaches, and an amazing nightlife are other popular attractions on our island.