The Best Time to Visit Bora Bora: A Traveler's Guide
The stunning island of Bora Bora can accommodate all your vacation needs, whether you want to lounge around all day sipping cocktails or have an action-packed experience.
However, the time of year you explore this French Polynesian island will greatly affect how you feel there. Despite being open all year round, Bora Bora has peak and low seasons.
You must conduct thorough research to avoid crowds or if you want to take advantage of great discounts. We've compiled all you must know about the ideal time to visit Bora Bora for beach junkies keen on going there.
May-October
Many people are around throughout this six-month peak season (August is a particularly popular month for European tourists). Temperatures in this season range from the upper 60s to the mid-80s, and the climate is at its driest. The cost of hotels and resorts is the sole drawback. The cost of lodging is at its highest.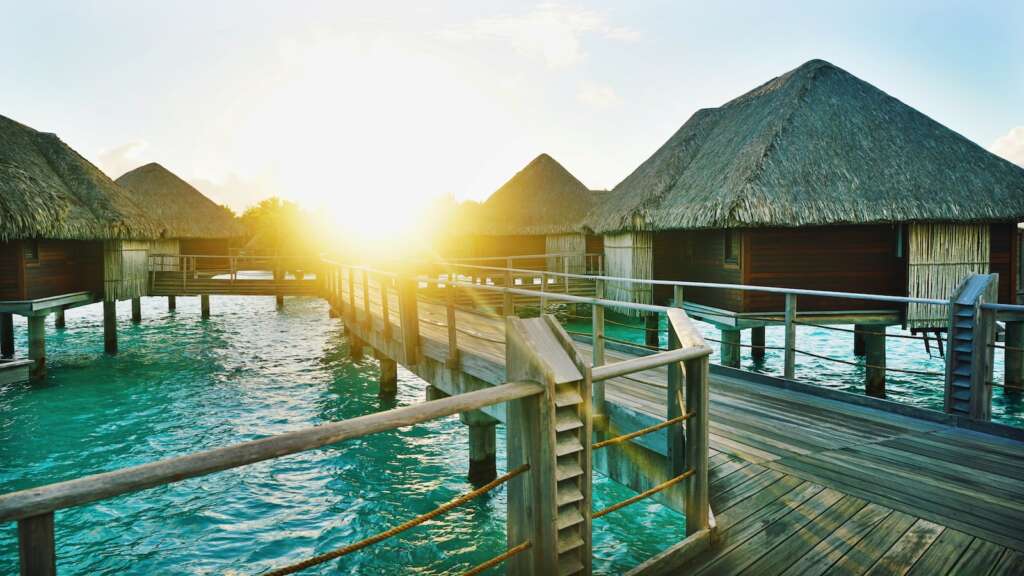 RELATED: Romantic Things to Do in San Diego for Couples.
November
After peak season, November is an excellent time to visit Bora Bora, with fewer visitors. Low to mid-seventies for the temperature range, and you might be able to find a good deal on a room. Although lodgings in Bora Bora are notoriously expensive all year round, the low and shoulder seasons can provide discounts.

December-March
Between December to March, there are no guarantees in Bora Bora. These months occasionally include rainy weather (and mosquitoes), but other times the sun will be out, and the sky will be clear. This time of year is great for finding deals because peak-season travelers stay away due to unpredictable weather. In addition, the temperature continues to be pleasant, ranging between the mid-70s to the mid-80s.

April
The weather in Bora Bora varies from the lower 70s to the upper 80s in April. Right before the peak season, April is a fantastic month to travel in gorgeous weather without the masses of tourists. Discounted rates for resorts or hotels would be the cherry on top.

How Is The Weather In Bora Bora?
The two seasons on the tropical island of Bora Bora are the rainy season and the dry season. Unlike numerous other South Pacific islands, the weather is highly consistent throughout the year, although the rainfall is rather predictable. Although the rainy season lasts roughly from mid-November to mid-April, cloud bursts can occur at any moment. As a result, even though Bora Bora has wonderful weather year-round, travelers should be prepared for showers there.

The Most Economical Time to Visit Bora Bora
The most affordable months to travel to Bora Bora are December through March. Due to the weather, these months are regarded as low season, although you can still engage in a variety of activities. The wet season often begins in November and lasts until April, but it is at its height from December to March.
Rain is more likely during these months, and the weather is unpredictable. However, these are the greatest times to visit the island due to significantly lower accommodation costs compared to other months. Thanks to the low season, you'll also get the opportunity to take a more tranquil vacation with fewer visitors nearby.
You will appreciate December in Bora Bora as it is Christmas time, despite the steamy and rainy weather. The locals will be in holiday mode, and there will be a ton of local events that you may attend. If you come in January, be prepared for more rain. Even if you're on a tight budget, this month is typically when you can easily score the best offer at upscale resorts.

The Ideal Season to Visit Bora Bora to Stay Away from Crowds
Travel to Bora Bora from November to April to avoid the crowds. Expect to experience a lot of rain during these months because they are the island's wet season. If it isn't raining, there is a good probability that it will be gloomy.
Resorts offer fantastic bargains throughout these months to make up for the low tourist season. Although the weather isn't as sunny as in other months, you'll pay less and enjoy a more tranquil vacation in addition to the lower prices.
As was already noted, one of Bora Bora's muggiest months is December. For January, the same is valid. Due to the weather, you might feel uncomfortable throughout the day and while participating in tourism activities.
Worst Time to Visit Bora Bora
The worst months to travel are February because of the weather and May through October because everything is crowded.
Despite having less precipitation than January, February has the highest likelihood of cyclones. Even though cyclones are extremely rare, and the last significant one struck in 2010, French Polynesia is located on the central cyclone belt.
Since August is the finest month to take advantage of the sunshine in this tropical paradise, you'll witness a number of European tourists visiting the island throughout that month. During these months, the temperature fluctuates from the mid-70s to the low-80s.
You'll encounter expensive resort and hotel costs in addition to the crowd. Due to the enormous population on the island, bear in mind that you will also spend more on food.
The only significant sandy area on the mainland is Maitra Beach, which is noteworthy. Thus, if it's crowded with locals and tourists, you might not be able to appreciate its crystal-clear water and white powdery sand.

FAQ
What is the rainy season in Bora Bora?
Usually, the rainy season endures from November through April. Summer showers, higher temperatures, and typically light rain are characteristics of this season.
What is the cheapest month to go to Bora Bora?
The months of November and December are regarded as peak seasons. April is the cheapest month to travel to Bora Bora.
Is Bora Bora very expensive?
We recommend you stay at Bora Bora for 3–4 days. This allows you lots of time to discover this charming island and all the various emerald hues the sea has to offer. If so, you will like spending it here as well. Just be aware that Bora Bora is the most pricey island in French Polynesia.
How many days is recommended in Bora Bora?
Between $5,000 and $22,000 is the typical cost for two persons to stay in Bora Bora for seven days. Although there is truly no upper limit, with hotels costing up to 15,000 per night, it can be difficult for budget travelers to stay within that range for an entire week (flights included).