Visit Barcelona in October, Things To Do, Explore Places, Weather, and More
Like going to Barcelona in September, going there in October offers many warm, sunny days and a notable slowdown in the summer tourist season. With clear skies and sunshine as a backdrop, you'll have plenty of room to experience the city and delight in its sights. With any luck, you'll still be able to wander around in a T-shirt.
The beach restaurants will have closed despite the pleasant weather, and only the adventurous will want to swim at this time of year. In other words, the season of summer has ended.
The Weather in Barcelona in October:
From the initial days of the month, when September's warmth is still present, to the month's end, when autumn's cool temperatures arrive, October experiences a significant temperature difference. Additionally, as the month progresses, it grows darker more quickly in the evening, with the conclusion of the adjustment to daylight saving time in Spain occurring on the final Sunday in October.
73°F (23°C) is the average high temperature.
Low temperature on average: 58 °F (14 °C).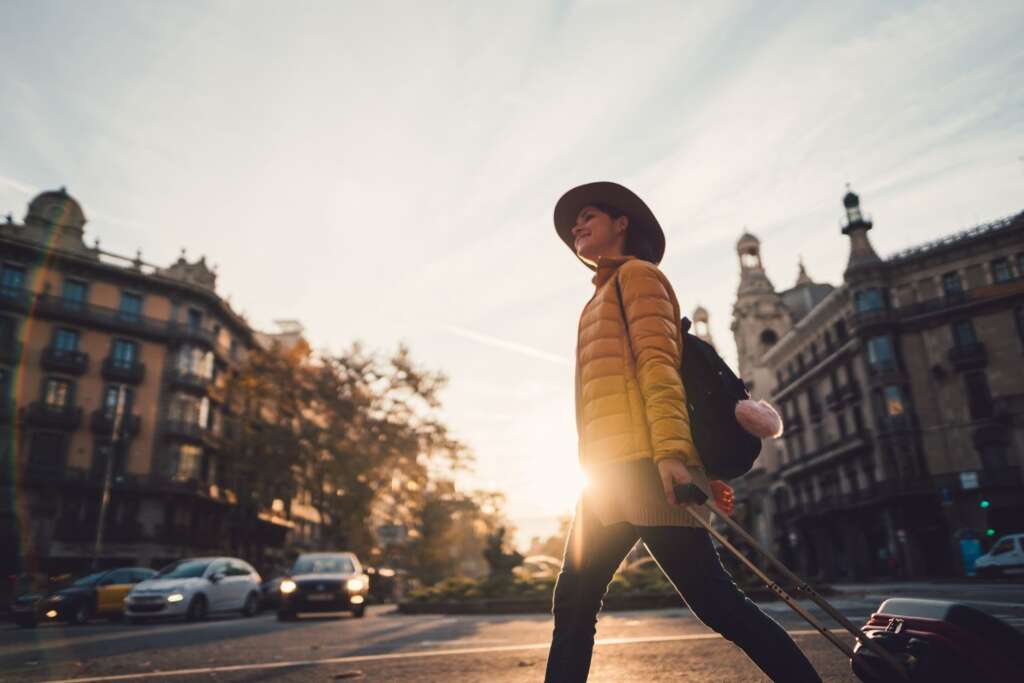 In Barcelona, a city known for its sunshine and dry weather, October is traditionally the rainiest month of the year, with an expected three inches of rain. Despite being quite rainy, October historically only has approximately six days of rain so you may spend your entire trip in the sun.
Great Activities to do in October:
Here are some fantastic events and activities that autumn visitors will love.
Montreat Mountain:
This is the excellent time of year to take Barcelona's most popular day trip, a journey to the revered Montserrat abbey and mountain, as there are no heat or cold peaks. The renowned Black Madonna statue and L'Escolania Boys' Choir's heavenly voices may be heard in the abbey's church. However, this is more than a religious journey because the craggy mountain range is a breathtakingly beautiful natural park.
Daily departures from the city center are made by several fantastic tours operated by Get Your Guide, including their own G-Original Half-Day Tour. A local business leads the time, and you can spend the afternoon visiting a well-known wine region and tasting three environmentally friendly wines (when you select a date, the available tour options show).

Visit Camp Nou:
Camp Nou is one of the greatest stadiums in the world, holding 99,000 spectators. Some of history's most prominent football players have wowed crowds here, winning many trophies. The legendary blue and claret of the Barça football team have been worn by many notable athletes, including Diego Maradona, Johan Cruyff, Romario, Deco, Ronaldinho, Xavi, Brazilian Ronaldo, Neymar, Iniesta, and of course, Lionel Messi. The renowned Camp Nou Experience allows you to retrace the steps of these footballing legends by giving you entrance to the FC Barcelona Museum, the city's most famous museum, and tours of the stadium, tunnel, and dressing rooms.

Experience a Walking Photo Trip:
Taking a photo trip with Shutter Kings lets you explore the city's back alleys, secret spots, and genuine culture while honing your photography talents. A professional photographer will teach you how to use the exposure triangle, changing your aperture, shutter speed, and ISO to capture the perfect image.
Whether you're a seasoned DSLR owner or simply new to photography with an iPhone, their knowledgeable instructors offer advice targeted to your expertise level and make sure you return home with some gorgeous images of the city. Even better, if you'd choose, you may pay them to organize a photo session using you as the model! Autumn frequently has softer light. Therefore, this season is ideal for getting in front of or behind the camera.

Halloween Party:
Even though they are not a regional custom, Halloween parties are becoming increasingly common in Barcelona. Numerous bars and clubs, especially Irish clubs and Pubs, host special events that draw many students. In the days preceding the festival, party supply stores do a roaring business in fake blood and fangs since costumes here are distinctly scary rather than sexy. Check out our web page on Halloween events and parties, which includes a fantastic ghost hunt organized every year once you've decided on your attire.

Sitges Film Festival:
One of the great day trips from Barcelona is to Sitges, which we highly suggest. The Sitges movie festival is held in this charming beachfront town every October, which makes it a great time to visit. The festival, which focuses on fantasy and horror movies, broadcasts a few top ones and gives performers, directors, and movie awards. It's a must-do for movie enthusiasts, but even if you don't like horror movies, it's worth visiting to watch the Zombie Move, where locals get dressed up in their ghastliest, as shown in the photo above (picture credit Lostium). A dedicated shuttle train runs to Sitges just for the occasion.

RELATED: 13 Best Things to Do in Amsterdam
Explore Oktoberfest:
Say a hearty "Proust" to the Barcelona version of Germany's well-known beer festival, which (despite its name) frequently begins in September and lasts until the first few days of October. The event, held at Plaça Espanya at the Fira Montjuic, draws a sizable crowd due to its free admission and the plenty of alcohol. If you would like to be confident of securing a location to down those massive steins of bier, it's best to make a reservation for a table or arrive early. Optional: Lederhosen.

Frequently Asked Questions.
In October, how hot is Barcelona?
Winter is only some months away, and summer has just finished, yet October's rainfall totals stand out. Although it has more significant precipitation than many months before, it is generally dry, and there may be lovely sunny days. With an average high temperature of 23°C and an average low temperature of 17°C, the daytime temperature should be extremely friendly.
Can You Swim on Barcelona Beaches in October?
Early October is the last opportunity to swim in the ocean at the city's beaches without experiencing too much pain. The sea's average temperature is an incredible 20°C, on the verge of becoming cold.
Is October a rainy month in Barcelona?
In October, there is a good possibility of rain for almost six days. Since there is a good amount of cloud cover, you will primarily see a cloudy sky. However, it might not rain every day. In October, The city is quite unlikely to get fog or snow.
Is October windy in Barcelona?
Barcelona is situated on a plateau that is slightly elevated. Therefore, there are frequently opposing winds. A light breeze from the south enters in October, with the average wind speed reaching 8.1 mph, which is not weak.