Great Things to Do in Pokhara, Nepal: A Traveler's Guide
There are many best things to do in Pokhara, Nepal. The second-largest city in Nepal, Pokhara, is the center of tourism in this stunning alpine nation. Coming from chaotic, dusty Kathmandu, You'll adore and enjoy the most enjoyable things to do in Pokhara amazing views of the river and mountains from lakeside cafes, pleasant hikes, and a laid-back atmosphere. Pokhara serves as a base for many visitors that travel to Nepal to go hiking. Lakeside is the tourism hub, offering various lodging options, restaurants serving anything from delicious dal baht to upscale coffee shops and excellent pizzerias, and agencies offering every imaginable activity.
When dining, strolling along the Lakeside, or even from your hotel room, you may enjoy stunning views of the emerald Phewa Tal Lake and the snow-capped Annapurna Mountains are the interesting activities in Pokhara. Pokhara is one of Asia's top adventure playgrounds, offering more than beautiful scenery and delectable cuisine. A well-known trekking hotspot with many walks, from short day trips to the fabled Annapurna Circuit and Annapurna Base Camp climb. Read the article to know the best and most enjoyable things to do in Pokhara.
The World Peace Pagoda:
On Anadu Hill, which views Lake Phewa Tal and the Annapurna Mountains, is a Buddhist pagoda-style structure known as the World Peace Pagoda or Pokhara Shanti Stupa. Walking, taking a cab, or taking a boat from Pokhara will get you to the Pagoda, a lovely half-day adventure. There are a few cafes and restaurants where you may eat or get snacks and water. You may even order a good espresso or cappuccino at Elite Cafe.
We took a 90-minute walk to the Shanti Stupa, 5,5 km (3,4 mi) from Lakeside. On the maps, a tour of The World Peace Pagoda is one of the most fantastic activities to do in Pokhara. Me app, you can find the walking path. It takes about 45 minutes to walk to the Pagoda from Lakeside in Pokhara after renting a rowing boat to cross Lake Phewa Tal. A boat ride costs 700 rupees one way and 1000 roundtrips ($9).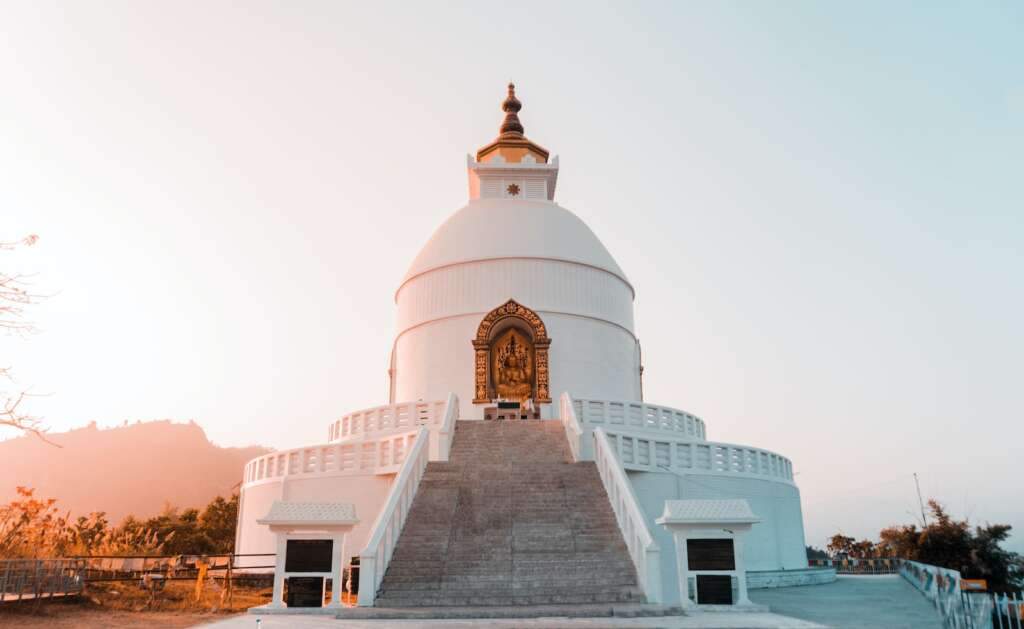 Phewa Lake:
The tourism hub of Pokhara is this lovely emerald lake with Lakeside on its shores. It's lovely to stroll along the lakefront when dusk falls. Visit Phewa Lake is one of the enjoyable things to do in Pokhara. Take a boat trip on the lake to see the various birds and circle the tiny island home to Pokhara's most well-known Hindu temple, the Tal Barahi Temple.
The vibrantly painted doonas boats that Lakeside rents out can be used to paddle about the lake, or you can hire the doona with a boatsman. An hour to a half is needed to paddle around the island. Paying someone to paddle is absurdly affordable.

International Mountain Museum:
Exciting museum about Nepal's mountains, the local populations, and the mountaineers who have scaled them. Displays about famous Himalayan climbs, history, culture, geology, fauna, and vegetation. You would like this museum if you are a climber or have trekked in Nepal. The exhibits on famous mountaineering expeditions were interesting, and the ones on how pollution and global warming have affected these mountains are eye-opening.
Enjoy International Mountain Museum is one of the incredible things to do in Pokhara. There is a 21-meter climbing wall outside. Walking here from the lakefront took about 45 minutes and cost 300 NPR. This location is 4 km away. It is inexpensive to travel here by bus. However, you must take more than one bus since it is close to the Gharipatan bus station.

Paragliding:
One of Pokhara's most well-known high-adrenaline activities is paragliding, and you can frequently watch pilots soaring above Lakeside amid enormous eagles and vultures. Our circuit friends reported they felt comfortable and had a great time paragliding here. When selecting an agency, I advise you to study some TripAdvisor reviews. Enjoy Paragliding is one of the adventurous things to do in Pokhara.
This is a very well-liked location for paragliding for good reason flights are affordable, with tandem flights from seasoned operators going for around $50 in Pokhara, and the scenery is breathtaking as you soar over lakes, jungles, local villages, and ancient monasteries while admiring the snow-capped Annapurna Mountains.

Sarangkot:
When you are in Pokhara, arrange a hike with your favorite companion. Once you've been to Sarangkot, you won't be able to resist taking a quick hike. It is a well-known tourist site located 1600 meters northwest of Pokhara. It is also one of the best things to do In Pokhara. You can trek two to three hours from the Lakeside of Pokhara to the peak's summit.
To get to the main viewpoint, you can take a taxi from Pokhara and walk for an hour if you dislike hiking. Another well-liked paragliding launch site is Sarangkot. It would help if you took advantage of the Sarangkot sunrise vista to travel to Pokhara.

Mahendra Cave:
One of the beautiful caves in Pokhara is called Mahendra Cave, located close to Bat's Cave. Many tourists are drawn to this cave. You can find a Hindu deity, Lord Shiva, statue in the cave's center. A tour of Mahendra Cave is one of the amazing things to do in Pokhara.
The late King Mahendra Bir Bikram Shah Dev inspired the cave's name. Artificial lighting systems illuminate the cave's natural tunnel. This cave contains various rock kinds, sparkling stones, and substantial rock boulders.
Related: The Best Time to Visit Turks and Caicos: What to Expect?

Gupteshwar Temple:
For Hindu pilgrims, Gupteshwor Temple is a sacred location. The cave contains a Shivalinga that serves as a symbol. The Shivling inside the cave is reportedly still in the same spot as when it was first discovered. Visit Guphteshwar Temple is one of the admirable things to do in Pokhara.
The Siddhartha Highway that travels southwest from the city is 2 kilometers from an airport. There are two distinct portions of the cave. A 40-meter section of the cave contains a Shivalinga and natural caves.

Old Pokhara:
Lakeside is 20- to 30-minute from Pokhara's Old Town, so leave early to avoid the horrendous traffic. Enjoying Old Pokhara is one of the fun things to do in Pokhara.
Pokhara's Old Town is significantly different from the tourist stores around the lakeside area of Pokhara, with hints of Kathmandu's Durbar Square and a blend of Ghandruk.

Frequently Asked Questions:
What makes Pokhara so well-known?
What made Pokhara famous is the breathtaking view of the Annapurna range. There are many Incredible things to do in Pokhara. In a 28 km radius, it is one of the few places on Earth where mountains taller than 6,000 m may be seen precisely from an altitude of 800 m.
Is a trip to Pokhara worthwhile?
Your journey to Nepal will be unforgettable because of the abundance of stunning locations in Pokhara. Phewa Lake, Davis Fall, Pokhara Shanti Stupa, Shree Gaden Dhargay Ling Monastery, and International Mountain Museum are some of the must-see attractions in Pokhara.
For Pokhara, how many days are sufficient?
Travelers are advised to stay in Pokhara for at least two or three days, depending on their itinerary.
What kind of food is famous in Pokhara?
Pokhara is a culinary wonderland for anyone who has gotten their fill of dal bhat. It's almost impossible to find Nepali food here.