The Most Famous Montana Ski Resorts
Though Montana is regarded as "Big Sky Country," it might also be more accurate to refer to the state as "Big Ski Country." There are plenty of powdery slopes to explore in Montana, which boasts over three thousand peaks and snowy winters. While there are a few ski resorts in the state's central region, the east of Montana comprises the incredibly flat Great Plains.
Most of Montana's ski resorts aren't flashy and opulent; there aren't any Vail or Aspen locations here. Instead, you're more likely to find locally owned ski areas, such as mom-and-pop shops and nonprofits.
In addition, many of the state's resorts have little to no lodging on the mountains they are located on, necessitating travel to surrounding towns and cities. If you're an enthusiastic skier or snowboarder searching for something new for your next winter trip, you'll like the state's top ski resorts, even though Montana may not be the place to go for boisterous après-ski nightlife in expensive hotels.
Montana Ski Resorts
Big Sky Resort
With almost 6,000 acres of great skiing terrain and over 30 high-speed lifts, Big Sky Resort more than lives up to its moniker. You won't feel crowded despite the many eager snow fans who want to enjoy this outdoor splendor.
Big Sky is a great destination for outdoor adventure tourists because it is close to Bozeman and Yellowstone National Park. Skiers of all abilities can find what they're searching for at Big Sky Resort, which offers a wide range of terrain.
The Lone Peak Tram is a great option if you want a distinctive skiing experience and are not afraid of heights. It will carry you to the region's 11,000-foot top, where you'll find exceptional skiing terrain.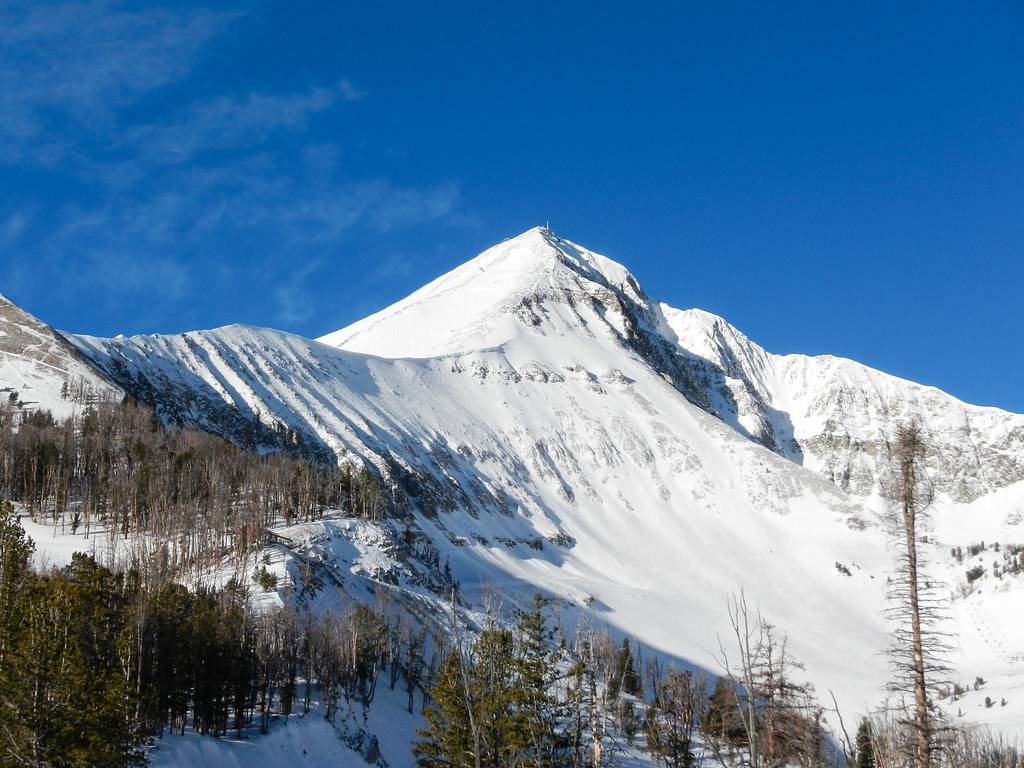 Whitefish Mountain Resort
Whitefish Mountain Resort is directly adjacent to Glacier National Park in Montana's northwest. Around 3,000 acres may be skied on here, and 10 chairlifts are available. The slopes provide great room and variety, with the added benefit of some stunning northern Rockies and Glacier National Park vistas on clear days.
During the winter, this is another of the larger resorts that frequently offers a range of events and live music. Numerous renowned ski magazines have recognized The resort as a top ski town over the years. It consists of four central regions of terrain that feature slopes for every ability level of skiers and snowboarders, as well as some mean powder.

Bear Paw Ski Bowl
North-central Montana's Bear Paw Ski Bowl is 35 miles from Havre. The resort has a bit of a reputation as the go-to location for a traditional north-central Montana ski hill experience.
And that particular reputation is based on managing and operating the resort's workforce, primarily a volunteer group of local skiers who participate in the sport for the love of it.
The Bear Paw experience is reminiscent of the early days of the local ski scene when skiers gathered for the fun of honing and acquiring the essential abilities to wage battle with the icy environment.

Turner Mountain Ski Resort
This is another volunteer-run ski slope in Montana with perfect snow conditions, just over 20 miles from the extremely picturesque town of Libby.
We're talking picture-book scenery, big, uncrowded slopes, and reasonably priced lift tickets. There are 20 runs, with about 10% of the terrain designated for novices and two-thirds classified as advanced runs.
Turner Mountain is close to 6,000 feet tall, and the resort contains a lodge and a rental store just established. A pleasant, local atmosphere is also present, which always enhances the experience.

Yellowstone Club Ski Resort
The Yellowstone Club Ski Resort is a portion of a private complex that includes a residential club, a ski resort, and a golf resort. It is situated in Madison County, close to Big Sky.
This is a prestigious estate with a history of being ranked among the top 10 in the world. At least 20 lifts, 50 miles of slopes, and 12 miles of ski runs are available for skiing. The skiing terrain is between 6,000 and 9,800 meters above sea level. The ski season in this area runs from November to April.

RELATED: Top 10 Free Things to Do In Copenhagen, Denmark
Lost Trail Ski Area
This modest family-run ski area is located right on the Idaho-Montana border. With two slopes and 1,800 acres of trails connected by five chairlifts and three rope tows, Lost Trail Ski Area offers reasonably priced day lift passes.
The resort's "White House," a bowl area with plenty of double black diamond runs, is the place to go for a challenge. It includes a mix of moderate and difficult runs and a few possibilities for beginners. Due to its comparatively copious snowfall and the fact that it isn't open every day of the week, Lost Trail also has a reputation for having superb powder coatings.

Teton Pass Resort
Teton Pass in Montana, not to be confused with Teton Village in Wyoming, is less than 90 miles west of Great Falls and about 110 miles from the eastern entrance to Glacier National Park. With only a few beginner routes and no double black diamond runs for professionals, Teton Pass caters primarily to intermediate and advanced skiers and boarders.
It's a quiet, amiable resort where guests say there is rarely a need to wait in queue for the lifts, made even more delightful by a generally hospitable and cheerful populace. The main lodge at Teton Pass also features a diner and a bar.

Montana Snowbowl
The Snowbowl is a small ski resort located less than 15 miles north of Missoula, where steep, difficult terrain is the day's order. Although this ski resort in Montana only has three lifts and a T-bar, it can nevertheless provide an enjoyable day on the slopes. According to visitors, the Snowbowl is better suited for advanced skiers because it has a lot of black diamond runs despite having a bunny hill and a few beginner lines.
Expect a friendly mom-and-pop atmosphere. The Snowbowl is not a flashy location with many amenities, so there isn't much there for nonski people. The resort has two dining options, one of which, The Last Run, has become well-known for its delicious wood-fired pizza.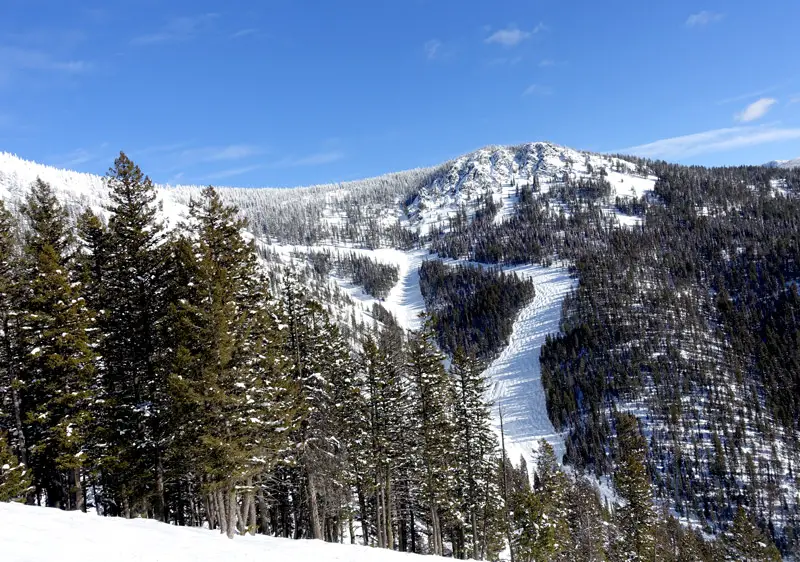 FAQ
How many ski resorts are in Montana?
In Montana, there are 14 ski areas: Whitefish Resort, Big Sky Resort, Montana Snowbowl, Teton Pass Ski Resort, Turner Mountain, and others.
Do people go skiing in Montana?
You can find some of the best skiing in the country in Montana at Montana Snowbowl, but there are other wintertime activities in Big Sky Country as well.
What are the best months for skiing in Montana?
The western region of Montana is where you'll find the best ski areas. Late November or early December marks the beginning of the season, which lasts until mid-April. The best snowfall months are February and the first few days of March.
Which ski resort has the most snow in Montana?
Montana's Snowiest Ski Resorts: Big Sky Resort, Bridger Bowl Ski Area, Maverick Mountain Ski Area, Showdown Ski Area, Lost Trail Powder Mountain, and Montana Snowbowl.