10 Things To Do at Peninsula Hot Springs
Are you considering things to do in Melbourne or wondering if visiting the Mornington Peninsula Hot Springs is worthwhile? Prepare to be astonished by the magnificent Mornington Hot Springs, located close to Melbourne, for a day of complete relaxation you won't soon forget.
This award-winning natural hot springs experience can be found just 90 minutes from Melbourne. At the Mornington Peninsula Hot Springs, you may stay overnight in one of their opulent glamping tents and spend the entire day there.
With several pools, wellness opportunities, and a spa dreaming center, you'll leave feeling as serene as a cucumber! Make a weekend out of it because Victoria's Mornington Peninsula is also a fantastic wine region. After all, there isn't a more exquisite location for wine and spa than there is.
There is a lot to do at the Peninsula hot springs. So read all the way through to the finish for in-depth knowledge.
How To Prepare for A Spa Visit: Bring or Hire
If you are on vacation it might be simpler if you rent your towel and robe from the Peninsula Hot Springs and Day Spa. For the ultimate in relaxation, I would definitely suggest renting one of the thick, opulent robes.
Since it's not a nude spa experience, you should bring slippers or thongs to wear around the pools and sergeant baths, a refillable water bottle, and of course, your swimming suit.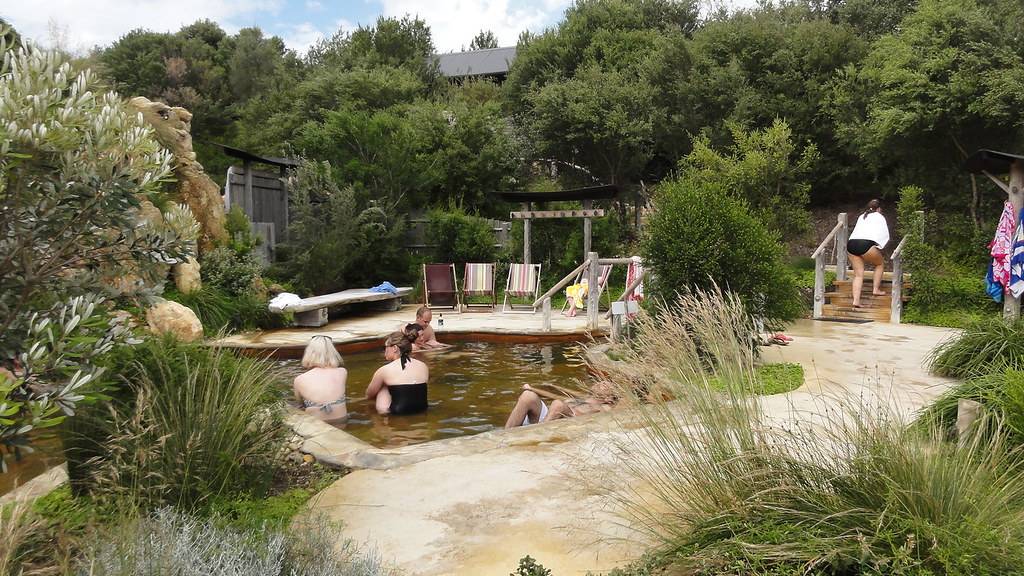 Reserve One of the Exquisite Cabanas
There are various lounge places scattered throughout the spa where you can unwind, but if you're looking for more privacy and luxury, I'd suggest renting one of their cozy cabanas.
In addition to having a day bed, coffee table, pouf, air conditioning, warm lighting, and a safe to keep your valuables, these apartments have an app that allows you to order meals and drinks to be delivered to you rather than going to the restaurant.
The nibbling platter, which includes a variety of two cheeses, dips, crackers, local olives, pita bread, and local quince paste, is something I'd recommend adding to your reservation; it was amazing and the ideal quantity of food for when you are in a lovely stupor from your swimming.
To make the most of your space travel, schedule your cabana reservation for any wellness activities you schedule

RELATED: The Best Things to Do in Miami With Kids 2023
Take a Shower and See a Performance in the Amphitheater
How awesome is that? The Mornington Spa has erected a one-of-a-kind Amphitheatre of geothermal pools, all of which front a specially constructed stage where local musicians perform. Check out their What's On listings and make a reservation to visit the bathhouse to see a new artist if this piques your curiosity.
One of my favorite locations to unwind was the Amphitheatre pools, available all day. You can feel a positive atmosphere as you watch everyone enjoy the warm mineral pools. It's an incredibly magical way to end your day since fairy lights fill the area after sunset, and there is little light pollution.

Discover the Pluses of Heat and Cold Therapy
The fire and ice health activity are the best parts of Peninsula Hot Springs. Let us share some amazing benefits if this therapy method is new to you.
The guide leads you through the Wim Hof method of transitioning from heated saunas to an ice cave pool, building up to three minutes of deep breathing.

Take a walk while receiving reflexology for your Feet!
The acupressure points on your feet are the center of traditional Chinese medicine, which has been shown to relieve tension and anxiety.
To activate your pressure points, walk barefoot on 10 different stones at the Mornington Hot Springs, ranging in size from large and soft to small and coarse. Walking through shallow hot water feels warm and relieves foot kneading. Do you now feel less worried and stressed? Of course!

View the sunset at the Hilltop Pool
You may see the sky glow orange over the Peninsula wineries' natural surroundings and even as far away as Murrays Lookout on the Mornington Peninsula if you time your visit just so.
For unobstructed 360-degree vistas and little light pollution to observe the stars, the Hilltop Pool is a must-visit. It can be impossible for you to imagine a more tranquil haven than the Mornington hot springs.

Enjoy a Meal in the Bathhouse
There are a few restaurants around the Mornington Peninsula Hot Springs so you won't go hungry! As mentioned, you can order your cabana, go to one of their two eateries, or purchase a picnic basket. The food selection includes pizza (hint: the salami pizza is amazing), snacking platters, and nutritious, filling dinners.

In the Spa Dreaming Centre, Surrender over your Body
You are invited to "surrender your body" in the spa dreaming Centre at Peninsula Hot Springs, which offers services including radiant facials, Moroccan cocoons, botanical sea salt exfoliation, and Peninsula vine massages.
When you schedule one of their treatments, you can access the tranquil sanctuary and private baths at their spa Dreaming Centre. The serene settings here are less congested, providing the ideal backdrop to connect with your inner self and fully unwind.

Play with Detoxifying Clay
Discover the therapeutic advantages of natural clays across Australia by participating in Your skin can be cleansed, exfoliated, and moisturized using clays combined with warm mineral waters from natural springs.
In addition, you are given a paintbrush to play with and encouraged to draw on your group and yourself. Be considerate when drawing on your pal. Regardless, have fun!

Spend The Night and Enjoy Moonlight Baths
Does a hot springs spa overnight stay? Yes, you heard me correctly. You can reserve a luxurious glamping tent with them, so all you have to do to get to bed after a late-night bath is walk five minutes. Then, get up once more at dawn and repeat the process! It's no surprise that this spa has natural hot springs and has earned awards.

FAQ
How long do you spend at Peninsula Hot Springs?
The least amount of time is usually an hour, people typically spend 2.5 to 3 hours there and occasionally decide to stay all day.
How do Peninsula hot springs work?
Peninsula Hot Springs is a filtering hot spring whose surface water has certainly spent more than 10,000 years deep underground.
How much is Peninsula Hot Springs?
The Peninsula Hot Springs provides a wide selection of tickets and offers for those with various interests. Adults who are 16 years of age or older can bathe on any spot for 120 AUD. Adults must pay 35 AUD for a 60-minute visit to the Bathing House and 70 AUD for the entire Bath House experience.
What do you wear to Hot Springs?
Visitors are permitted to dress in long-sleeved shirts and trousers in addition to the typical swimsuit found in North America. Shorts with a T-shirt. Any other swimsuit, whether for cultural, religious, medical, or other reasons or simply out of personal desire, makes individuals feel secure and at ease.