The Best Time to Visit Jamaica: A Must-See Destination
The Caribbean offers year-round temperatures between the mid-70s and the upper 80s, making for almost ideal travel conditions. Jamaica's weather is no different. Whether deciding whether to visit Jamaica, there are other factors to take into account besides the weather.
According to many tourists, resort, and flight prices are at their lowest in November through mid-December, and peak season has not yet begun. If you don't mind the crowds, the greatest time to travel to Jamaica is between mid-December to April, when the climate is ideal for a beach trip.
The island, which has a population of roughly 2.9 million, has a strong international reputation for everything from athletics to music to its delicious Blue Mountain coffee. Jamaica has 14 parishes, 3 main cities, and popular tourist destinations like  Ocho Rios, Montego Bay, and Negril.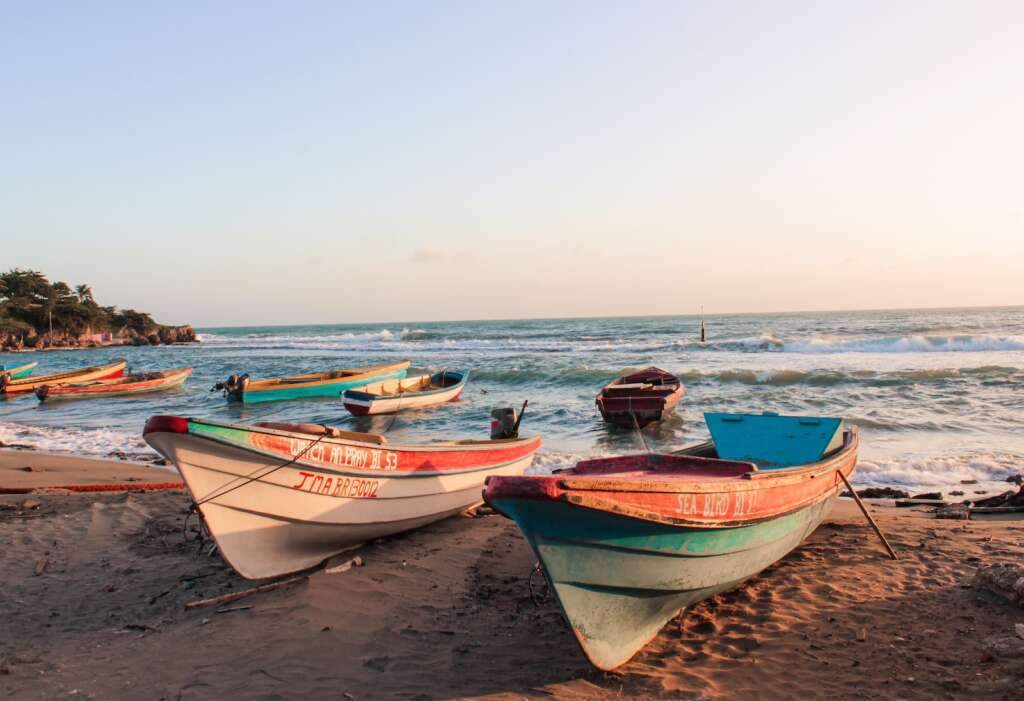 November-December
The Caribbean hurricane season ends in late autumn or early winter, leaving behind clear sky and temperatures that typically range from 75 to 85 degrees. Try to book your trip before the mid-December holiday season begins for the cheapest pricing (most of the area's resorts tend to keep costs low due to the threat of the rainy season).

Related: Best Time To Visit Glacier National Park: The Ultimate Guide
January-March
At this time of year, especially in late March for spring break, beachgoers swarm to Island's coasts since hurricane season is past, and the weather is perfect and breezy, with highs of 82 to 87 degrees. Don't schedule your vacation at this time of year to save money and avoid tourists. Hotel reservations should be made at least two to three months in advance if you intend to travel during this period.

April-June
The typical temperature varies from the mid-70s to the upper 80s, even though it might occasionally be moist outside. The beaches and golf courses are relatively quiet, given the mist, and hotels provide incentives to travel in spring. Remember that June 1 marks the official beginning of hurricane season.

July-October
Since these months fall inside hurricane season (the island has historically seen the peak of hurricane season in late August and early September), flights and hotel costs are at their lowest during this time of year. It's best to purchase travel insurance if you visit during the summer in case bad weather disrupts your trip plans.
Due to the low season for tourists in Jamaica, many hotels employ fewer staff members. Many properties finish their construction projects during this quiet time. If you agree with these restrictions, you'll be welcomed by empty beaches, eateries, and golf courses. Just in case, bring an umbrella and some rain clothing.

Ideal Season to Visit Jamaica
Mid-April to June is the least crowded period to travel to the island country. The state experiences a rainy season from April to May, although the golf courses, eateries, beaches, and resorts are typically less crowded.
Enjoy Jamaica's travel slowdown this season, with almost empty beaches on dry days or before or after rainstorms. Bring some rain gear just in case it does rain.
Remember that Jamaica typically experiences significant but brief bursts of rain, which reduce humidity and encourage the island's luxuriant vegetation to grow.

Cheapest Time to Visit Jamaica
Late April to May, when the peak season has passed and the beginning of the first rainy season, are the most affordable months to travel to Jamaica. On average, 1.22 inches of rainfall in April in Jamaica.
Jamaica experiences an average of 4 inches of rain in May. However, most tropical downpours are often brief bursts of heavy rain, making the day sunny. April and May are warm, with daily highs averaging between 86 and 88 degrees Fahrenheit and lows hovering around 68 to 70.
As the peak travel season ends in early April, many resorts and hotels offer specials for the beginning of the low season, making them more inexpensive. Because of fewer visitors this season, restaurants, beaches, and hotels are more tranquil and less crowded while upholding their high standards and offering dreamy vacation experiences.
The biggest likelihood of storms historically occurs in Jamaica between late August and early September, even though the hurricane season officially starts on June 1st. This indicates that June is typically free of hurricanes in Jamaica, albeit the possibility of one deters travelers, resulting in a less hectic trip and more downtime!

Worst Time to Visit Jamaica
Although the hurricane season in the country starts on June 1 and lasts through November 30, late August and early September are the worst months to travel there.
According to historical data, a hurricane will likely hit Jamaica between late August and early September. Even in August or September, during hurricane season, it is still feasible to have a relaxing trip to Jamaica with careful planning and trip insurance.
Many hotels and resorts in the island book at a discount during hurricane season so that you can get a great deal on upscale housing. Because there are fewer tourists during hurricane season, hotels and resorts frequently use this period to finish any necessary construction while typically employing less staff.
With fewer restaurant wait times, quieter beaches, the hottest weather, and cheaper hotel rates, hurricane season might still be a good time to visit Jamaica.
The drier months, with an average rainfall of only 3.5 inches, are June and July if you're considering visiting Jamaica in hurricane season. 3.6 inches of rain on average in August each year, and historical data indicates a higher likelihood of hurricanes.

FAQ
What are the best months to visit Jamaica?
The start of "winter," from November to mid-December, is the best time to travel to Jamaica because the average temperature is 27°C. Peak season in Jamaica lasts from mid-December to mid-April and is fantastic if you are okay with the crowds.
What are the best and worst months to visit Jamaica?
In the dry season from late November to late April, the country is at its most pleasant. However, August to October, throughout the Caribbean hurricane season, are the worst months to travel to Jamaica.
What time of year is Jamaica's cheapest?
Despite the fact that Jamaica's tropical environment is warm all year round, the dry season is considered to be between winter and spring. While showers are likely throughout the year, February tends to be the least rainy month with an average of only 15mm, or approximately 3 rainy days.
What is the weather season in Jamaica?
The island's busiest travel period is from January to March when hotel rates can rise to more than $700 per night.