Cheapest and The Best Time to Visit Norway – 2023
Do you want to know when to go to Norway in the best weather? What you'd like to see and do will depend on that. For guidance, please read the entirety of our guide.
You might be surprised when you find out that Norway is a popular travel destination all year long. Although possibly best known for summertime fjord exploration, the nation attracts tourists all year round for hiking, skiing, and aurora viewing.
The activities you have planned and the expectations you have will have a significant impact on when is the ideal time of year for your vacation. There are particular seasons for activities like skiing, hiking, fishing, and even searching for the northern lights, but if your preferences are less definite, you have more freedom.
RELATED: Visit Barcelona in October, Things To Do, Explore Places, Weather, and More
May to June (Spring)
The spring season, which lasts from May through June, changes Norway's weather. Across the nation, wildflowers begin to bloom, providing stunning panoramas. However, the snow would have barely melted in a few locations (particularly at higher altitudes), so watch out for the slushy snow under your feet! In much of the nation, the waterfalls start to swell as well.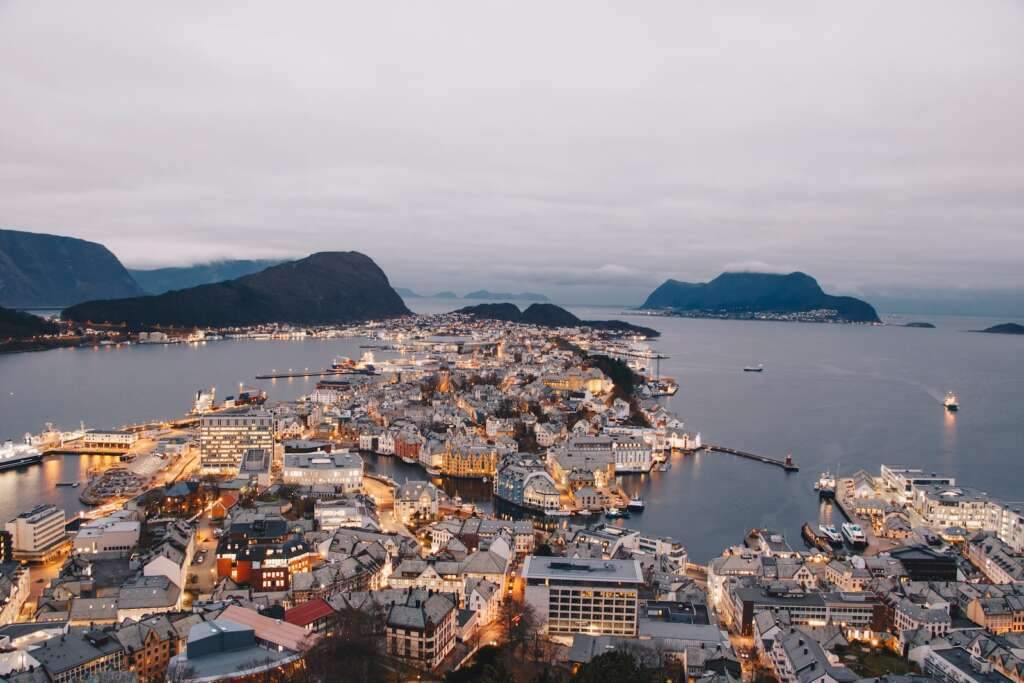 June to August (Summer)
Summer is at its busiest from June to August. Since this is the peak travel season, it is typically considered the ideal time to visit Norway. This is the most incredible time to see the famed Midnight Sun, which becomes more pronounced the further north you travel, and connections by train, bus, ferry, and flight will be the most regular.
Be ready with an umbrella if you're traveling to Northern Norway or Trondelag, as there's a chance you might see some rain at this time. Hotel accommodations should be reserved in advance during this busy time of year because they will quickly sell out.

September to October (Autumn)
The Norwegian landscapes are transformed as the country begins to turn vibrant shades of the autumn season. Compared to the summer, the weather starts to cool down, but no snow has yet to fall. Carrying rainproof gear would be a brilliant idea when the rain begins to fall in other areas of Norway.
Head to the coastal regions during these months to chase the warmth. As the number of tourists declines, the frequency of conveyance will also decrease, so make your plans appropriately. Hotel rooms and airline tickets will be significantly less expensive during these months.

November to April (Winter)
The number of visitors to Norway during the winter months is constrained by how harsh the country's winters may be. You will have to put up with shorter days because the days are pretty dark. However, the snowfall will begin in December. The higher elevations will undoubtedly be covered in a lot of snow. Still, places like Tromso and Oslo will look lovely, particularly around Christmas when all the decorations are put up!

Cheapest Time to Visit Norway
The most affordable months to visit the country are November through April if you're on a limited budget. You can get some pretty cheap tickets when you go during this time. Since fewer people travel during these months, ticket costs are reduced due to the low demand.
The frigid temperature in Norway, however, makes this particularly true. Although the summers in Norway can be quite warm, the winters and autumns can be quite chilly, so few people choose to visit during those seasons.
Since most children are in school from November to April, there is typically less tourism overall. This may be advantageous for vacationers who wish to stay away from crowds. Due to lesser demand, hotels may be less expensive in Norway off-season.
Overall, traveling during these months may be the most economical choice. Remember that many major tourist attractions might not be open during this time.

Least Crowded Season To Visit Norway
Do you wish to avoid the crowds during your trip to Norway? Shoulder seasons, which are between May and June or September and October, are when you should go.
Around this time, tickets should be reasonably priced, though shoulder seasons aren't always the most reasonable choice. Although the weather will be rather pleasant during these months, you should also dress for some very chilly days. During these months, plenty of tourist attractions can briefly close.
The ones that are still accessible will be considerably less crowded. Overall, if you don't like pricey travel, overcrowded places, or bad weather, now is the best time to go.

Worst Time to Visit Norway
January is the worst month to travel to the country. The coldest part of Norway's winter is this month. Frequent snowstorms and lows of -20 degrees Fahrenheit are to be expected.
This time of year is not only exceedingly cold but also very dark. In January, there may be little or no sunlight in northern Norway. Even in the southern part of the nation, there are just a few hours of daylight left until it sets in the late afternoon.
However, travel is reasonably priced during this time. Therefore, if you still want to visit Norway in January, you can at least anticipate significant financial savings. Just stock up on warm clothing and prepare for lots of snow. If you're visiting the country in January, think about scheduling some indoor activities.
A winter vacation to Norway could include visiting museums, eateries, and shopping centers. Additionally, you should stock up on vitamin D tablets since a lack of sunlight may cause a deficiency.

FAQ
What is the cheapest month to visit Norway?
Norway can be explored more affordably and in fewer crowds in May, early June, late August, and September. Traveling in the spring or autumn might be interesting as well.
What is the best time to see Northern Lights in Norway?
The northern lights frequently glide through the sky in Northern Norway between late September and late March, when it is dark from early afternoon until late morning.
Is Norway expensive for tourists?
Yes, due to the conflict in Ukraine and other global difficulties, Norway is still a high-cost nation that has also been impacted by soaring inflation, increasing oil prices, and financial instability, like many other Western nations.
When to visit Norway?
The shoulder seasons, between May and June in the spring and September and October in the autumn, are the greatest times to visit Norway since the weather is great and there aren't as many visitors. The best time to travel to Norway is from mid-June through August.