Where to Stay in Venice (2023)?: Explore the Best Multiple Places and Activities
When deciding where to stay in Venice, Italy, it's crucial to consider your location about the Venice attractions you want to visit. To help you make the finest travel arrangements, We will provide you with a wealth of information about the top neighborhoods where to stay in Venice. It's also good to consider how you'll get to and from the airport and navigate while traveling. You can go straight to "getting around Venice" if you want to read our advice.
No other city in the world compares to Venice. Before finding a place to stay in Venice, it makes sense to explore this place. The magnificent and best areas and ideal places to stay in Venice depend on your interest. Venice, a formerly sovereign republic established in a lagoon at the northern end of the Adriatic, has long served as a model for imitation, its name conjuring images of jaw-dropping architecture and stunning gondola rides down picturesque canals. 
Even though Venice is overrun with tourists, it's surprisingly simple to escape the masses by walking along tiny lanes that unexpectedly give way to magnificent churches decorated with art or stunning panoramas. To find out where to stay in Venice, read the article.
San Marco:
Suppose you are looking for where to stay in Venice for the best attractions. The most prominent and ideal place to stay in Venice is San Marco. The Bridge of Sighs, along with a gondola slowly moving down it or the famous Saint Mark's Square, are the first things that come to mind when you think about Venice. We recommend you visit San Marco for fun.
Having a base in the San Marco neighborhood will help you see the major tourist attractions. If you stay there, you can easily enjoy the well-known square early or late at night when it's considerably calmer, and you'll have it nearly to yourself. Additionally, you'll be close to well-known sights like the Doge's Palace and St. Mark's Basilica.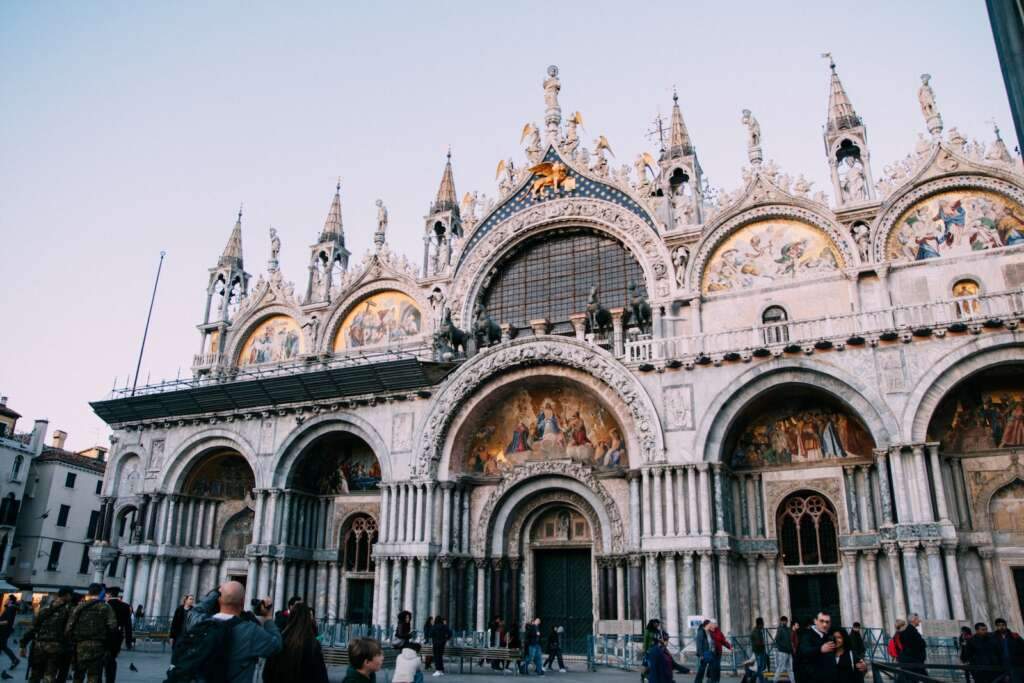 San Polo:
San Polo, one of Venice's oldest neighborhoods, is the city's smallest district. It was initially populated about 800 AD. In the heart of Venice, this district is widely known for its thriving nightlife and abundant fresh produce markets. As it has many main sights but is a little less congested and more affordable than San Marco, this is an excellent neighborhood to use as your base in Venice.
People who are looking for where to stay in Venice with family. The city's primary attractions during the day include its vibrant markets, art-filled cathedrals, community squares still frequented by families, and one-of-a-kind stores in its narrow lanes. It is busier at night than San Marco and has more cicchetti (Italian snack) bars, trattoria, osteria, and bars, all open till late.

Cannaregio:
Cannaregio is Venice's largest sestiere (neighborhood) by area and population. If you like to find where to stay in Venice on a budget. Cannaregio is jam-packed with tradition and history, and you can visit many of Venice's most stunning structures on a budget. It covers much of the city's northern half and extends from San Marco to the Big Canal and the Lagoon.
A portion of this region is close to the Piazzale Roma, making it convenient to get to and move around from and boasting excellent transportation options. Due to its proximity to Piazzale Rome and the airport shuttles on one end and its direction towards San Polo and Rialto on the other, the Fondamenta della Misericordia is a particularly ideal street to establish a base.

Dorsiduro:
Dosoduro, where students live and study, is where Venice's university campuses are. If you find where to stay in Venice for nightlife. This indicates that the region has the best lodging and dining deals in Venice and the busiest nightlife.
The less well-known Dorsoduro is more tranquil than most places, has fewer tourists, and has lower costs. This makes it a desirable location to stay in Venice. It's a more authentic city area because fewer tourists are there, yet it's still close to the major attractions. And it continues to provide a variety of attractions.

Murano:
The most well-known of Venice's 118 islands is Murano. It is renowned for its glass industry, where local artists have produced exquisite works of art for generations. From the mainland, Murano is easily accessible by Vaporetto, and waterbuses run there every 15 to 20 minutes.
Compared to Venice's mainland, this area has an entirely different atmosphere. It is much calmer and has a more regional feel. Murano is a better place for you if you're seeking wild nightlife. It's ideal if you're looking for tranquility.
Related: 8 Things to do in Diani Beach: Must-Experience Location

Best seasons to visit Venice:
The best seasons to visit Venice are spring (March–May) and fall (September–November), when the city has only rare showers and temperatures typically between 65 and 80 degrees Fahrenheit.
In particular, in August, when temperatures soar to over 100 degrees Fahrenheit, the inhabitants rush to their vacation homes by the Spiaggia (beach).

Santa Croce:
Santa Croce, one of Venice's, has a boundary with San Polo and Dorsoduro to the north. It includes some of the primary transportation nodes for the city, including the main port and the Piazzale Roma bus terminal (and the main Vaporetto stop). While not particularly picturesque and sometimes ignored by tourists, it is an excellent location for public transportation to other districts of Venice.
The Ca' Pesaro International Gallery of Modern Art, the Oriental Art Museum, the Natural History Museum, and the Palace Museum are just a few of the Santa Croce attractions primarily located in the eastern portion of the area. There are some beautiful, modest trattoria in the area, and they tend to congregate in or around the San Giacomo dell'Orio square, which is also home to a gorgeous church.

Frequently Asked Questions:
Which part of Venice is the finest place to stay?
The most prominent and ideal place to stay in Venice is San Marco. The bridge known as the Bridge of Sighs, with a gondola moving slowly down it, or the famous Saint Mark's Square, is the first thing that comes to mind when you think about Venice. Having a base in the San Marco neighborhood will help you see the major tourist attractions.
Can you walk around Venice?
Walking is encouraged in Venice. Even though Venice is referred to as a floating city and the majority of people believe that taking a Vaporetto or a boat is required to go around, the most effective way to see it is on foot
Where is Venice's major center?
The San Marco neighborhood, which is now primarily a very touristy area, is where Venice is located. The stunning Piazza San Marco (St. Mark's Square), surrounded by cafés and home to the Cathedral of St. Mark and Doge's Palace, is located here.
Is Venice affordable or pricey?
Venice in northern Italy is renowned for being an expensive destination. But according to a recent analysis by the travel website Omio, several elements make the canal city one of the least expensive European destinations.