Where to Stay in Lisbon?: Uncovering the Hidden Gems of Lisbon
Don't worry if you're unsure about where to stay in Lisbon for the ideal city break—we've got you covered! The Portuguese capital was a delight to visit twice, and we stayed in a different city area each time. Each neighborhood in Lisbon has a unique vibe and is ideal for a particular traveler. It's a little trickier than it first appears to figure out where to stay in Lisbon. Despite being a relatively small city, Lisbon districts all offer something unique.
In the end, the decision on where to stay in Lisbon will come down to you and the goals of your trip. Lisbon and this guide provide something for everyone, whether you're friends searching for a fun night out or couples seeking a romantic trip. In our Lisbon accommodation guide, we provided all the top areas to stay, explained what kind of traveler they're best suited for, and included some lodging alternatives for various price ranges. So let's start and learn about accommodation options in Lisbon without further ado!
Alfama:
See where to stay in Lisbon for sightseeing. Alfama spans from the So Jorge Castle to the Tagus River and is Lisbon's oldest neighborhood. Alfama is the ideal location to stay. You have two days to see everything Lisbon has to offer. Alfama's charm draws you in; you'll see clothes blowing out apartment windows.
You will enjoy strolling through the cobblestoned lanes surrounded by white residences and admiring the stunning city views from the various "miradouros" that are present. It is important to remember that the neighborhood's winding cobblestone streets make it nearly impossible to drive through when you rent a car.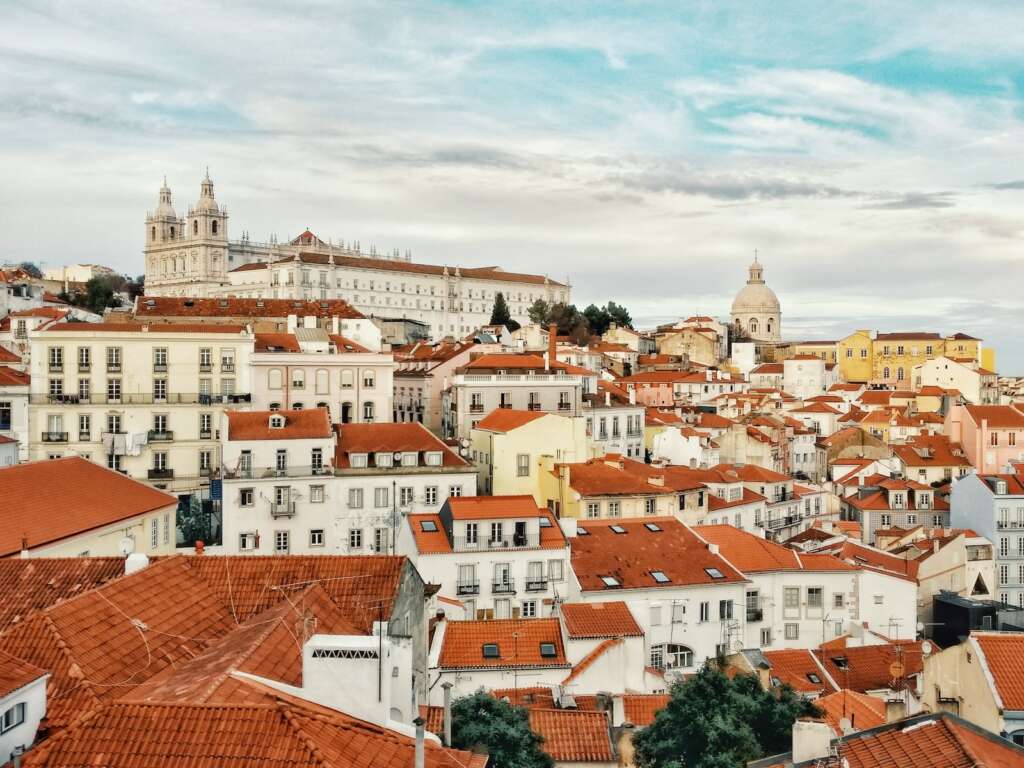 Bairro Alto:
If you find where to stay in Lisbon for nightlife. Bairro Alto, one of Lisbon's most popular nightlife districts, provides reasonably priced lodging with views of the city and the Tagus River. Local pubs and eateries abound on Bairro Alto's winding streets.
By staying here, you can have a wild night in Lisbon without worrying about a long commute back to your lodging. No matter how many days you spend in Lisbon, it's the ideal spot to be if your Portugal itinerary is centered on a party break, even though it may get a little raucous at night.

Baixa:
People who find where to stay in Lisbon on a budget. After the terrible earthquake of 1755, Baixa was rebuilt neoclassically. Lisbon's central area contains this affluent and distinguished neighborhood.
Due to its inexpensive lodgings, it is a favorite among backpackers. Additionally, it is a short distance from Bairro Alto's vibrant nightlife and Lisbon's major attractions. You'll enjoy this region for its convenient access to attractions and public transportation if you have a 48-hour Lisbon Card.

Belem:
If you are searching for where to stay in Lisbon with family. The classic Pastel de Nata may be found in this neighborhood west of Lisbon, which also offers beautiful views of the Tagus River and some of the city's most well-known landmarks.
The 16th-century Tower of Belém and Jerónimos Monastery and other attractions nearby your lodging can be explored here. Being quieter and more relaxed than central Lisbon while still being close to well-known attractions makes it the ideal area for families to stay.

Chiado:
Lisbon Chiado neighborhood is about as central as it gets. Since it is located on a hill, you won't ever have to walk UP the hill to get anyplace (but you would if you head down the hill because everything in Lisbon must go up).
The district is teeming with stores, eateries, and historical attractions like the Convento do Carmo, a medieval convent turned into a museum after an earthquake in 1755. Chiado is the historical epicenter of Lisbon in many ways.

Principe Real:
Although Principe Real is close to Bairro Alto, it has a different vibe from its occasionally loud and rude neighbor. Look here for where to stay in Lisbon to enjoy the best areas. This more tranquil route features many green areas and a distinctly residential ambiance. While living here, you may venture outside and discover Lisbon. You'll find a fantastic Michelin-starred restaurant, many adorable cafes, and beautiful shops here.
The Principe Real neighborhood contains the Museum of History of Nature and Science and the Botanic Gardens. Visit the Jardim do Principe Real, a charming park with trees and beautiful areas for picnics. The Principe Real is a short stroll from the metro station and other public transportation. The best panoramic views of Lisbon can be seen at Miradouro de Sao Pedro de Alcantara, so take some time to explore it.
Re;ated: Where to Stay in Santorini?: Explore the Best Towns and Places to Visit.

Avenida da Liberade:
The Avenida da Liberdade is a street, and the neighborhood along it is in the heart of Lisbon. There are gardens and pedestrian lanes on this ten-lane divided road where you may wander and explore the various businesses, eateries, and landmarks. The avenue links Restauradores Square and Marquis of Pombal Square.
One of the finest spots in Lisbon is the pavement of Avenida da Liberdade, which is covered in magnificent black and white mosaics. Take your camera to capture some Instagram-worthy images of the avenue and gardens. Consider booking a room at the 4-star Inspira Liberdade Boutique Hotel, which is eco-friendly and has excellent amenities.

Cais do Sodre:
This small area, previously known as "Sodré's Wharf," is dominated by the city's largest food market, Mercado da Ribeira, currently known as the Time Out Market. Travelers who enjoy cuisine should visit this collection of kiosks representing some of Lisbon's most excellent eateries and food vendors. Numerous pubs and eateries lining the streets encircle the market, and there are street parties almost constantly.
Check out Pink Street at night, a pedestrian street painted pink that is crowded with fun-loving people every night of the week. Lisbon's Lost Inn Hostel – Despite its name, you need to, or else this hostel won't encourage you to get lost in Lisbon. The Cais do Sodré's Edge hostel only offers private rooms and a dorm for women.

Frequently Asked Questions:
What is the name of Lisbon's city center?
The city's best stores and leisure pursuits may be in Lisbon's most recognized and central area, Baixa. The most famous and central neighborhood in Lisbon is called Baixa.
How many days are ideal to stay in Lisbon?
We always advise taking three days to see everything Lisbon has to offer. This is enough to enjoy the nightlife, explore all the exciting neighborhoods, and participate in a few enjoyable activities.
What is Lisbon well-known for?
Lisbon is most well-known for its colonial past, elaborate architecture, and Fado music heritage. However, some of its best qualities can be found in the ordinary,
Is Lisbon a pricey place to live?
Although Lisbon is the most expensive city in Portugal to live in, it is still very affordable compared to other Western European nations, yet what was once a cheap city has seen its cost of living creeping up. Despite this, Lisbon's cost of living typically remains highly reasonable for ex-pats and international students.